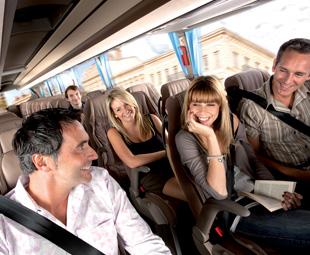 Imagine a scenario whereby public transport is readily available. Anywhere on the planet. At any time. CHARLEEN CLARKE heads to Dubai – and the 59th World Congress and Exhibition of the International Association of Public Transport (UITP) – to find out more about just such a possibility…
Love them or loathe them… but we need buses. Trawling all over the planet. Trains and trams too, as well as other forms of public transport.
Because, quite frankly, without proper public transport, any country is in a mess. (Ask the average South African.) As Alain Flausch, UITP president notes (far more eruditely):  "With growing urbanisation, cities will be stuck if we do nothing. Public transport is a vital part of the solution as it alleviates congestion, helps the planet breathe, connects everyone everywhere and empowers the economy." Hence the goal of the UITP: in terms of its "PTx2" programme, the organisation aims to double public transport's market share worldwide by 2025.
According to Hans Rat, UITP secretary general, Dubai was selected to host the UITP 59th World Congress and Exhibition because it is at the heart of one of the most promising regions in terms of public transport development, namely the Middle-East and North Africa region. "It is one of our PTx2 champions," he says.
But, before I go into the strategy and discuss the congress in some more detail, it's probably necessary to give a bit of background into the UITP… lest you're not aware of this organisation. Headquartered in Brussels, the UITP is an international network for public transport authorities and operators, policy decision-makers, scientific institutes and the public transport supply and service industry. As it states, it is "a platform for worldwide co-operation, business development and the sharing of know-how between its 3 400 members from 92 countries". Furthermore, the organisation is "the global advocate for public transport and sustainable mobility, and the promoter of innovations in the sector".
Which is all quite a mouthful. In reality, the organisation – which has 11 regional and liaison offices around the world – is doing a pretty terrific job of promoting public transport all over the globe (we'll discuss this in future issues of FOCUS). The UITP also puts on a mean congress and exhibition (one of about 30 UITP events a year), from which all South African conference and exhibition organisers could learn a thing or two.
But back to the UITP's goal: that of doubling the public transport market share worldwide by 2025. This means that governments, local authorities and operators of public transport will work together to implement so-called "intelligent urban planning" – essentially the ideal balance between private cars, public transport, walking and cycling, as well as a dynamic public transport sector. One of the objectives of the congress in Dubai was to evaluate progress in this regard; the PTx2 concept was launched at the 58th UITP World Congress and Exhibition in Vienna two years ago. Well, the consensus of the 2 000 delegates from 80 countries and 300 exhibitors coming from 37 countries that gathered in Dubai was that good progress had been made.
Take Dubai, for example. According to His Excellency Mattar Al Tayer, chairman of the board and executive director, Roads & Transport Authority (RTA), public transport's market share in Dubai was 8% in 2010. "We want to increase this to as much as 30% in 2020 and develop mass transit modes with the aim of making them the favourite means of resident mobility across the city. The future holds more projects including an integrated rail network of around 300 km of additional rail lines, a comprehensive bus line and service improvement plan and a comprehensive marine passenger transport plan," he says.
These plans will help Dubai achieve its challenging public transport mode share target. But considerable progress has already been made. "Dubai increased its ridership by 90% over five years, increasing the number of passengers who used public transportation from 163 million in 1995 to 309 million in 2010," says Al Tayer.
Numerous other developments were highlighted at the congress. In Iran, for instance, 1 000 km of metro or light rail systems are planned in Tehran and in nine other cities within that country. The Chinese Government has "strongly adopted" the policy of "prioritising the development of public transport". Turkey has committed itself to doubling the urban rail infrastructure in the next 20 years and increasing bus services. In the next five years, various Latin American cities are going to implement more than 600 km of metro and commuter train lines. In addition, over 70 cities are investing in BRT corridors.
Sweden is also doing an outstanding job – in fact, the country has implemented what it has termed its "Doubling Project". Charlotte Wareborn Schultz, managing director of the Swedish Public Transport Association and chairman of the Doubling Project, notes: "Public transport is a natural part of travel in a sustainable society." We will discuss this project in detail in a future issue of FOCUS – it's really fascinating. But it's all about providing service to commuters. "Through new approaches and smart co-operation, we will increase the efficiency of our operations, extend the range of transport services offered and raise the quality," says Wareborn Schultz. Incredibly, some of these services even involve public transport on demand; in the county of Warmland in Western Sweden, commuters can order public transport by telephone!
Of course, it is easy to understand why these countries are so supportive of the PTx2 programme; it really does make a huge amount of sense. At the World Congress, the UITP and the International Energy Agency (IEA) reported some interesting facts pertaining to our cities, and how they will evolve by 2025 (versus 2005). Here are just some of the interesting facts and figures:
• In 2025, 60% of the world's population will live in urban areas
• The number of trips made in urban areas will increase by 50%
• The share of private motorised transport will grow and the volume of traffic on urban roads will increase by 60% with correlated lost hours in traffic congestion
• We will experience 30% more urban traffic fatalities a year
• Urban transport energy consumption will reach 890 million tons oil equivalent a year
• Annual greenhouse gas emissions from urban transport will increase by 30%, reaching 3 billion tons of CO2.
Pretty scary, huh? But all is not lost. The UITP notes that, if the PTx2 strategy is successfully implemented around the world, the potential benefits are considerable. Taking the same comparative period (2005 versus 2025), additional benefits could be evident:
• It would be possible to control greenhouse gas emissions, and even enjoy a 25% decrease in emissions per capita
• Some 600 million tons of CO2 could be saved each year
• We would preserve energy reserves, with 170 million tons of oil equivalent saved per year
• We would save money (that would be spent on oil) – to the tune of around $140 billion (roughly R950 billion) each year
• Citizens would be healthier; the risk of coronary heart disease and obesity would be reduced by 50% and the risk of hypertension would be reduced by 30% thanks to the 30 minutes of physical exercise provided by daily urban mobility
• Lives would be saved – there would be 60 000 fewer urban traffic fatalities per year
• Seven million more green jobs would be created in cities only on the operators' side of the supply chain, while making the hypothesis that public transport labour productivity keeps increasing by about 1% per year
The benefits of PTx2 are therefore obvious to the community at large. But they are also there for the bus industry, which would benefit massively from the implementation of this programme. Clearly, it would lead to more bus sales: as the UITP notes, the bus is the most universal solution for balanced and sustainable urban development from an economic, environmental and social perspective. It states that some 80% of all public transport passengers are carried by buses.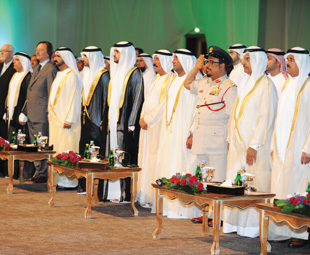 As such, suppliers are also wholeheartedly supportive of PTx2. "For the industry, PTx2 is an excellent prospect which we support wholeheartedly because it will generate more business and more jobs in our branch," notes Hartmut Schick, head of Evobus, Daimler Buses and chairman of the UITP Industry Assembly.
And they are committed not only to supporting public transport but also to making their vehicles even greener. As has become the norm at virtually all exhibitions nowadays, the exhibition area was littered with green vehicles, with hybrids being a dime a dozen. There were even green dinky toys on display – such as Nissan's LEAF.
There was also increasing focus on a term that we are hearing more and more nowadays, that of "sustainable development". Just in case you're not familiar with this term, it's all about finding the right balance between the fulfilment of human needs and the protection of the natural environment. A common definition of sustainable development is "development that meets the needs of the present without compromising the ability of future generations to meet their own needs".
Indicative of this trend, eight major bus manufacturers became signatories to the UITP Sustainable Development Charter (this is a first in the bus industry). Amidst much fanfare, CEOs and senior managers from Daimler Bus/EvoBus, Irisbus Iveco, MAN Truck & Bus, Scania, Solaris Bus & Coach, Temsa Global, VDL Bus & Coach and Volvo Bus Corporation signed the Sustainable Development Charter during a congress session devoted to energy. According to Rat, this shows "that their commitment (to preserving the environment) is more than only 'skin deep' ".
Of course, bus manufacturers are already leading the green game. According to Hakan Karlsson, CEO and president of the Volvo Bus Corporation, energy use from buses has decreased by 30% over the past 30 years, emissions have decreased by 90% and the focus nowadays is going from emissions to energy. "There are several ways to reduce environmental impact and the Sustainable Development Charter Reporting Framework will allow us to monitor all new technologies and organise experienced feedback for the whole sustainable development sector," he explains. The UITP Sustainable Development Charter was launched in 2003 at the 55th UITP World Congress in Madrid. From 33 pioneer signatories, this has now grown to more than 150 adherents, including operators, organising authorities, associations, the service and supply industries from 37 countries worldwide. The charter promotes sustainable development, and members who sign the charter undertake to make a voluntary but measurable commitment to monitor, measure and report on their own performance.
So, the UITP Congress delivered good news on all fronts. From a commuter perspective, PTx2 means good and reliable public transport. From a supplier point of view, it means more bus sales. And, when it comes to the planet… well the industry is focusing on green vehicles and sustainability.
Things really couldn't get better!
Focus on Transport
May 1, 2011
Published by