High fuel prices spark demand for alternatives
The quest for alternative fuels and vehicles that offer better fuel consumption is intensifying. High oil prices are making it increasingly profitable for farmers to switch from growing maize for human consumption to growing it for the manufacture of ethanol, says UDO RYPSTRA
Fuel prices are expected to remain high this year with some international experts predicting that the price of a barrel of oil, already edging towards the $100 mark, could even hit $150 a barrel before the year is out.
"Oil prices are entering a dangerous zone for the global economy," Fatih Birol, chief economist for the International Energy Agency (IEA), said recently. "The oil import bills are becoming a threat to the economic recovery."
Oil is in growing demand. Rising costs are mainly due to insufficient supplies, and speculative investments. According to the IEA daily global oil consumption in 2011 will average 87,4 million barrels – an increase of about two million barrels from the first quarter of 2010. Much of the additional demand comes from China, where a growing middle class is now buying cars in contrast to numbers purchased in the past, as well as from the United States where consumers are slowly returning to pre-2008 driving habits.
The rise in oil price has come as a surprise to many experts. Just over a year ago, the US Department of Energy (DoE) was projecting a price range of $70-$80 per barrel in 2011, but as the year began oil was already trading above $90 a barrel. Some experts believe that if prices climb above $100 global consumer spending could take another nosedive.
The quest for alternative fuels and vehicles that offer better fuel consumption is intensifying. High oil prices are making it increasingly profitable for farmers to switch from growing maize for human consumption to growing it for the manufacture of ethanol. In South Africa maize has been excluded by the state from being sourced by the biofuel industry in a bid to safeguard food security for staple food products. But, with farmers having experienced a bumper crop, this has led to government rethinking its policy on biofuels.
Agriculture, Fisheries and Forestry Minister Tina Joemat-Pettersson having hinted in October that SA might see new legislation this year, she told delegates at the Agri SA congress held near Krugersdorp recently, "It takes time to change policy and it is unlikely to have this aspect of the law changed immediately because it would require a lengthy process through Parliament to have it changed. In the meantime, we hope to identify new markets such as the United Nations humanitarian agencies to absorb the surplus."
Ms Joemat-Pettersson said the biofuel concept was not only about food production. "It is also about energy, development, and saving, so with the excessive maize surplus, we, as a government, need to look again at our biofuels policy." She cautioned that her department alone did not determine the country's biofuel policy. A national biofuel policy drawn up in conjunction with commercial farmers, was needed to ensure food security was not threatened.
Diesel and jet fuel are usually made from crude oil, but even as a glut of natural gas keeps prices for this fuel extraordinarily cheap, oil prices keep rising. Suddenly a bit of expensive alchemy is starting to look financially appealing: turning natural gas into liquid fuels.
Sasol recently announced that it would spend just over one billion Canadian dollars to buy a half-interest in a Canadian shale gas field, in order to begin exploring the conversion of natural gas into diesel and other liquids. Sasol is also surveying for shale gas in the Karoo, but said recently any find would take at least ten years of development.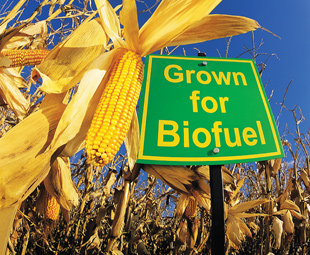 Meanwhile, Mercedes-Benz Commercial Vehicles has decided to bring more Euro V trucks with BlueTec technology into South Africa after the successful completion of a year-long pilot programme looking into whether the operation of these vehicles locally would deliver the promised reduction in emissions as well as fuel consumption. The programme was run in conjunction with Imperial Logistics which operated four MBSA Euro V trucks with BlueTec technology in its fleet.
According to Mercedes-Benz Trucks product manager Christo Kleynhans these trucks have realised a 5% reduction in fuel consumption compared with lower-Euro-specification trucks. In addition, the exhaust gas of the trucks contained around 80% fewer particle emissions and 60% less nitrogen oxide. Imperial indicated that they would look at introducing more Euro V trucks across its fleet while other operators had started making enquiries about these vehicles. Operating a Euro V-compliant truck requires 50 parts per million (ppm) sulphur diesel, more of which has been made available in SA recently. Mercedes-Benz Euro V-compliant BlueTec truck demand a steady supply of 50 ppm diesel, as well as the availability of AdBlue – an exhaust gas treatment fluid which reduces the emissions through the exhaust.
Focus on Transport
February 1, 2011
Published by