Hino eyes even greater success in SA
South Africa is currently number nine in the Hino world. Toshiaki Yasuda, managing officer overseas sales and marketing at Hino Motors, tells CHARLEEN CLARKE that he's "not so satisfied with that number"
Please give me some background to Hino Motors.
Our company was established in May 1942, so we're celebrating our 75th anniversary this year. We have 31 000 employees worldwide. We are now marketing Hino products in 90 countries.
Historically we have been very strong in the Japanese domestic market. In fact, last year was our 44th consecutive year of being number one in the Japanese heavy and extra-heavy truck segments.
Recently we have chosen to focus increasingly on export markets. In 2007, our overseas sales exceeded domestic sales for the first time. Technologically, we are a pioneer in several areas. For instance, we produced the first hybrid bus in the world.
How many vehicles did you sell last year? What is your objective in terms of sales for 2017?
We sold 170 000 trucks last year, including 63 000 in the Japanese market. We would like to increase our sales this year.
Which are your biggest export markets?
Indonesia is our number one market. Thailand is number two and the United States (US) is number three (we produced our 50 000th truck in the US last year). South Africa is number nine. I'm not so satisfied with that number.
You need to supply trucks with varying emission standards to various markets. Is this a challenge for you?
Not at all; we understand that some customers want a Euro-6 truck; others want something simpler that costs less. South African customers, for instance, prefer Euro-2 trucks if they're running cross-border, because they cannot find high-quality, low-sulphur fuel.
Initially, we planned to launch the 500 Series in South Africa with a Euro-5 engine. A year and a half ago, we changed to Euro 3, based on customer feedback and local legislation. However, this is a manufacturing task and we can meet this demand easily. It's not difficult for us.
When did you start working on development of the new 500 Series and what testing took place?
The project began in 2009 and the first task we completed was a rigorous consultation process, which involved us interviewing both Hino customers and customers of our competitors.
This new 500 Series is not marketed in Japan at all, and so we conducted market research and testing in several countries around the world. One of those countries was South Africa. The 500 Series Wide Cab models were tested in the field, on the test tracks in the countries in which we sell our trucks and also in Japan.
The tests were conducted in typical truck operating conditions: tar and dirt roads, city driving, off-road conditions such as quarries, dust, heat and water, and long distance. We are confident that the extensive processes we have undertaken will result in many satisfied customers and open up opportunities for Hino.
The 500 Series has already been launched in some other export markets – such as Indonesia, for instance. How successful has it been thus far?
We launched in Indonesia at the beginning of last year and so far we've been very successful; we have a market share of more than 60 percent. The truck is selling well in Thailand too; it's achieved number two in terms of market share.
What lessons did you learn from racing in the Dakar Rally? How have they been applied to the new 500 Series?
We have been competing in the Dakar for 26 years and we've learnt lots of lessons when it comes to quality, durability and reliability – or QDR, as we like to say. We have been racing in the toughest conditions in the world.
Second, we need to service in very tough conditions, and we have learnt a great deal about servicing and maintaining trucks. In addition, we have learnt a lot about teamwork, the spirit of fighting and overcoming difficult situations.
What are your plans for the African continent?
Our history in Africa is closely aligned to South Africa, which is our main base. We are looking at expanding our business into countries such as Angola and Zimbabwe. We will penetrate neighbouring countries from South Africa. We do have some presence in some other African countries, but the volumes are small. For the time being, and in the short term, South Africa will remain our main strategic focus.
South Africa was recently downgraded by the ratings agencies. How has this impacted on you?
It hasn't made a huge difference. Of course the exchange rate will impact on our business, but the downgrade doesn't mean that we will change our direction or strategy dramatically.
Please comment on Vision 2020, whereby Hino wants to be number one in South Africa by 2020. Is it realistic? Are you on track to achieve this?
I think it is possible, assuming our products are right for the customer and our partner works very closely with us. Of course, South Africa is one of the toughest markets in the world for trucks – because so many brands are represented in your country. So, it's a very competitive market. As such, achieving Vision 2020 is possible but it won't be easy.
Could you increase the volume of the South African assembly plant or buy more locally sourced parts?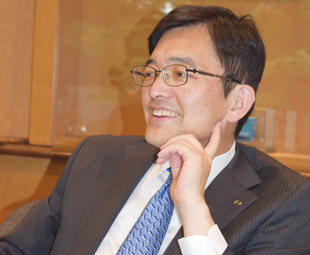 Actually, there are two issues. One is the fact that, in South Africa and in other African countries, too, we battle to source parts at the right price. Maybe this is because the truck market is quite small versus that of passenger cars. So, economically, sourcing local parts is not always wise. It won't be easy to increase volumes substantially.
Will you offer your own telematics system in South Africa?
There are no plans in this regard. We have just launched an in-house telematics system for all our trucks that we're selling in Japan. And yes, telematics is becoming more and more topical – both in South Africa and around the world, but we don't plan to launch the Hino telematics system in South Africa at the moment.
How do you plan to compete with the lower-cost Chinese and Indian products that are available in Africa?
The Chinese and Indian brands do not compete directly with our product – for now. In future, this could change. We will compete by offering superior technology. We will also focus on cost reduction. One way of doing this is via the use of locally sourced parts.
We could also source parts from India and China (even if the truck is being produced in Japan). Furthermore, we already have big factories in Indonesia, Thailand and China. Maybe, in the future, we will use those factories more.
Finally, what are your hopes and aspirations for the new Hino 500 Series Wide Cab in South Africa?
I think that the line-up and specification level will be a good fit for South Africa. I see big potential for the range in your country. We're offering a wide range, which will meet many customer applications; the design looks very solid and rugged and we can provide customers with a vastly improved truck.
Focus on Transport
September 20, 2017
Published by