Hino's new people carrier
Backed by Hino reliability and strength, the Hino 300 bus range brings a low-cost, medium-sized people carrier to market. FOCUS finds out more about this exciting new range
The Hino 300 is a medium-sized bus that offers substantial seating capacities, with a low capital cost per passenger. The range comprises three models: the 25-seater Hino 300 714 SWB; the 33-seater Hino 300 815 LWB Auto; and the 35-seater Hino 300 915 LWB.
The vehicle body complies with the requirements of the Compulsory Vehicle Standard issued by the South African Bureau of Standards (SABS), and the Road Traffic Act No.29 of 1989 and Regulations, as updated.
The bodywork construction is of tubular steel and chromaprep steel sheeting. The front and rear domes are manufactured from glass- reinforced plastic (GRP). The super-structure complies with the requirements of SABS 1563:1992 in terms of rollover protection.
Danie Human, general manager, sales and marketing, at Busmark 2000 (the vehicle's bodybuilder) says that the main goals and design principles of the bus include:
• a simple and ergonomic, yet modern design;
• maximum local content on all components;
• modular components and parts; and
• lightweight material which contributes towards savings in diesel and wear.
All of the above minimise the vehicle's total life cost and maximise its longevity.
Apart from all the usual standard specifications on a vehicle of this class, which are more than adequate, the range also offers optional extras, including:
• a choice of seat type and material;
• a choice of floor material;
• steel perforated parcel shelves;
• luggage lockers;
• roof mounted air-conditioner with fixed or parcel shelf ducting (covered in cloth or vinyl);
• a PA system;
• an entertainment system;
• safety belts – retractable lap belts or three point safety belts;
• wheelchair lift with wheelchair stations;
• fire extinguishers;
• a tow bar and plug;
• curtains;
• saloon heaters; and
• a fridge/freezer.
Human notes: "We also offer a GRP interior ceiling finish with LED strip lights as standard, which affords several advantages. The modular ceiling panels are flame retardant, lightweight and extremely durable. They have an abrasion-resistant gelcoat finish, making them stain resistant and easy to clean. In addition, they are also quick and easy to remove, which improves access for maintenance checks."
He adds: "The LED lights will give a life of approximately 50 000 hours. They have 600 percent more lumens than normal fluorescent lights (per metre section). Furthermore, they have a highly durable and scratch-resistant PVC C7 diffuser with less wiring."
A feature worth discussing in more detail is the wheelchair access. The bus has been designed to allow for ease of entrance for disabled passengers. There is the option of either a lower floor area at the rear of the bus with a manual ramp, or access via a hydraulic lift ramp. There is also flexibility in choosing the layout best suited for specific operational requirements with more than one wheelchair station, equipped with fastening clamps to secure the wheelchair in place while the bus is in motion. These stations can also be fitted with fold-down chairs which can be utilised when the disabled section is not in use, maximising the cost effectiveness of each trip.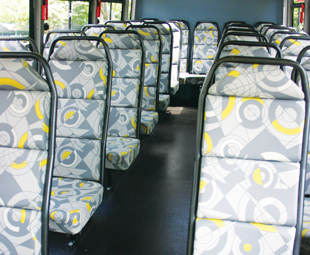 According to Casper Kruger, vice president of Hino South Africa: "These new buses also feature attractive new looks that are more aerodynamic. The resultant benefit in fuel saving will translate to savings on the cost per passenger transported."
When asked whether Hino would consider entering the luxury coach market in South Africa, Kruger says: "This market is well supplied with product and is very competitive. It does not make business sense for Hino to become yet another competitor in a segment with a comparatively small annual sales volume."
In terms of warranty, Hino offers a warranty for the chassis in respect of faulty workmanship or material for 24 months, unlimited kilometres; for three years on the body structure and 12 months on parts and components attached to the main body structure (excluding consumables) from the date of delivery.
The Hino 300 bus range is ideal for transporting smaller groups of people, such as students and company staff.
Focus on Transport
April 1, 2014
Published by