Daimler's Vitoria plant has given birth to a new baby! CHARLEEN CLARKE travels to the Basque region of Spain to say hola to the new Vito.
Never been to the Basque region? Stick it on your bucket list immediately! It's one of the world's top gastronomic destinations! Think the Americans eat a lot? Basques spend twice as much on food. They probably devote twice as much time to preparing and eating food too.
But, of course, I have not flown to Bilbao to enjoy the food (although some would say that a visit to the Basque region and enjoyment of local cuisine are inseparable). I am in Spain to drive the new Vito – which sounds almost as good as pintxos (the Basque version of tapas).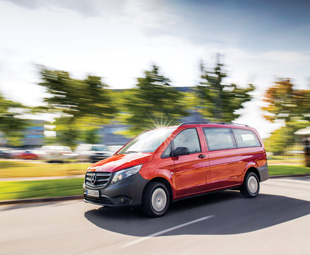 Our visit begins with an introduction to the new Vito, which is built just down the road in Vitoria (yes that is where the van's name comes from). We're told that the new van sets benchmarks in its segment, with low operating costs, high payloads and superb safety features (up to eight airbags). Furthermore, it comes in three derivatives – the Vito panel van, the Vito Mixto and the Vito Tourer – and, for the first time in this segment, with front, rear and all-wheel drive.
We won't get to experience the all-wheel drive derivatives, but we certainly will enjoy the turbodiesel engines, with five power ratings, that are up for grabs. Specifically, these are a transverse-mounted, compact four-cylinder engine with a displacement of 1,6 litres (65 or 84 kW) and a four-cylinder engine with a 2,15-litre displacement (100, 120 or 140 kW output).
Then it's time to hit the road and experience the new van. For the first part of our drive, we will tackle inner-city traffic in Bilbao. My co-driver and I select the 116 CDI panel van as our first steed. It comes with a 120 kW engine, six-speed manual transmission and rear-wheel drive. A bevy of safety features – Active Parking Assist, Collision Prevention Assist, Attention Assist, Headlamp Assist and airbags galore – ensure that we're in safe hands.
I make the mistake of tossing my backpack in the rear of our panel van, which is rather silly; it gets flung around, as we navigate our way through city traffic. On a positive side, it would have been easy to load just about anything in the back; the large door
openings and low loading compartment sill make loading and unloading very easy. Also on a positive note, we delight in the standard electromechanical steering, which is just terrific when manoeuvring through Bilbao's tiny streets.
All too soon our spell in the panel van is over. We have arrived at Museo Maritimo Ria de Bilboa for lunch. For centuries, shipbuilding was one of the region's most important industries. As such, this funky maritime museum, located on the city's waterfront, uses bright and well-thought-out displays to bring the watery depths of Bilbao and Basque maritime history to life. There's even an outdoor section where children (and nautically inclined grown-ups) can clamber about a range of boats, pretending to be sailors or pirates. We don't have time to kid around (pun intended). We have eating to do! After all, we're in Basque Country! As we feast on local delicacies, journalists from around the world chat about the Vito. The consensus is that it's terrific to drive. Very car-like …
After lunch, we hop into a Vito Tourer Base model, which boasts a 65 kW engine, the same manual transmission and front-wheel drive, so it feels completely different to the panel van. Because it's the bottom-of-the-range model, our van is certainly not plush (there's no air-conditioning, for instance). But we agree that it's just dandy for staff transport around town. The easy-care seats are great and there's certainly nothing lacking in the interior.
Significantly, it does have some nice-to-have driver aids, such as Hill-Start Assist, a rain sensor and cruise control. The Hill-Start Assist is particularly useful as we manoeuvre our way, up and out of the docks, and underneath an incredibly low bridge (the Germans have attached a sign to it, stating "Relax; it's a Vito", which gives us a good giggle).
Our next port of call is the Santuario de Urkiola monastery, in the Urkiola nature reserve. We're not going to church though. We are (yes, you guessed it) eating – again. Remember, we're in Basque Country!
This time around, we feast on local cakes and pastries. I decide that we need another panel van when we leave – so that I can be loaded in the back. So, we select the 114 CDI panel van, with a 100 kW engine (it needs to carry a huge load, you know), the same manual transmission again and rear-wheel drive.
My co-driver points out that we definitely chose the right vehicle; the panel van boasts an additional 120 kg payload because it's front-wheel drive. Practically, this means ten extra cases of beer or (in this case) a seriously overfed journo.
The 114 CDI panel van turns out to be my choice in terms of engine and transmission combinations; the 100 kW motor offers more than enough oomph and it works nicely with the six-speed manual. And, after a quick detour to the Alava technology park (an architectural delight of note), we arrive at the 17th-century Hotel Parador, which is where Napoleon stayed before his assault
on the town of Vitoria-Gasteiz.
We manage an assault of a completely different type, tackling a 29-course (okay, I exaggerate just slightly) Basque dinner. The highlight of our dinner is squid cooked in its own ink; the highlight of my next morning is a demonstration of the reversing camera with trailer mode.
We all know that it's really hard to couple a trailer to a van, especially when you're on your own. No more! Enter the reversing camera with coupling function. Once activated at the press of a button, the eye of the camera pans down to show a reduced area behind the vehicle. By aligning the vertical yellow line on the monitor with the drawbar of the trailer, the driver can manoeuvre the vehicle straight towards the drawbar – coupling up a trailer has never been easier.
Sadly, after witnessing this demonstration, we must leave the Hotel Parador; in a Vito, of course. We pick a panel van with the
120 kW engine again, but this time paired to the 7G-Tronic Plus automatic transmission. The world's only automatic transmission with torque converter and seven gears for vans, it is optional on the Vito 114 CDI and Vito 116 CDI and standard equipment on the Vito
119 BlueTEC and the Vito 4×4 with all-wheel drive.
Our choice is deliberate; it takes some time to eat 29 courses and drink 69 bottles of Rioja … meaning sleep was at a minimum. My co-driver and I both delight in the Vito, commenting yet again that it's just like driving a car.
The new Vito's cockpit is exemplary in terms of its functionality and ergonomics. Symmetrical in its fundamental form, the structure is clear and uncluttered for maximum operational safety. This is a Seriously Good Thing. It means that everything is right where we expect to find it. So our drive is completely effortless.
Our destination this time is the Vitoria plant, which is where the Vito is lovingly assembled. Naturally, we enjoy more food before embarking on a tour of this impressive facility. Then it's back to the reception room (yes, more food) and then we leave for the airport.
This time we're in a Mixto, which is a panel van morphed into a crewcab in one vehicle. The Mixto has windows between the B and C-pillar as standard, as well as a rugged, anti-slip floor with a textured surface in the rear. Buyers can choose between either a two or three-passenger bench seats in the rear (the seats all have three-point seat belts with two-way head restraints and even feature the Isofix child seat securing system). We concur that the Mixto is a terrific people and goods transporter (there's ample space for six workers and lots of equipment).
All too soon, our drive is over. We have reached the airport and we have eight hours to spare before flying out. What to do? We hop on the airport bus which, for about R30, transports us into Bilbao in comfort, safety and style. (Yes, it is a Merc.) It's time for a bar crawl in the city's narrow alleys. This is known as a txikiteo, and it means noshing pintxos and drinking loads of the local hooch (avoid the cider; it's gross).
More food, you groan? It's compulsory! After all, we're in Basque Country!

Focus on Transport
November 1, 2014
Published by