Hyundai boosts its product line-up in SA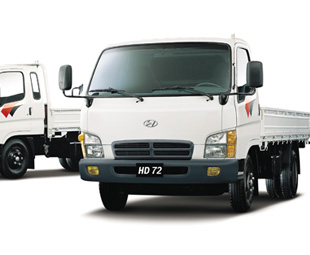 South Africans are familiar with the numerous Hyundai cars and light commercial vehicles they encounter on a daily basis on local roads, but few are aware of the broader base of heavier-duty trucks and buses that the company has on offer.
In South Africa, Hyundai is best-known for its cars and light commercial vehicle under 3 500 kg that can be driven by anyone with a passenger car licence. Its H100 Bakkie and panel van, with a generous payload of 1,3 tons, have become a common sight on our roads. Also available as a chassis cab and with a tipper body, it is widely recognised as one of the toughest light commercial vehicles around in terms of value for money, and used in a multitude of applications by small business operators. It is regarded as a versatile and reliable vehicle with the utmost of ease and superb levels of fuel consumption.
With double wishbone and torsion bar front suspension and rear leaf springs, a tough 100 x 50 mm steel section chassis and 2,6 litre naturally aspirated diesel engine, the Korean-made H100 has been selling locally at the rate of up to 400 units a month, according to Danie de Beer, general manager – commercial vehicles.
Not generally known is that the Hyundai Special Vehicles division has an extensive product line-up of 150 models in the medium, heavy and extra heavy commercial vehicle market sectors with truck-tractors, 8x8s and coaches – like the ones used in the recent FIFA Soccer World Cup – at the top end.
These Hyundai models sell in more than 150 countries around the world and if De Beer has his way, more of that line-up will be seen in the years to come.
Hyundai's success, watched closely worldwide, is a result of continuous and aggressive innovations that have been implemented on behalf of the company's customers. Fleet operators in the short to medium-haul distribution market have had their first taste of Hyundai's massive product line-up (above 3 500 kg GVM) with the HD72, which was launched in South Africa in 2004 and combines a high chassis cab and long wheelbase with locally manufactured bodies, including dry van, insulated and refrigerated versions.
Fitted with Hyundai's efficient D4DB diesel engine, the H72, which has a GVM of 7 200 kg, has now been slightly upgraded.
It is to be relaunched in February along with its smaller brother, the HD65, with a 95 kW Euro2 engine. The HD65 has a GVM of 6 500 kg and is targeted for applications similar to those of the HD72. Competitively priced, both vehicles will have ABS, central locking and other "small things that add value" to make the driver feel more comfortable, De Beer says.
De Beer has his sights set on the bakery market as well, and says the strong chassis of the trucks are ideal for heavy loads and off-road conditions such as experienced in township distribution where the cab and body tend to work against each other.
Next, he is planning to introduce the even bigger HD120 and HD160 4×2 dry van trucks with various wheelbases and load decks of up to 7 400 mm with an optional tag axle.
Hyundai commercial vehicle sales still resort under the Hyundai car division.
De Beer has worked for many years on the trucking side, including four years with Toyota Trucks and more recently with MAN, and his dream is the establishment of a separate Hyundai Truck & Bus division, as operated overseas.
"We can only go forward now," he said. De Beer said there were opportunities for Hyundai to keep a presence in the bus and coach market sectors but this was not a priority at present. The 40-plus coaches for the World Cup as part of Hyundai's sponsorship had all been sold after the event, most to Springbok Atlas. In addition, the Spanish soccer team had liked their coach so much, that they bought it and have taken it back to Spain. This showed that Hyundai coaches were on par, if not better, than the best coaches in the world.
"To increase our service footprint from both a parts and maintenance point of view, we struck a deal with Flexi Fleet, who services the coaches at present. Flexi Fleet also stocks parts at its service centres."
The top end of the bus and coach market was very competitive and Hyundai would be looking at the medium bus market first to increase its presence, De Beer said.
He added that apart from the Flexi Fleet network, Hyundai currently has a network of more than 40 Hyundai dealers strategically placed throughout South Africa, with about 15 of them specialising in commercial vehicles.
Focus on Transport
January 1, 2011
Published by