Impressive growth in MyCiTi passenger numbers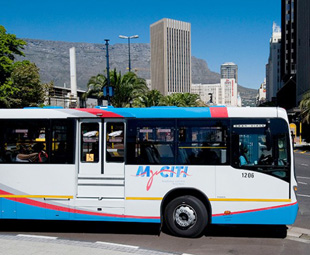 The introduction of several new MyCiTi routes, since November 2013, has seen an impressive 89 percent growth in passenger numbers. This, according to MyCiTi, highlights the demand for quality public transport in Cape Town.
Monthly passenger trips grew from 402 880 in November 2013 to 761 000 in February 2014. During this time, new services were launched to Melkbosstrand, Century City, Camps Bay and Hout Bay.


"The significant increase, within such a short space of time, is testimony to the fact that residents are keen to make the switch to MyCiTi when it rolls out in their areas," says Councillor Brett Herron, mayoral committee member: transport for Cape Town.


The most popular area routes during this four-month period were the 214 Table View route to Big Bay, the 102 Salt River service and the 251 Century City route.


With this growth in commuting there has also been an increase in the number of complaints posted on social media platforms and in the mainstream media, and being logged with the Transport Information Centre.


"We are bound to experience some teething problems, and adjustments will be made once the service settles down," Herron says. The increase in complaints should also be viewed in context. "Complaints represent around 0,03 percent of the total passenger journeys, although it is acknowledged that not all commuters lodge complaints.
"

The main areas of concern for commuters are buses not sticking to their timetables, myconnect card penalties and overcrowding."
MyCiTi says not all routes have dedicated bus lanes and, in many cases, timetable delays were owing to congestion and traffic incidents. However, there have been other improvements and, since November 2013, punctuality has improved from 63 percent to 70 percent. "This is not optimal, but it is an improvement," Herron adds.
From March 31, 2014, there will be additional buses serving the 103, 106, 107 and 108 routes to help meet growing demand. Herron also encourages passengers to stand. "A number of overcrowding complaints were due to passengers being unwilling to stand. Standing in a bus is a well-known and accepted international practice and without this measure the entire MyCiTi system would be unfeasible."
Focus on Transport
April 27, 2014
Published by