In the driver's seat of used-vehicle sales
As most of the transport industry scrambles to save money during the recession, the used-vehicle industry is reaping the benefits of cost saving. MARISKA MORRIS reports
With the current technical recession, many companies are looking to save money. Buying a used vehicle is one of the easiest ways to save, as a quality used truck could offer a company the same service for less initial outlay.
According to general manager at Imperial Used Trucks, Wim Froneman, on average, new vehicles cost close to double the price of used vehicles. He points out that the cost efficiency of purchasing used trucks has not escaped larger businesses.
"There are companies with fleets of around 50 trucks that are also buying used trucks. A three-year-old, 2014 model used truck with 400 000 km would sell for R850 000, while a brand-new truck will cost around R1,7 million. The used truck can do the exact same work as the new one. If you consider where the new prices are going, it's crazy," he notes.
Froneman recalls when a new vehicle sold for R60 000. After 40 years in the transport industry and two decades in the used-vehicle industry, much has changed for Froneman, but his clientele still remains the same. He says: "I started selling to fathers and now I'm selling to their sons. The transport industry in this country is very small; everyone knows everyone."
This small environment makes selling used vehicles competitive and upholding a good reputation imperative. Froneman points out: "We can't afford to sell a vehicle that is going to give the client problems, because our reputation is on the line.
"If you provide the client with good service and a clean unit, they will come back to you," he adds. His dealership puts the vehicles through a rigorous screening process. A used truck sold to the dealership must have a complete service history.
The truck is then given a full service – brakes are overhauled and the unit is cleaned and tested for roadworthiness. "Middle-age" trucks with a mileage of between 300 000 and 500 000 km are ideal for Froneman as he can offer warranties (at an additional cost) on these vehicles.
"If I sell a truck with 800 000 km, I can supply a warranty of up to 1,2-million kilometres," Froneman says. He adds that it is important to offer quality service and products as the transport companies know what they want.
"Anyone who spends up to R900 000 is very particular with their money," he notes. The TransUnion South Africa Vehicle Pricing Index (VPI) makes a similar point. According to the report, for every new vehicle that is financed, 2,41 used vehicles are financed. Around 44 percent of the used vehicles sold are less than two years old.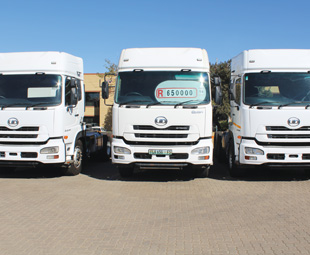 "There is a shifting emphasis on the value proposition that consumers place on their vehicles, as they look for the maximum amount of value from a vehicle," the report states. The shift to used vehicles is also visible in the sales statistics.
According to the electronic National Administration Traffic Information System (eNaTIS), 26 777 used light-load and 3 658 used heavy-load vehicle registrations were changed in July. The eNaTIS report does not distinguish between medium and heavy commercial vehicles.
According to the National Association of Automobile Manufactures of South Africa (Naamsa), 598 new medium commercial vehicles, 411 new heavy commercial vehicles and 999 new extra-heavy commercial vehicles were sold in July.
In total, there were 2 008 new commercial vehicles sold, while 3 770 used heavy-load vehicle registrations changed. A total of 13 774 new light commercial vehicles were sold with 26 777 used light commercial vehicle registrations changed.
Not only do there seem to be more used-vehicle sales, but the average price of used vehicles rose by 2,2 percent in 2016 and by 3,7 percent in 2017.
CEO of auto information solutions at TransUnion, Derick de Vries, notes: "We've seen a slight increase in used-vehicle price inflation compared to a noteworthy drop in the new-vehicle market. This can be attributed to the high demand for used vehicles and the consequent drop in supply."
While the current technical recession in South Africa provides the ideal conditions for used-vehicle sales, local sales are still not the most profitable aspect of used-vehicle sales for dealerships like Imperial Used Trucks.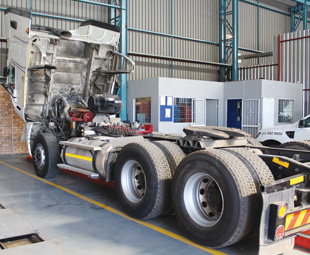 "We are exporting used American-made trucks from South Africa to neighbouring countries such as Mozambique, Botswana and Zimbabwe right up to Zambia and Kenya. Exporting trucks is more profitable than local sales, because clients in these countries are buying with American dollars," Froneman explains.
American trucks are popular in neighbouring countries as they are cost effective. Froneman notes: "They are very cheap to run in terms of cents per kilometre versus European trucks. They are simplified trucks. There are some American trucks that are run for up to 1,8-million kilometres."
According to Froneman, companies would pay around US$ 6 000 (R78 875) for left-hand drive trucks, but when the laws changed and required companies to buy right-hand drive vehicles, the South African export market for American trucks took off.
"This truck is heading to Zimbabwe," Froneman says as he points to a Freightliner standing in his used-trucks lot.
It will be interesting to watch the used-vehicle market, but, as with the recent recession, we can only expect those active in the market to use the lemons to make lemonade.
Focus on Transport
September 20, 2017
Published by