Insufficient funding and million-dollar vehicles
Generally, in South Africa, we think of massive delays, insufficient routes, cramped, uncomfortable seats and smoke pumping clunkers when the bus and coach industry comes to mind, right? But the people-moving world has a totally different side filled with million-dollar vehicles
Okay, so the picture isn't really that gloomy. There are only a few bad apples spoiling the picture for our country's bus industry. The rest are fighting tooth and nail to stay afloat and deliver this much-needed service.
"The bus industry in South Africa has, for many years, made a vital contribution to the economic and social development of the country," explains the road safety information portal Arrive Alive.
"It provides mobility to millions of people who are dependent on public transport; for example, learners who require transport to and from school, workers who require transport to and from their jobs, and individuals who are seeking employment, or access to hospitals and other services."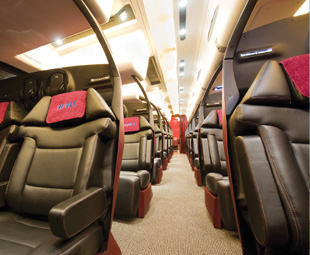 At the 2015 Southern African Bus Operators' Association (Saboa) conference, which we reported on in April, the bus industry's real dangers were highlighted … "The local bus industry is in crisis – we need to find solutions for the future," said Jack van der Merwe, of the Gautrain Management Agency, and master of ceremonies at the conference.
We reported that the topic of financial constraints and the subsequent battle for survival – due to nearly two decades of interim contracts and industry stagnation – was raised by both conference delegates and speakers.
Thys Heyns, executive director of the Putco Group, said: "The bus commuter sector is in a straitjacket that locks us into an unsustainable business model. Operators cannot react to market conditions, reduce operating costs, increase revenue or introduce additional routes. We also cannot pass the shortfall on to passengers."
Heyns noted that since the introduction of the Division of Revenue Act (DORA) in 2009, the expenditure of a typical bus company has increased by 50 percent, while subsidies only increased by 13 percent. "This has resulted in problems with service quality and ability to deliver," he said.
So, smoke-pumping clunkers aren't the main concern … hopefully next year's Saboa conference will deliver some different news in the way of funding.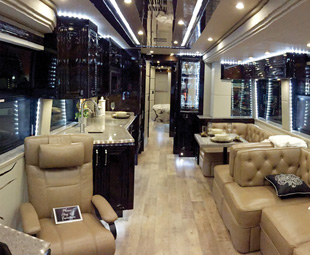 However, the people moving industry isn't struggling everywhere … enter the world of the ultra-luxury coach. Here the Americans are spending big bucks to ride in comfort.
One such vehicle is the 2016 Emerald Luxury Coach from Liberty Coach – a family owned business that converts coaches into luxury motor homes. The company started in 1968, in Frank and Jeanne Konigseder's backyard on the outskirts of Libertyville, in the United States.
The coach is listed for sale at nearly US$ 1,5 million (roughly R20 million). This "budget buy" is almost US$ 1 million (more than R13 million) less than many premium conversions of the Prevost brand, a leading North American manufacturer of touring coaches and conversions.
"In terms of value, the Emerald is like no other vehicle in its price range," says Liberty vice president and managing partner Frank Konigseder Junior. "The quality of the workmanship is obvious, and it boasts some features – like the Crestron remote-control system with iPad interface – that many higher-priced coaches don't offer."
Built on a 45-foot (13,7 m) Prevost X3 chassis, the coach boasts a spacious double-slide floor plan packed with a full array of premium features, including a Sub-Zero refrigerator, Bosch washer/dryer, four roof-mounted air-conditioning systems and a state-of-the-art LED lighting system.
"It opens the door to a new 2016 Prevost for the price of a pre-owned coach," Konigseder points out.
If you're interested in this budget buy, you can schedule a private showing at Liberty Coach of Florida in Stuart, which is located just south of Port St. Lucie on the Atlantic Coast … Or you can go for a pre-owned option as the company has announced the return of its "Coach of the Week" marketing programme.
The programme, which was introduced last year, showcases a single Liberty Coach listed for sale and available for viewing at the company's full-service Florida dealership. This year, it will focus on its current inventory of 13 pre-owned Liberty models ranging from 2007 to 2013.
"We're excited to be able to offer such a wide range of coaches and price points, with selected models priced well under the US$ 1 million (R13,4 million) mark," says Konigseder. "It opens the possibility of owning a Liberty Coach to a whole new segment of buyers."
A case in point is Liberty's first "Coach of the Week": a 2007 Elegant Lady Balmoral Edition, which is listed for sale at US$ 799 000 (nearly R10,7 million).
Built on Prevost's top-of-the-line H3-45 bus platform, the Balmoral is powered by a Detroit Diesel engine with Allison automatic transmission and boasts a spacious double-slide floor plan. A fully integrated audio-visual system features a ceiling-mounted 42-inch plasma TV in the living room, 32-inch LCD TV in the bedroom, and Bose Lifestyle DVD/stereo system with Dolby Pro-Logic surround sound.
Other features include a multi-function lower-bay entertainment centre with full TV and audio capabilities as well as a Jenn-Air grill and auxiliary refrigerator, and a Crestron touch-screen remote control system for every phase of interior operations.
It is hard to believe that some can spend R20 million for a coach on one side of the planet, but operators on the other side are struggling to survive due to a lack of much-needed subsidies and interim contracts …
Focus on Transport
November 1, 2015
Published by