Integrated public transport – a reality?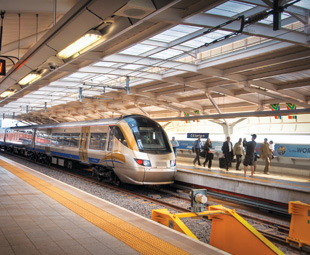 From 1 July, Gauteng will have the basics in place for a fully integrated land-based public transport system. With the Gautrain fully operational, it is now up to Johannesburg, Tshwane and Metrorail to get their act together and complete the multimodal exercise, writes UDO RYPSTRA.
With full Gautrain services to commence on 1 July, Gauteng will be moving slowly towards an integrated, intermodal public transport system which will use the Johannesburg-Pretoria corridor as its main axis.
The core of this system will be the Gautrain itself and existing Metrorail services supplemented by the BRT systems of Johannesburg (Rea Vaya) and Tshwane. The Gautrain and BRT systems are also to be fed by existing metrobus, metered and minibus taxi services.
While Phase 1 of Rea Vaya has already been implemented with great success, the Tshwane BRT system was put on ice until further notice in December last year, but more about that later.
The big achievement is that the mainline Gautrain service on the Johannesburg and Pretoria axis via Sandton is now complete, which means both Jo'burgers and Pretorians can use it to get to Ortia, although they will have to switch trains at Sandton. The Sandton-Ortia Gautrain service, which runs via Marlboro and Rhodesfield stations, takes only 16 minutes. From 1 July, it will obviously take longer if passengers board the train at any other station on the new mainline service on the Johannesburg and Pretoria trip, which takes about 42 minutes because six more stations have been added to complete this main line. They are, from north to south: Hatfield Station, Pretoria Station, Centurion Station, Midrand Station, Rosebank Station (past the existing Sandton Station) and Park Station in Johannesburg.
The Gautrain concept, promoted at first by Mbhazima Shilowa, former premier of Gauteng, was described as Shilowa's "pipe dream" in some daily newspapers and transport trade magazines when it was first proposed. But with the FIFA World Cup on the horizon, it was quickly "hijacked" by former Transport Minister Jeff Radebe to form part of the national 2020 Moving South Africa Agenda, introduced by yet another former transport minister, Mac Maharaj.
While the Gauteng train itself has been described as a "white elephant" of which the cost could have been more effectively spent on BRT systems, it has become a reality with President Zuma or Ndebele, or both, probably smoking Shilowa's pipe when they push the buttons for the inaugural Hatfield-Johannesburg run(s).
But the Gautrain is aimed at not just getting Gautengers to and from Ortia. It is aimed at moving all Gautengers out of their cars that clog the Ben Schoeman highway between Pretoria and Johannesburg (via Sandton, etc). And to achieve that, all the stations except Marlboro will have their own bus feeder systems.
This means that commuters living along the Gautrain route, as well as many living in the northern and western suburbs served by feeder buses, can now access the Gauteng Metrorail network which serves the Greater Johannesburg metropolitan area as well as Pretoria and its suburbs.
Operated by Metrorail, a division of the Passenger Rail Agency of South Africa (Prasa), routes spread out across the province from three main hubs: Park Station in Johannesburg, Germiston Station on the East Rand and Pretoria Station in Pretoria. Routes serve central Johannesburg, the East Rand, Soweto, the Vaal Triangle, the West Rand, central Pretoria, and suburbs to the north, east and west of Pretoria. Park Station in Johannesburg and Pretoria Station in Hatfield will also provide access to Metrorail services, which are to be upgraded.
To this end, Prasa hopes to complete a feasibility study into a R97 billion, 18-year modernisation and expansion of South Africa's aged passenger rail rolling stock. This will be followed by a procurement process, which hinges materially on an injection of private finance into the programme, for implementation from March 2012.
Speaking at a meeting to raise private finance, Ndebele said the "New Rolling Stock Programme" would seek to reposition rail as the "backbone" of public transport. Both Ndebele and Prasa CEO Tshepo Lucky Montana stressed that the State alone was unable to fund such a large programme and that local and international financiers would be required to complete the programme.
According to Montana, the February Budget had made provision for a new fiscal allocation of R30,2 billion for Metrorail. He said the previous R25 billion injected by government in recent years had merely stabilised the business, which had been in decline owing to years of underinvestment and neglect. Metrorail trips fell from around 700 million a year in 1990 to below 500 million ahead of the injection. They had subsequently recovered to around 600 million.
Montana warned that the proposed upgrade could no longer be postponed as the system could "collapse" prior to the seven to 10 years that it would take to realign Prasa's balance sheet for the investment programme.
Meanwhile, the Tshwane Metro Council has gone back to the drawing board after it temporarily shelved the implementation of its Bus Rapid Transit (BRT) project. It was planned that the BRT roll-out would be done in phases, with Line 1 linking areas in the north, such as Soshanguve and Mabopane, to the CBD. Line 2 would reach out to areas in the south and east, like the fast developing suburbs along Hans Strijdom Drive and Mamelodi.
The completion of lines 1 and 2 would have meant a BRT service that covered a route of about 70 km and featured four bus terminals, 53 bus stations and 159 buses.
However, the Department of Transport found that the design and proposals for the system were flawed. It was concerned about the high sections of Line 1, the use of existing road space, the lack of an updated full network design, accessibility to stations in the median of the freeway and the provisions of the BRT versus the upgrading of the existing rail service.
The National Treasury has also withdrawn funds earmarked for the project.
Focus on Transport
May 1, 2011
Published by