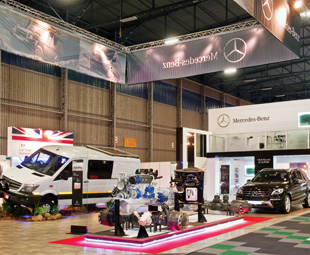 The annual Africa International Aerospace and Defence (AAD) Exhibition never fails to deliver the goods. Mercedes-Benz South Africa used the opportunity to show what it has to offer.
The Waterkloof Air Force Base was abuzz with the sound of light aircraft and armoured defence vehicles between September 17 and 21, as AAD again attracted a wide audience from both the public and defence sectors.
Mercedes-Benz was keen to show off its defence solutions, designed for its customers to respond to any and all tactical demands and logistical needs. "Mercedes-Benz is at the forefront of innovation and product development in the defence field, which makes us the manufacturer of choice for armed forces that require tailored solutions for differing missions," says Christo Kleynhans, product manager, Mercedes-Benz Trucks.
The company certainly had a comprehensive assortment of vehicles on display, beginning with the van-based Sprinter 4×4. With all-wheel drive, the Sprinter 4×4 is designed for the most adverse conditions, adhering to the strictest of requirements when it comes to traction. Mercedes-Benz claims it is a vehicle that caters for a wide range of applications, including defence use and other special purposes.
Next in line is the hulking Unimog
U 5000 – designed for maximum mobility in the toughest terrain. The Unimog offers the greatest off-road capability in vehicles with a permissible gross vehicle weight of between 9,5 and 14,1 t. Thanks to this outstanding off-road capability, the Unimog is perfectly suited to defence applications in the most difficult terrain.
Finally, on a slightly smaller, albeit no less tough, scale, the Mercedes-Benz M-Guard gives its occupants the ride comfort they require, while providing outstanding protection. A raised seating height ensures a better view of surroundings and, as a special-protection vehicle, the M-Guard with integrated protective components meets all the requirements of Resistance Level VR4 – meaning it is rated to protect occupants against handguns as powerful as the .44 Magnum. Further, its 4MATIC permanent all-wheel drive delivers outstanding traction and handling whether on- or off-road.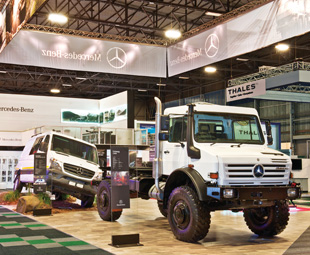 "Mercedes-Benz defence vehicles are designed with conflict situations in mind, and this guides us to provide solutions to fulfil the various demands placed by different missions. We offer logistics, armoured and high-mobility vehicles as well as other tailored solutions for our clients," says Kleynhans.
These include a premium back-up and supply infrastructure, including custom-tailored defence-based solutions. In addition, Mercedes-Benz has also developed standard service solutions designed to meet specific customer requirements. Ongoing support is offered through the manufacturer's extensive dealer network and support partners.
Mercedes-Benz says that those who purchase its defence vehicles are able to rely on the company's faultless service and operational capability. It's no wonder visitors to AAD flock to its stand every
year.
Focus on Transport
December 1, 2014
Published by