Isuzu Trucks set to impress
With the class-leading automated manual transmission (AMT) technology on the two FSR 800 AMTs entered in Truck Test 2013, Isuzu Trucks plans to make its mark.
Tiny Daya, product and application engineering manager at Isuzu Truck SA, says the company expects its trucks to perform well, based on Hellberg Transport Management's TransSolve simulations.
The most exciting aspect for Isuzu is the AMT technology on its trucks. "In 2008 Isuzu Truck SA was the first original equipment manufacturer (OEM) to introduce AMT to the South African truck market, in the medium commercial vehicle segment. To date this has been a great success with many fleets now standardising with AMT," Daya says.
What makes AMT so special? For starters, it improves fuel consumption and ease of driving. Daya explains: "On an AMT model, the driver does not use a clutch pedal when pulling away, changing gears or stopping; only the gearshift lever, accelerator pedal and brake pedal are used. Based on a manual transmission, such advanced technologies as wet-type multiple disc clutch and fluid coupling have been introduced to achieve an easy-drive system suitable for commercial vehicles. In addition, the use of an electromagnetic, solenoid valve-type gear-shift unit enables both computer-controlled automatic or manual mode operation."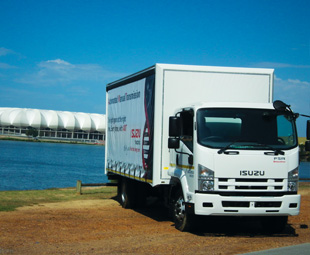 With AMT the transmission remains manual, but the shifting mechanism that changes the gears is electronically controlled. Daya elaborates: "There is no driver-operated clutch, which takes away the risk of driver abuse. The truck is always in the right gear, at the right time. So there are no more costly clutch replacements."
Isuzu's AMT models bring to market a truck which retains performance, durability and fuel economy usually associated with a manual transmission. This makes the truck so easy to drive that the driver is able to completely focus on the road.
Anton du Plessis, national sales and distribution manager at Isuzu Truck SA, highlights the issue of aerodynamics. "This plays a huge role in fuel efficiency and should be illustrated by our two vehicles in the Truck Test. The one FSR 800 AMT is just a standard tautliner body, while the other has been fitted with a full aerodynamics kit. We intend to illustrate that although these add-ons may cost extra initially, the savings they bring over time, on cost of ownership in terms of fuel consumption, more than make up for that."
The two Isuzu trucks taking part in Truck Test 2013 are both Euro-3 vehicles. "So they're ahead of the standard Euro-2 requirement and are thus more environmentally friendly," adds Du Plessis.
Other impressive features on the trucks are hillside assist – for pulling off on a steep gradient when the truck is at full gross vehicle mass, and multi-info display – which displays, among other things, fuel consumption, which gear the truck is in and when the next service is due.
The trucks also appear lower than their competitors. "That is purely because of the tyres that have been specially selected to reduce drag and improve aerodynamics," explains Du Plessis.
Both Du Plessis and Daya are enthusiastic about Truck Test 2013 as they feel it's a level playing field for all the competitors to see how they fare against each other. "Isuzu intends to maximise the opportunity," Du Plessis concludes.
Focus on Transport
April 1, 2013
Published by