It's one of the most consistent and competitive sectors within the commercial vehicle industry. We are, of course, referring to the heavy commercial vehicle market which, as FRANK BEETON notes, has become the happy hunting ground of the Japanese manufacturers.
Heavy Commercial Vehicles (HCVs), in the context of vehicle sales reported to the National Association of Automobile Manufacturers of South Africa (Naamsa), are defined as those with Gross Vehicle Mass (GVM) ratings contained in the band between 8 501 and 16 500 kg, and are, without exception, of two-axled configuration, with either the rear, or both axles driven. Operationally, they offer nominal payload capacities in a range between slightly less than five, and slightly more than eight tons, and are positioned between the trucks and vans of the Medium Commercial Vehicle (MCV) category, and the heavier multi-axled trucks that make up the Extra Heavy Commercial Vehicle (EHCV) segment.
Most of these vehicles start off as chassis/cab units, and are then fitted with insulated or refrigerated closed van superstructures, or open dropside bodies, to be employed in the distribution trade, moving a vast array of fast moving consumer goods between factories, warehouses and retail outlets. HCV units are also widely used in support of public sector infrastructure maintenance activities, in the form of tippers, refuse compactors, vacuum and water tankers, skip loaders, roll-on/roll-off demountable body units, or as basic load carriers or service vehicles equipped with various forms of hydraulic lifting and loading devices. Some HCV chassis are also adapted to carry basic bus coachwork, most of which find their way into public sector or staff transport operations.
In the years prior to the 1980s, the HCV segment dominated the South African truck market with a share that frequently reached 80%. Subsequently, this has declined to the point where HCV sales have achieved a remarkably steady 20% penetration of the total market above 3 500 kg GVM for the last ten years. The earlier decline was primarily due to the diminishing role of the public sector as a buyer of new trucks in the period leading up to the first democratic elections in 1994, and the consolidation of many distribution fleets following the deregulation of road transport that gathered pace from the late 1980s. Central government, homeland government and provincial departments had previously bought large quantities of HCV-class vehicles to support their administrative and enforcement activities, while the removal of the permit system that historically regulated long-distance privately-owned road transport inevitably shifted much of the market focus upwards to the premium payload EHCV category as increasing numbers of articulated line-haul rigs hit the road.
During the first quarter of 2010, seven manufacturers reported a total of 964 sales to Naamsa in the HCV category. Leading the field as volume supplier with 256 unit sales and 26.6% penetration, was Nissan Diesel, now busy with the rebranding process that will see it re-emerge, later this year, as UD Trucks South Africa. It was followed by Mercedes-Benz South Africa, whose Mercedes and Fuso brands combined to return 217 unit sales for 22.5% share, and Isuzu Truck South Africa with 189 unit sales and 19.6% share. Regular segment leader Hino Trucks occupied a surprisingly subdued fourth position during this quarter, with 179 units sold for 18.6% share. The balance of the sales, in order of magnitude, was divided between Tata (99 units), the MAN Group, whose MAN and Volkswagen-badged products combined to achieve 21 unit sales, and Iveco, who reported only three units during the quarter.
During this period, products of Japanese origin accounted for no less than 81.4% of all HCV sales in South Africa. This remarkable level of dominance follows a lengthy period, dating back to the late 1970s, when the simple virtues of reliability, driver-friendliness and economy of operation that characterize the products of that country resonated with local operators. HCV vehicles, generally, experience low to medium levels of productivity, with loading and unloading often taking up more time than travel. Many of these units also spend their time negotiating heavy city traffic, a scenario that severely hampers making use of the technological benefits characteristic of the more sophisticated, and usually more expensive, trucks offered by European manufacturers.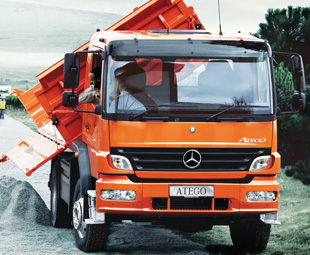 The less pricey products from India and South America do present as attractive alternatives, but will need to prove their serviceability over lengthy periods in the rough and tumble of local delivery work before posing a serious threat to Japanese dominance of the HCV category.  Distribution contractors require a fine balance between affordability, durability and application suitability, and the results quoted above give a clear indication that most South African fleets are very happy with their Japanese trucks.
The most significant event to occur in this market during the first half of 2010 was undoubtedly the launch of Isuzu's completely renewed F-Series. Visibly an upmarket extension of the recently-introduced and already successful N-Series MCV range, Isuzu's latest F-Series includes the crew cab and all-wheel-drive options that have enhanced the appeal of its smaller trucks, and opened up new possibilities for operators of this vehicle class.
Somewhat surprisingly, the automated mechanical transmission options that have really stirred up the MCV market segment were absent from the initial F-Series line-up, but this omission is to be rectified towards the end of the year.
Corporate realignment news was not limited to the Nissan Diesel/UD switchover, however. The Volkswagen Group's evolving global strategy dictated that the local MAN Truck and Bus operation would absorb the heavier element of Volkswagen's Commercial Vehicle line-up at the beginning of the year, and the Brazilian-sourced Constellation HCV truck range moved to a new home, sharing the same assembly and retail structure as its MAN "big brothers".
Predictably, in the run-up to Soccer World Cup 2010, there was some increased sales activity in the HCV market, as distribution fleets tasked with servicing the stadiums and fan parks balanced their fleet capacities against an increased workload. However, this was highly erratic, and the segment did not deviate materially from its customary 20% level of market penetration. It seems highly probable that some fleet consolidation may take place in the post-SWC months, which could result in a few sub-optimal sales results, but the remarkable consistency that this vehicle class has demonstrated over a considerable time period augurs well for its future in the SA market.
Focus on Transport
August 1, 2010
Published by