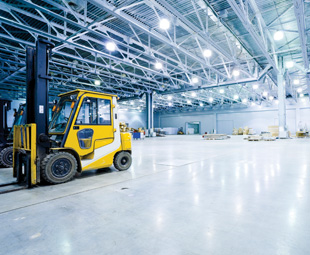 Nowadays almost anything can be ordered from a catalogue and come out of a box … and warehouses aren't any different. Enter Warehouse-in-a-box, an innovative infrastructural concept for the rapid deployment and commissioning of pharmaceutical warehouses across the African continent.
The simplicity of it is ingenious and the name really does say it all … Warehouse-in-a-box (WiB) from Imperial Health Sciences incorporates receiving, dispatch, storage, kitting and racking – which you can order from a catalogue, receive in containers and "assemble" on site. The modular design also provides flexibility – these pre-fabricated units can be supplied in sizes ranging from 500 m2 to 1 000 m2, but more space can be added as your warehouse needs grow.
"You might be asking: 'What does a pharmaceutical logistics distribution company have to do with building warehouses?'," stated Deon Vos, director of business development at Imperial Health Sciences, at the Transport Forum's Special Interest Group meeting in Cape Town, during July.
This instalment of the monthly event was themed: "Regional Expansion: Overcoming logistical challenges to enable southern African supply chains" … which is exactly why Imperial Health Sciences (IHS) got involved with the manufacturing of WiBs – to aid the continent in terms of healthcare supply chains.
It all began in 2010, when the Tanzanian government and the United States Agency for International Development (USAid) – an amalgamation of several existing foreign assistance organisations and programmes charged with foreign economic development – discussed Tanzania's overwhelming lack of supply chain infrastructure.
This included limited and inadequate storage facilities, which impaired the government's ability to provide sufficient pharmaceutical supplies and health services to patients. These poorly constructed, maintained and managed facilities also put products at risk of damage or expiry.
In response, USAid – through its implementing partner the Supply Chain Management System (SCMS) – proposed this unique project to install pre-fabricated warehousing units in three locations in Tanzania, which were completed in 2012, with two more currently under construction – and so the WiB was born.
(SCMS was established in 2005, as part of the President's Emergency Plan for Aids Relief (PEPFAR) – which is managed by USAid – to provide a reliable, cost-effective and secure supply of products, for HIV/Aids programmes in PEPFAR-supported countries, through stronger supply chains.)
IHS, in turn, was appointed as the sub-contractor by SCMS to manage and deliver the WiB projects. The company manages the whole project from beginning to end – and beyond …
Before the pre-engineered modular units are delivered in their containers, all the infrastructure needs to be in place including: access roads, electricity, water and sewage points. "Often, when we are asked to build a warehouse, these things aren't in place; there's absolutely nothing," Vos explains.
The IHS WiB team assembles the infrastructure; installs the fittings, equipment and systems; implements the processes; establishes the operating procedures and delivers a fully functioning facility, much faster than conventional building methods.
SCMS states that an estimated "order to completion" timeframe of six to nine months is achievable if the site preparation is completed beforehand; with the foundations, power, water and sewers being in place. Vos adds: "Red tape, from the authorities, might also slow down the process, but this also happens in conventional building practices."
"There is no construction of the modules on site, just assembly – and you can add more bits as you go along and need a bigger warehouse," Vos reiterates. The components consist of cast-in-place and prefabricated material with a reinforced concrete substructure and a superstructure of steel columns, beams, trusses and Chromadek cladding and roofing.
The materials are insulated, rust-resistant, lightweight and low maintenance. Fittings include steel pallet racking, a generator, closed-circuit television surveillance and security equipment, air-conditioning, materials-handling equipment, fire-protection and pest-control equipment, as well as standard fittings and furniture for offices.
Vos adds that the company builds these units to be fully functional on their own. "We build the units so that, when we walk away, they are fully equipped and the staff are fully trained to operate the warehouse."
IHS implements intensive skills training to prepare the local team (usually six to eight people) to manage the WiB, covering technical and operational skills, key performance indicators and compliance. "We also offer warehouse management courses, as it is pointless having this beautiful, shiny warehouse staffed by people who don't understand how to run it," says Vos.
To ensure long-term sustainability, the company also conducts ad hoc performance audits and supplies ongoing coaching and support.
Vos says that the WiBs aren't suited only to the pharmaceutical industry. They can be implemented anywhere where rapid deployment of distribution centres are required … So, if you're in need of a place to stash your goods before they go to market, or to other branches, be sure to grab the latest WiB catalogue … the accessories are all included.
Focus on Transport
August 1, 2014
Published by