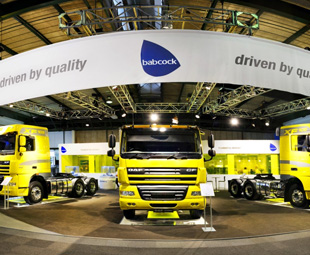 Times are tough, but 2016 is here – and we can only hope for good things.
You'll have to excuse me for opening the 2016 edition of the Transport Manager's Handbook on a glum note. There's no denying, after all, that tough times have gripped the world, the country and the transport industry, over the past few years.
Political issues are causing a lack of confidence in the country and the rand is plummeting to new lows. Investors are running scared and business confidence is lowering. All industries are experiencing a knock-on effect, with transport and logistics certainly no exception.
The proof is in the pudding; in this case 2015's commercial vehicle sales performance – always a strong indicator of the health of the economy. While the year started off optimistically in terms of sales, it didn't end off quite as expected, as Vic Oliver details on page 4.
The cancellation of the Johannesburg International Motor Show (JIMS) and its associated Truck & Bus Show was another issue that highlighted worry in the industry. Following this announcement, however, the overwhelming sentiment from local commercial vehicle original equipment manufacturers (OEMs) was one of relief …
Many of them took the opportunity to get their most valued existing and prospective clients together in one place for a few days to experience what their respective brands have to offer in a more practical, high-value sort of way.
Indeed, it's no surprise that JIMS has been re-imagined as the SA Festival of Motoring, which will not include the Truck & Bus show.
While the vehicle OEMs look for new and exiting ways to engage with their clientele – the fleet operators – they too, gauging from the exchanges I had with some industry players last year, are having an increasingly tough time.
If the transport industry was ever cutthroat, it's probably more so now with today's economic pressures.
This is something I'll be interested to revisit in March, when we attend the annual Econometrix budget conference for an analysis and report back on the finance minister's budget speech.
I heard a radio interview early in January, where it was suggested that the country is in for another few months of turmoil. It was predicted that, by April, something will happen to change that, and, by November, we should begin to take to a sunnier path.
It'll be interesting to see what the finance minister and the folks from Econometrix predict. Ever the optimist, I sincerely hope that a positive scenario will materialise.
The pressure to cut back and act wisely has been apparent across the board, so we thank all those companies and individuals who have stuck with the FOCUS team and supported the 2016 Transport Manager's Handbook. We look forward to offering a new level of value with future publications.
Focus on Transport
January 31, 2016
Published by