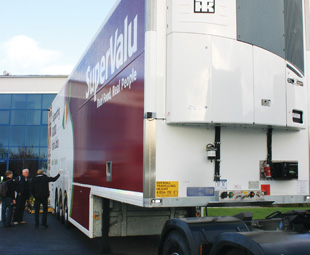 GAVIN MYERS followed the rainbow to Ireland and – while he didn't discover those elusive pots of gold, leprechauns or four-leaf clovers – he did find the Thermo King factory.
The Irish are said to be a lucky bunch. I'm not so sure it's just that, though. Something tells me this little nation (we're talking about southern Ireland here – the Republic, which is part of the EU and not the UK) creates its own good fortune. I think that's evident in the fact that over half of Ireland's populace is concentrated in its three main centres of Dublin, Cork and Galway – the latter of which is home to the Thermo King factory that I was lucky enough to visit.
Thermo King is a name well known to those in the business of refrigerated transport the world over. The company – a division of Ingersol Rand since 1997 – was founded in 1938 and today manufactures transport temperature control systems for mobile applications ranging from trailers to truck bodies, buses, shipboard containers, airline containers and railway cars. It is the global number one brand in transport temperature control units.
Since 1976 the Galway operation – just one of Thermo King's nine global manufacturing facilities – has specifically supplied truck and trailer units to the company's European, Middle Eastern, Indian and African markets (EMEIA). In the EMEIA regions alone, the company has 320 dealers, with our own being GEA Refrigeration Africa (Pty) Ltd.
Thermo King was kind (or should that be "brave"?) enough to host over 40 journalists from around the world at its 20 439 m² facility, in order to impress upon us the strides the company is constantly taking – not only with its range of efficient and innovative products and services, but also in the way it goes about achieving these standards.
Our visit coincided with a very special occasion for the Galway operation and its 400 staff, who had recently achieved 4,5 million hours without a lost-time incident over a five-year period.
The focus on safety throughout the entire facility is something that really stood out as our various groups were shown around. As well as being ISO 14001; ISO 9001; ISO 18000 and SOX accredited, the facility has won numerous quality, safety, innovation and environmental impact awards. All are proudly displayed – along with massive banners with slogans promoting this attitude and congratulating staff on their achievement – as a constant reminder of the pride Thermo King and its employees take in their jobs, products and services.
This attitude is also engineered into Thermo King's impressive line of products. Pascal Richard, product segment leader for Thermo King EMEIA, says that the company's priorities include providing the most energy-efficient transport solutions, as well as ensuring the integrity of the load that affects its customers' reputations and the end users' well-being and health.
As you may know, European legislation presents a very different (borderline pedantic) set of operating circumstances to our own. This mainly centres on noise and emissions regulation, with some countries being more stringent than others. Holland, for example, enforces the strict "PIEK" noise legislation for night deliveries, which imposes a noise limit of 60 dBA. However, Thermo King has taken the lead in silence and cleanliness with its new range of units, even ahead of the forthcoming noise directive revision by the European Commission.
For example, some units can switch from high speed (maximum cooling capacity) to low speed automatically, allowing greater reductions to the already low noise levels. In terms of emissions into the environment, the new range results in 23% less hydrocarbons (HC) and nitrogen oxide (NOx), as well as 55% less particulate matter.
Thermo King was eager to show off its extensive product and service portfolio, and has a unit for almost every application – making it difficult to know where to begin! However, given the company's forward-thinking nature, its new CryoTech unit would be a good start. This is probably the future of refrigerated transport.
The CryoTech unit uses none of the components of a conventional cooling system – it has no engine, no condenser, and does not run on diesel or nitrogen. Instead, the unit is designed to operate on R744 (recycled) carbon dioxide (CO2). It therefore represents the lowest possible carbon footprint: 75% less than diesel and 65% less than nitrogen. It is a constant-capacity CO2 system allowing for faster pull down and temperature recovery after opening the trailer. The unit is also extremely silent; being over 37% quieter than the PIEK limit and over 90% quieter than a conventional refrigeration system. The loudest noise emissions are 58dBA.
The CO2 itself requires very little energy to create (as opposed to nitrogen) and is safe to handle when filling, for example. The unit has a low height and is smaller than its conventional counterparts, which also means it creates less aerodynamic drag. In addition, pricing is very similar to traditional units. However, depending on the location and the diesel price, the overall value benefit (compared to diesel) can fluctuate, as there are variations from 15c to €4/kg (approximately R1,70 to R45) in the price of CO2 within Europe.
Notwithstanding this value variance, some Thermo King clients are making a concerted effort to convert to CryoTech. ASKO (Norway's largest wholesale business), for example, currently has 50% of its fleet running these units and is looking to expand this to 100%.
Thermo King has so far sold 500 of these units. The company quotes the example of a typical fleet of 50 refrigerated trailers, where CryoTech units will achieve savings of about 190 000 l of diesel per year, and a CO2 emissions reduction of over
500 000 kg!
Another addition to the range is the V-series, which comprises the new V500 and V700 units. The V-series is part of Thermo King's direct-drive portfolio and is a non-diesel range, having no engine of its own but running off the vehicle's engine.
The V500 comprises all-aluminium micro-channel technology, making it 7,5 kg lighter, requiring 200 g less refrigerant, and providing 130% better heating capacity with the same energy consumption (a must for the low-ambient temperature countries that this unit is designed for).
The V700 is a single-temperature unit and the company's "green solution" for six- to seven-metre trucks. It has 22% better cooling capacity, 63% higher heating capacity and 11% better airflow. There is also a V700 Max spectrum multi-temperature unit – itself offering a 30% higher refrigerant capacity with a 60% lower carbon footprint.
One of the company's most flexible ranges is the T-series, which has four single-temperature units and three multi-temperature units – allowing for up to 12 configurations. This, says Thermo King, is its global range and the company took customer input into consideration when designing the new generation products.
This resulted in a range of units with 25% better capacity, 12% lower fuel consumption, 31% greater efficiency and a massive 75% reduction in engine emissions, when compared to the previous generation. The unit also has a new aerodynamic and fully-recyclable skin, plus high 24-month or 2 000-hour service intervals.
Market reaction to the above has been extremely favourable, the company says.
Lastly, there is the big-daddy of the Thermo King range – the SLX, and more specifically, the SLX Whisper. As its name suggests, the Whisper is the only diesel-powered refrigeration unit that meets the PIEK regulations when operating in high-speed mode.
As with Thermo King's other products, the SLX incorporates a raft of innovations that give it notable bragging rights. In addition to low noise, the SLX features a highly efficient direct-drive engine, heat exchange optimisation and control software optimisation, to give it 15% lower consumption than its competition. It also uses 66% less refrigerant and is 18 kg lighter, with 5% higher capacity. Further, the SLX range is also suitable for modes of transportation other than trucks.
It's an impressive range, but that isn't the end of the story. As Alex Zankl, Thermo King's aftermarket business director, points out: the company places great importance on aftermarket, accessories, telematics and service solutions. With 1 100 certified technicians in 314 locations around the world, Thermo King is poised to provide its customers with 24/7 support, preventative maintenance, legislation guidance and breakdown assistance. These service solutions are designed to provide complete cost control, fleet optimisation, uptime and peace of mind.
The range of aftermarket accessories and telematics solutions impresses, too. Focusing on cargo care, legislation, optimum fleet usage, data management and fuel efficiencies, Zankl is confident that these products are all designed to last longer than standard and to be more efficient.
In addition, by using Thermo King's Optiset+ software, fleet managers have at their disposal a powerful tool to define settings and parameters for specific products, as well as individual systems and accessories.
Much of Thermo King's innovative thinking has no doubt rubbed-off on its clients, in particular Musgrave Retail Partners Ireland, whose innovative double-deck trailers with multi-temperature divisions has won Thermo King's "Energy Efficiency Leader Award". With this impressive trailer, Musgrave's available truck capacity has increased by 65% and enabled it to do multiple jobs in single trips; a capability which has saved the company €70 000 (approximately R800 000) a year, per trailer, in personnel, fuel and fleet costs.
Despite this country's humble nature, one thing that is evident when visiting Ireland – and the Thermo King factory in particular – is the amount of innovation and expertise its people have to offer. For evidence of this, one need look no further than the Musgrave trailer and the Thermo King range of products.
I don't think it's so much the "luck" of the Irish; but more the "way" of the Irish.
Focus on Transport
December 1, 2011
Published by