Kormoran will meet your budget needs
With the industry focusing on both performance-driven and cost per kilometre (CPK)-orientated products, the Michelin Tyre Company South Africa has considered the needs of the local market and has made a breakthrough with its Kormoran truck tyre range.
When looking for products at good prices, it is always easy to buy cheap, low-quality goods – but some purchases end up being far more complex, and the transport industry is now more aware of this than ever before.
The Kormoran range covers both on- and off-road applications for all sectors of the commercial truck market and has been exclusively introduced by Michelin Truck Service Centres. With the positive response from the market, the decision was made to extend the distribution to all South African dealers.
The highest recognition was awarded to the Free Rolling Tyres (FRT) that fit the requirements for running a South African fleet at optimum levels. Since 2005, more than five million Kormoran tyres have been sold globally, and this number is growing dramatically.
The motivation for the success will not lose momentum, as the Kormoran brand will introduce the new all-position 7.50 R16 Kormoran Roads U in
the third quarter of 2015. This 14-ply-rated tyre has been constructed to outlast all obstacles and will keep trucks moving forward at a reasonable input cost.
The Kormoran Roads U offers a longer running life with a new rubber compound, which has two very important attributes: slower wear rate for longer life, and optimal performance in a wide range of conditions. Its solid unbroken shoulder increases the resistance to uneven wear, making the tread design unique in the market.
All Kormoran casings are retreadable and, therefore, contribute to sustainable development. Kormoran implements concrete actions on a daily basis with a view to redefining its environmental footprint.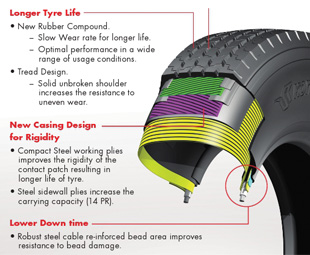 These include increasing the lifespan of the tyres, as well as selecting basic materials with the lowest environmental impact. Kormoran is committed to growth and an efficient recycling industry with a view to processing tyres at the end of their service life.
In addition, all Kormoran tyres are regroovable. Regrooving enables the tyre to run further. The tread pattern is regrooved when the depth reaches a maximum of three to four millimetres.
This must be undertaken by a professional, who will check the tyre to ensure it is in good condition. There is a regrooving plan for each tread pattern that will also specify the width, depth and the type of blade that should be used.
Kormoran, focuses on taking the lead compared to its competitors in the same segment. With specific focus on what is most important in your operation with regard to tyre requirements, it makes sense to start with the backing of a brand like Kormoran.
The Kormoran tyre range is specifically aimed at the needs of transporters that that have a limited budget and depend on tyres that will get the job done. This includes specific operations like container transport, mining, construction, cement, removal and waste collection.
To most transporters, downtime has a great impact on their bottom line and Kormoran offers reliability at a reasonable price.
Focus on Transport
July 16, 2015
Published by