Leading the economy charge
With fuel economy being top of mind at Nampo this year, it was no surprise to see the Isuzu Truck stand jam packed with farmers. CHARLEEN CLARKE joined the throng …
Things hardly ever change at Nampo. Year after year, we see all the leading trucking companies dash down to Bothaville to sell their wares. The farmers, in turn, arrive in their droves. With one thing on their mind: shopping.
But this year was slightly different. According to Lisa van Aswegen, customer care and marketing manager at Isuzu Truck South Africa, the emphasis at this year's Nampo was very much on economy. "Buyers with the agricultural sector have always been very knowledgeable. They know exactly what they want – and yes, economy has always been an issue. But, at this year's show it was very much top of mind. We had farmers visit the stand and enquiring about governing their trucks to save fuel. It was clear that they want to ring fence these costs. Of course, this is giving us a huge advantage because our trucks are so economical," she tells FOCUS.
Yet another advantage, that Isuzu enjoys in the marketplace, is its reputation of providing terrific aftersales service. "The customers in this sector of the market are very loyal and word of mouth is very important in this sector of the community. We are in a fortunate position – we have an excellent reputation when it comes to customer service. This is no coincidence. We pride ourselves on being an aftersales franchise that also sells trucks, so we have put a huge focus on aftersales and customer care. This has paid off," she reveals.
Farmers are also extremely mindful of uptime and Van Aswegen says that Isuzu does its best to handle breakdowns with TLC. "We don't have a lot of breakdowns; we are very lucky in this regard. But if a breakdown does occur, it is handled extremely well and extremely professionally via our 24-hour call centre," she notes.
It is this emphasis within the agricultural sector that has resulted in Isuzu growing market share, Van Aswegen believes. "Everyone has good product. It is the personal touch that goes with the aftercare and things like good parts support that have made us successful," she contends.
But, of course, the product does remain important. And, in the case of the farming community, Van Aswegen says the buyers are very down-to-earth people who know exactly what they want. "Farmers are educated buyers; they often drive the trucks themselves.
"The CFO of a corporate company, on the other hand, may never even see the truck. Creature comforts are not the number one buying criteria; they want a durable truck that will do the job. Farmers are also looking for a truck that will last for at least 10 to 14 years," she tells FOCUS.
At the busy Isuzu Truck stand, it was obvious that the farmers had arrived at Nampo armed with a harvester-load of information. "That's spot-on right," confirms Van Aswegen. "Farmers do their homework. They ask a lot of technical questions because they have really researched the truck. It is definitely not an emotional decision." Indicative of this statement, one of the farmers who visited the Isuzu stand finally bought a truck after looking at the same truck for four consecutive years!
Multipurpose bodies also came to the fore on the Isuzu stand. "Farmers want a vehicle and body that can be used to transport sheep in the morning and can also be used to deliver grain in the afternoon. They are looking for versatility on bodies and a good solid body," she contends.
Because bodies are so important ("You cannot just sell a chassis cab," Van Aswegen points out), Isuzu Truck is looking to deliver a complete, ready-for-use unit to farmers. "We contract the body builder and then we deliver the finished product to the customer. We manage the entire process," she explains.
This service offering is thanks to Isuzu's exceptional relationships with body builders. "They assist us with managing the entire supply chain. We know the integrity of our trucks is good. They add to this integrity with their bodies. It is all about relationships that add value to us, the customer and the supplier," Van Aswegen says.
It was furthermore apparent that the visitors to this year's Nampo were open to technology. "We had a lot of interest in automated manual transmissions (AMT) this year. The farmers are interested in this because they are open to technology. They are open to anything that will save them money," she explains.
Of course, Isuzu Truck can deliver oodles of technology and lots of financial savings – as the company's performance in Truck Test 2013 and Truck Test 2014 has ably attested. Therefore, it comes as no surprise to learn that the company's product range, and market share within the agricultural sector, is growing.
"Farmers want trucks that are versatile and can be used as either a truck or truck draw-bar combination. Our solution in this regard is the FXR 17-360, the entry-level model within the FX range of trucks. The FXR 17-360 is a 4×2 freighter with a fuel-efficient 265 kW (360 hp) Isuzu engine, which gives farmers ample performance and great fuel efficiency. This model is the ideal truck for draw-bar trailer applications," she tells FOCUS.
Yet another vehicle that attracted a lot of interest on the Isuzu stand was the
NMR 250 Crew Cab. "One farmer said he liked it because he could take the family with him – the family normally travels behind him in a bakkie. Of course, with this truck, you can transport five passengers – all wearing seatbelts," notes Van Aswegen.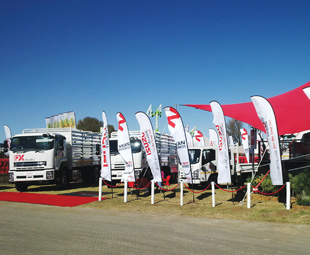 Enquiries came from farmers located all over South Africa. "We had a wine farmer here from the Western Cape, a game farmer from Namibia and a dairy farmer from the KwaZulu-Natal midlands. People come from far and wide. Nampo started off as a regional show but it's definitely a national show now. We even had quite a few international visitors – from China and South America predominantly. I don't know if they are coming to look at agriculture or business opportunities, but they were certainly interested in trading with this country," she reveals.
And finally, speaking of trading, what are Van Aswegen's predictions in terms of sales as a result of Nampo? "Well, we sold 24 vehicles last year. We would like to do 30 this year, and I am confident that we are going to get there," she predicts. Clearly the farmers were shopping at Nampo this year like never before!
Focus on Transport
June 1, 2014
Published by