After months of speculation surrounding its future, following the withdrawal of General Motors from the South African market, Isuzu Motors South Africa (IMSAf) has officially been launched.
The local operation has been bought by its Japanese parent Isuzu Motors. President and representative director of Isuzu Motors of Japan, Masanori Katayama, says Isuzu is committed to growing its business in South Africa.
"This is the first commercial and light commercial vehicle manufacturing operation outside of Japan in which we have acquired a 100-percent ownership. We are represented in 30 countries outside of Japan and successfully operate 47 manufacturing plants in these countries with joint-venture partners.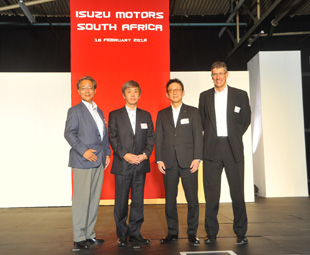 "Our decision with regard to South Africa demonstrates the confidence we have in this market and is indicative of our longer-term view that South Africa will serve as an important base for our future growth on the African continent," he notes.
IMSAf CEO and MD Michael Sacke says the company's initial focus will be to fully consolidate its operations while laying the foundation for future success.
He adds: "In the medium term the company will need to plan for the successful launch of future products, implement measures to increase its domestic market share and increase its exports into sub-Saharan Africa markets."
Our full story will be published in the next issue of FOCUS on Transport and Logistics.
Focus on Transport
February 21, 2018
Published by