Nissan is planning to give the most popular integral van on sale in South Africa a run for its money. GAVIN MYERS asks if the new NV350 could be in with a chance?
I know what you're thinking … that this looks rather familiar. Yip, the new NV350 from Nissan looks all too similar to the Toyota Quantum – its chief rival. But, in this war of the vans, is that necessarily a bad thing? And does the NV350 come closer to ruining the Quantum's party, than to merely looking the part?
Well, in my opinion, the NV350 (the subject of this test being the narrow-body, low-roof, short-wheelbase version) certainly does look the part. Its face is bold, with the black plastic grille and bumper sporting features that immediately define it as a product from the Nissan stable. Thankfully, angled, curved crease lines along its flanks break the overtly slab-sided look, when viewed in profile.
The interior is robust, plain and functional, with a decent amount of space and all controls falling within easy reach. Unfortunately, stowage space is a little on the light side, but the middle seatback does fold flat to reveal a handy work tray (with clip) that opens to reveal a storage compartment, perfect for A4-sized documents and other items.
That centre seat forms part of the passenger bench, which is fixed in place. The driver's seat offers good adjustment and a comfortable driving position is easy to find. The placement of the seats directly above the fairly softly sprung front axle can result in a bouncy ride over large bumps, remedied by simply adjusting one's driving style. As is now common with vehicles of this type, the NV350 features a dash-mounted gearlever.
Housed within the instrument binnacle is a 3,5-inch LCD display that gives readouts for the onboard computer. As with the smaller NV200 (see FOCUS October 2013) the control button for this is placed awkwardly inside the binnacle; a distraction for drivers. Otherwise, the NV350 offers air-conditioning, electric windows and central locking with a panic alarm function, as well as a gear-shift indicator to promote economical driving.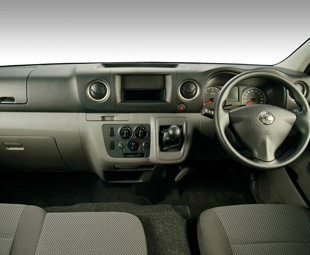 Unfortunately, our 2,5-litre petrol version did not prove very economical during our time with it. Nissan does claim that for this body and engine combination, a figure of 11,8 l/100 km (and carbon emissions of 282 g/km) should be achievable. We returned figures in the lower 13 l/100 km bracket, according to the vehicle's onboard computer. It's important to note though, that Nissan has gone to some lengths to reduce overall fuel consumption, installing (in addition to the shift indicator) low-voltage control of the alternator, to reduce the load it places on the engine, and the use of low-friction materials to improve the timing chain operation and lower the idle speed to just 600 r/min.
Nevertheless, the 108 kW (at 5 600 r/min), 213 Nm (at 4 400 r/min) unit is strong and free-revving. It is coupled to a five-speed gearbox. The sharp braking system incorporates ABS and Brake Assist and stops the large vehicle well.
Load carrying ability is by way of a 6,0 m3 load area that measures 2 865 (l) x 1 545 (w) x 1 350 mm (h). It is accessed by sliding doors on either side as well as a rising tailgate, and features four rope hooks and several utility nuts on the side panels. Maximum payload is quoted at 1 460 kg, with a gross vehicle mass of 3 200 kg.
The Nissan NV350 Panel Van range comes standard with a three-year/100 000 km warranty, a five-year/90 000 km service plan and a three-year/unlimited kilometre anti-corrosion warranty. At R287 900, the low-roof, narrow-body, petrol variant offers almost identical features, but better load-carrying ability than its equivalent Quantum rival – at a lower price. There's no reason the NV350 shouldn't crash that party.
Focus on Transport
March 1, 2014
Published by