Making even better business cents
Jarlath Sweeney, group editor of Irish magazine Fleet Transport, recently drove the improved Euro-6 range Iveco Daily
In the automotive business nothing stands still. As the world continues to change, manufacturers have to keep ahead, hedging trends while adhering to rules and regulations.
Customers of commercial vehicles are continuously calling for new solutions to face current and future challenges. There are so many parameters involved in purchasing and operating a new van nowadays, that buying the hardware is just that; a vehicle to move goods.
It is what happens under the bonnet and behind the steering wheel that matters most, together with a variety of software elements that increase efficiency, reduce operating costs and help keep in touch with the outside world.
Two years on from introducing the all-new Daily, which went on to win the coveted International Van of the Year award in 2015, Iveco has evolved the mid-weight van, chassis/cab and passenger carrier vehicle.
"With the contribution of experts, the best Daily ever has improved again, with many visible and non-visible features, new hardware and software," begins Pierre Lahutte, Iveco brand president at a special presentation of the latest versions of the Daily Euro-6 range – which includes 4x4s, electric and dual-energy hybrid models.
Foremost in the hardware packages is the Euro-6 driveline's lower total cost of ownership, which results in up to an eight-percent increase in fuel efficiency with a 12-percent savings on maintenance costs.
Also from the technology area, is the recently fine-tuned Daily Natural Power variant powered by natural gas, which is the best-selling, alternative low-carbon fuelled van engine ever. While the Daily electric is already in operation with customers, the next development, which will soon ready for production, is the dual-energy diesel/electric hybrid.
What will probably have an influence on the sector is the introduction of the Iveco Hi-Matic transmission. Its successful take-up will lead to the eight-speed automated system becoming standard and the six-speed manual becoming the option!
"Hi-Matic is a success story with more than 10 000 units sold to date, and with the target to double volumes in 2016. The data set of our Hi-Matic transmission can be customised, too, adopting mission-orientated, route-orientated and even fleet-orientated driving modes in order to save fuel," explaines Lahutte.
"Equipped with an EcoSwitch function (that cuts torque during acceleration with no impact on overall speed capability), with the new Euro-6 model we also introduce EcoSwitch Pro, which adapts torque modulation to load, and EcoSwitch Fleet, where settings activation and de-activation is key protected."
Lahutte moves on to connectivity. "The New Daily is starting a revolution in connectivity, offering a most advanced multi-tasking business platform, specific for LCVs," he says.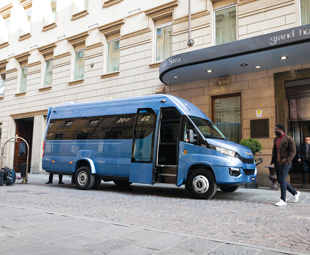 "Once you've downloaded the Daily Business Up App (on your smartphone or tablet device), it will automatically establish a Bluetooth connection with the vehicle through the DAB (digital) radio. It allows customers to experience ultimate efficiency in their 'mobile workplace', by fully exploiting the opportunities offered by a highly professional environment," adds Lahutte.
This innovative open-platform system becomes a real-time communication channel with the transport operator's back-office. It can also be used as a driving-style evaluation tool, driver assistant, or business asset with the help of future-thinking start-up businesses. "Programs are easy to upgrade, and are capable of continuous improvement and multiple interactions," Lahutte enthuses.
During a demonstration, we were impressed by a remote door opening and closing function – operated through a smart watch when passing by the exterior mirror – as well as the temperature of a box of ice cubes monitored remotely via a smartphone. Similarly, a remote-controlled tipper unit is being designed.
"Business Up is an open platform system – smart for drivers, because it makes work easier and more comfortable, and smart for owners, because it helps total cost of operation and simplifies fleet management," says Lahutte.
On the road
Under the shadow of Mont Blanc at Courmayeur in Northern Italy, a busy day's activity was undertaken driving members of the newly extended Daily Euro-6 family. Even with the bigger, bulkier 4×4, the 3,0-litre, 134 kW (180 hp) unit, with its 24 shifts from the six-speed manual transmission, conversation within the cabin was stress-free as interior noise levels have been reduced by four decibels.
The same could be said for the flexibility of the chassis frame, which we could bend every which way (but loose!) on the man-made, off-road track alongside the glacial rivers that flow down the vast mountain range.
Control through the lower gears is powerful in terms of acceleration and brake control, aided by the low range and differential lock, as experienced by the lengthy drives along the twisty, hilly gravel routes as we climbed to almost 3 000 m above sea level.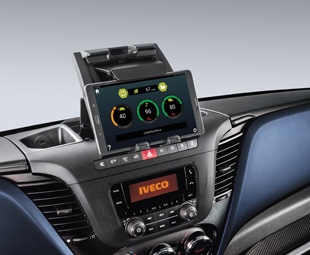 With the Mercedes-Benz Vario 4×4 no longer in production, the Daily 4×4 is a ready-made replacement and, in collaboration with Austrian specialist Achleitner, an all-road version will also be available. Utility applications and other rough-terrain missions, such as emergency services and leisure pursuit providers, will take up most of the order book here.
Two years ago, when Iveco introduced the new Daily, an electric version was driven as a prototype. A more refined and defined variant has since been produced. The Daily 35S EV at 3,8-t gross vehicle weight, with its 60 kW/230 Nm powertrain in panel van form, offers 150-km range distance and a payload of up to 950 kg with a 12 m3 load space.
Acceleration is instant and the deceleration helps to regenerate some lost energy. Iveco has installed a fake engine noise in order to alert pedestrians and cyclists.
Similar curiosity was raised during the first drive of the Daily Dual Energy parallel diesel/electric hybrid. In combining the recently developed 2,3-litre, Euro-6 diesel with 107 kW/350 Nm, the 3,5-t GVW 35C chassis/cab with refrigerated box body can travel 40 km in full-electric mode from its 130 kW/300 Nm motor (governed to a maximum speed of 100 km/h).
The duel-energy concept, first seen in Hannover four years ago, is very simple and effective; the driver can switch between hybrid and full-electric mode according to the application. The hybrid mode improves commercial speed and autonomy range on intercity routes, while the electric mode allows zero-emission mobility, allowing the Daily Dual Energy to access urban restricted areas including those where there are diesel bans and congestion charges.
Operation of the twin system takes a little getting used to as, at low speeds, the electric mode proves most efficient, but, on acceleration, the diesel motor takes off. Operators on regular urban routes will learn quickly how to engage each method at the right time through the driver's foot movements. Between the two drivelines combined, up to 30-percent savings on fuel consumption can be attained.
Lahutte summarises: "New Daily Euro 6 sets new standards for the whole transport industry in terms of sustainability, efficiency and technology – we have produced a light commercial vehicle that represents much more than just a loading space on wheels."
---
As regular readers of FOCUS know, this magazine has been appointed an associate member of the International Truck of the Year (IToY)! FOCUS is the sole South African magazine to have joined this prestigious body. One of the advantages of this association is access to exclusive articles, specially written for FOCUS by ITOY jury members. This is one such article.
Focus on Transport
September 7, 2016
Published by