In what has been mooted the biggest truck deal in the history of Namibian trucking, A van der Walt Transport Namibia has acquired 30 Scanias. CHARLEEN CLARKE travelled to Swakopmund to witness history being made!
The excitement in the air is palpable. Cars are stopping and motorists are staring. The pavement is being cleaned … even one speck of dirt is a speck too many. Banners are being erected, and, slowly but surely, a fleet of pristine Scanias is being parked in front of one of the most unusual buildings in the global trucking world.
That's because the building, itself, is shaped like a truck! However, today the building is taking a back seat to the collection of Scania trucks on the pavement …
Andre van der Walt, owner of the transport company, is understandably upbeat. "This is a big day in the history of our company," he tells FOCUS. "It is a big day for our family too."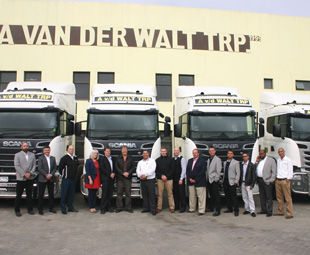 Incredibly, his company remains a family-owned undertaking – with a decidedly homely feel to it. His son, Jakkie, is in charge of operations and information technology. His daughter, Jolett, runs finance and administration. His son-in-law, Charl, heads up the parts division.
This is not to say that it is a "mom and pop" show though … Au contraire, A van der Walt Transport is one of the largest and most respected transport operators within Namibia. Of course, this wasn't always the case …
According to Andre van der Walt, he started his life many years ago in South Africa. "I was one of the first transporters to import long-nosed trucks from the United States. My most famous truck was probably the Lady In Red, a bonneted Peterbilt. Sadly it was destroyed in an accident in 2000."
In 1999, he decided to start the Namibian company (he's a Namibian citizen now). "We used left-hand drive American trucks in those days. We could still import them then; they were very cheap," he recalls. When the laws changed, he started buying new Freightliners.
Today, he has a fleet of 120 trucks – and (yes we all know that this sounds cheesy) the business is growing in leaps and bounds. The fleet traverses all corners of sub-Saharan Africa.
"We specialise in long-haul transportation in South Africa, Namibia, Botswana, Zimbabwe, Zambia, Malawi, the Democratic Republic of Congo (DRC) and Mozambique – moving refrigerated, containerised and break-bulk cargo throughout the Southern African Development Community (SADC) region," he tells FOCUS.
In view of the company's exponential growth, it needed to replace existing trucks and also add to the fleet. "As such, we took the decision to purchase 30 Scanias now," he reveals.
As an aside, two thirds of the trucks within the fleet are fully paid for; only one third of them are financed.
The low fuel consumption of the Scania trucks swayed the deal. "We ran a number of Scania demo trucks and found that we can lower our fuel consumption by ten percent versus our American trucks.
"Fuel only accounts for about 35 percent of our total costs, because our trucks stand for long periods at times (at border crossings for instance; we also don't drive between 22:00 and 05:00), but this is still a substantial saving," explains Van der Walt.
The management system of the Scania trucks is also perceived to be a big advantage. "It is very professional; Scania offers a complete package. Furthermore, the servicing programme is the best in the industry at the moment."
Van der Walt says it is a case of looking at the complete package. "In the transport industry we have to be more professional. There are a lot of good trucks out there, but they don't offer the whole package and the fuel advantage."
The maintenance programme was another reason for going the Scania route. "It's a big advantage. We have built a new workshop and it will be manned by a dedicated Scania mechanic. The workshop is 40-m long, so three or four trucks can be serviced simultaneously."
This is a highly advanced facility. "We have invested many millions to ensure that it is of the same standard as the very latest Scania dealership," Van der Walt tells FOCUS.
The 30-truck order is made up of the R500, which is hooked to interlinks, and the P410, which forms part of the tri-axle reefer fleet. Van der Walt says that he buys imported trailers. "We buy Afrit and Henred interlinks and GRW tankers and then we import Utility or Great Dane reefers from America.
"The payload afforded by these trailers is much better, as is the quality. The whole reefer is made out of aluminium; we have been running them for 25 years. I am not a fan of locally built refrigerated trailers; they aren't as robust as the American trailers."
The company also imports all its tyres from China, claiming a 50 percent price advantage (without any negative quality connotations). Furthermore, Van der Walt Transport has imported left-hand drive Freightliner Coronados, which it has converted to right-hand drive units.
"These are not money-making trucks; they're all about advertising the business and making a statement," Van der Walt explains.
Today, half of the fleet is used for refrigerated transport, while break bulk cargo and containers account for the balance. "We are fortunate to be extremely busy; over the past couple of years we have never not had enough loads. Zambia, the DRC and Namibia are showing good growth and we're delighted by the growth in chemical tankers in Namibia," he reports.
Thanks to the fact that it is a very efficient facility, the port in Walvis Bay is showing good growth too. "Our business is expanding in line with the port, which is growing by ten to 20 percent each year. A substantial amount of cargo is moving from Dar-es-Salaam (Tanzania) and Durban to Walvis Bay," he reveals.
Cargo is moving because Walvis Bay is more efficient and cheaper. "Our port is better organised. Furthermore, our port is promoted and supported by our government. The South African government doesn't see the urgency in developing its ports."
Naturally, his company is not without its challenges. "Like everyone else, we are facing the worldwide economic downturn."
Still, he doesn't see any reason to complain. "We are busy! We are growing! I anticipate that we will have 200 trucks within the next two years …" And, if things keep going right, they will all be Scanias …
Focus on Transport
October 16, 2015
Published by