MAN and Buscor make history!
The culmination of a seven-year journey, Buscor has just taken delivery of a world-first fleet of 12 MAN HB3 bi-articulated buses. GAVIN MYERS hops onboard.
Most of South Africa's bus industry and public transport aficionados should be quite familiar with Nelspruit-based operator, Buscor. The company, according to executive chairperson Nora Fakude-Nkuna, has been rated the best-managed commuter transport company in Africa and, since 2007, has been in the headlines for its pioneering bustrain project.
With the blessing of the national Department of Transport and MAN Truck & Bus South Africa, Buscor developed and tested ten bi-articulated bustrains (or "double-bendies" as they're affectionately nicknamed by the MAN staff). The prototypes were put through a 2,2 million kilometre pilot project, transporting a total of 3,3 million passengers.
Following some fine-tuning of the prototypes, the vehicles were granted full Performance Based Standard (PBS) certification (see sidebar) and 12 new fully compliant bi-articulated buses have now been handed over to the company.
"Buscor's goal to field a fleet of 50 bi-articulated vehicles has gained critical momentum. These buses will be used during peak-density periods, significantly reducing the number of vehicles required," says Fakude-Nkuna.
With capacity for 172 passengers (137 seated and 35 standing), a full bustrain can take up to 60 cars off the road – with clear advantages for increased efficiency and road safety, reduced environmental impact and traffic congestion, and quicker travel times for commuters.
"The transport sector is the heartbeat of social and economic development; it is central to South Africa's growth trajectory. Transporting 137 people at once reduces the number of people standing, promoting productivity. We are truly grateful and congratulate everyone in this initiative," says Minister of Transport Dipuo Peters.
"We need to, literally, move South Africa forward. MAN and Buscor must remain our partners," she enthuses.
Geoff du Plessis, managing director of MAN Truck & Bus SA, says that the challenge to supply a bus fit to carry Buscor into the future was multifaceted. "It demanded a great deal of teamwork between Buscor's technical department, MAN's engineering divisions in Munich, Germany, Pinetown, KwaZulu-Natal and Oifantsfontein, Gauteng, as well as road transport engineers specialising in the design and testing of abnormal-length vehicles."
He adds: "Not only are these the longest buses in Africa, they are also the longest bi-articulated front-engined bustrains in the world that are allowed to operate without route restrictions."
The vehicles consist of the MAN HB3 4×2 prime mover, which is powered by the 287 kW (390 hp) Euro-3, common-rail D20 diesel engine with TipMatic automated manual transmission.
Fitted for safety, driver convenience and passenger comfort are a ZF intarder, electronic braking system, full air suspension, an
80 km/h speed limiter, seatbelts on all seats, three escape hatches and two maintenance-free Hübner articulation couplings. A "kneeling" system lowers the chassis for easy access.
"While the prototype ran on super-single tyres, the new four-axle units sport dual wheels, which significantly improve vehicle stability. A drag-reducing aerodynamic frontal design helps improve fuel consumption and airflow to the cooling system, which has been designed to handle Mpumalanga's sub-tropical temperatures," says Philip Kalil-Zackey, head of bus sales at MAN Truck & Bus SA.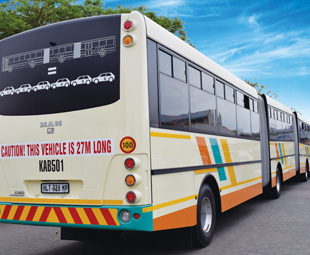 The buses are also fitted with bright yellow handles and grab rails to help the visually impaired and some of the units will be fitted with a wheelchair lift system.
Buscor was discerning in selecting 35 of its best drivers to take the helm of the bustrains. They needed to have a minimum of five years behind the wheel of an articulated unit and were sent for training for the National Certificate in Professional Driving (NCPD) qualification, as well as advanced skidpan and vehicle manoeuvrability driver training at the Gerotek testing facility.
With over 70 percent of Buscor commuters coming from surrounding rural communities, the buses and their drivers have to be prepared to tackle all manner of road conditions and utmost vehicle durability and driver professionalism are non-negotiable. After all, Buscor's 415 buses complete 160 000 passenger trips per day (without the articulated units, the company would field a fleet of over 700 vehicles)!
It's little wonder, therefore, that the company is known for its professionalism and forward thinking. Many of our country's much smaller operations would do well to follow its lead.
A pioneering spirit
Leon Grobbelaar, group technical manager at Buscor, has driven Buscor's bustrain project since inception. He explains the intricacies of piloting this first-of-a-kind project.
"When one wants to put a 27-m long bus on the road, one has to ensure the vehicle exceeds all safety requirements, and that the operator has done everything to ensure that it's operated as safely as possible," he begins. "The way to do it is to design the vehicle to meet Performance Based Standards (PBS) and for the company to receive Road Transport Management System (RTMS) accreditation.
"Today's regulations only address dimensional and weight requirements and not necessarily the on-road performance of the vehicle, but, through the innovation of PBS, a 27-m bi-articulated bus has a better turning ability than a 22-m single-articulated bus. It also causes less road wear per tonne payload, compared to other bus types, when at full capacity," he enthuses.
Following years of prototype testing the design of the vehicles was optimised, allowing the company to achieve Level 1 PBS certification, meaning these buses may travel on all roads. "It's been proved that PBS vehicles reduce congestion on our roads and have a reduced risk of being involved in an accident. PBS can definitely improve road safety and save a lot of money."
Grobbelaar says that the implementation of RTMS at Buscor was as important as building the bi-articulated buses. The company initiated the RTMS accreditation process in April 2012 and was granted accreditation in October 2012 – becoming the first bus company in South Africa to do so.
"The implementation of these standards has directly contributed to significant safety, compliance and efficiency improvements," he notes. "Buscor has been able to monitor key performance indicators and implement appropriate measures to ensure continual improvement.
"With these 12 new PBS vehicles and our RTMS accreditation, Buscor is ready to provide a safe and reliable service that will change the face of public transport in both Mpumalanga and the country," Grobbelaar concludes.
Focus on Transport
November 1, 2014
Published by