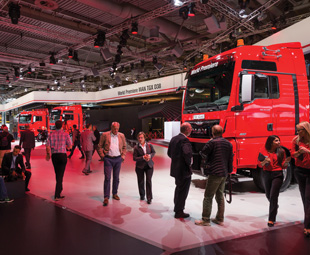 MAN kann – "MAN can" in South African lingo – was the recurring theme of the company's IAA stand. CHARLEEN CLARKE discovers that this statement applies to all aspects of the company's business …
Green trucks, monster engines, global accolades and even trucks with a musical pedigree … MAN delivered lots of surprises within the IAA showgrounds and even beyond!
Art trucks with a musical theme? MAN kann!
I'm going to kick off with a display that didn't actually take place at the IAA. It did, however, take place in Hannover (home of the IAA), and it marked the start of the fair. On display at the Hannover central station were six so-called Tattoo Trucks – MAN art trucks inspired by the songs of Peter Maffay, a hugely famous German musician. The trucks were painted by the same team that creates the famous BMW Art Cars.
"Each of the six trucks is unique. We are very honoured that our songs served as inspiration for these rolling works of art," Maffay enthused. The MAN Tattoo Trucks will transport the stage equipment across Germany on his tour, which kicks off in early 2015.
After the IAA, the unique MAN Tattoo trucks travelled from Hannover to the MAN Truck Forum in Munich, where they are now on display.
The perfect truck for South Africa? MAN kann!
From the central station to inside Hall 12 at the IAA … it was great to see the perfect truck for South African applications on the MAN stand. The TGX 25-540 is a 6×4 available in right-hand drive and specifically configured for the South African marketplace.
I was chatting to Geoff du Plessis, CEO of MAN Truck & Bus in this country, and he was delighted at the prospects for this vehicle. "All the EfficientLine technology has been incorporated into the vehicle. I'm especially impressed with its pretarder; one of the most stressful things for a driver is braking down a hill. It has Euro-5 SCR technology that can cope with South African quality fuel. I believe it will afford South African operators improved fuel consumption and reduced costs – which can only be a good thing," he commented. Hear, hear!
The EfficientLine technology to which Du Plessis refers is nothing new to South African transport operators; MAN's EfficientLine vehicles have long been available here and they have also toured South Africa, earning huge economy kudos en route.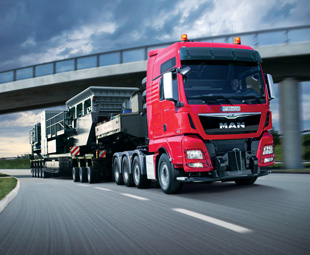 The big news at the IAA, however, was the launch of the new MAN TGX EfficientLine 2, which is even more impressive than its predecessor. It boasts a bundle of standard on-board features – notably predictive EfficientCruise cruise control, torque-enhancing TopTorque and a more powerful version of MAN TeleMatics. MAN's most successful model has just got even better!
Trucks powered by CNG? MAN kann!
We all know that natural gas rocks (much like Peter Maffay). Forecasts indicate that 65 million gas-powered vehicles will be on the roads in 2020. The infrastructure is also developing, with some 3 000 filling stations for compressed natural gas (CNG) already existing in Europe (22 000 are located worldwide).
Bearing this in mind, MAN previewed a CNG-powered TGM at the IAA. This 18-t truck is powered by a Euro-6, turbocharged six-cylinder, 6,9-litre CNG engine, which churns out with 209 kW (280 hp) and 1 150 Nm of torque.
The engine is paired to a 12-speed MAN TipMatic gearbox. The gas tank's capacity is 140 kg and this vehicle can cover some
400 km in distributor urban transport and around 700 km on secondary roads. Fuel costs are around 20 to 35 percent lower than those of a diesel vehicle, depending on the application.
Furthermore (and this is significant in Europe), the TGM with CNG drive is up to three decibels quieter. This means that CNG
vehicles are ideal for use in cities and during the early morning or late evening, when noise restrictions apply on that continent.
Win Bus of the Year? MAN kann!
Of course, the use of CNG is nothing new for MAN. The company has been working in this field for over 40 years and it's sold more than 8 000 natural gas buses, chassis and natural gas engines. One of its most recent buses is the innovative five-door articulated city bus Lion's City GL CNG, which was named Bus of the Year 2015 at the IAA.
The Euro-6 CNG engine of the MAN Lion's City GL CNG offers an environmentally friendly public transport mobility solution with extremely low pollutant levels. When filled up with biogas or e-gas, the articulated bus is virtually carbon neutral – offering emission levels comparable to that of fully electric vehicles.
The 18,75 m long articulated bus boasts a transport capacity of up to 142 passengers and features five double-width doors – making it the only five-door bus on the market. These clever innovations ensure optimal passenger flow and reduced waiting time at stops. The vehicle is also fitted with three fold-out chairs, which the driver can control, meaning more standing room can be made available in the event of a large influx of passengers.
Bus models from different manufacturers have been competing against each other in the annual Bus of the Year competition since 1989. The winner is chosen by a jury consisting of 19 members of the trade press from around Europe. The key criteria are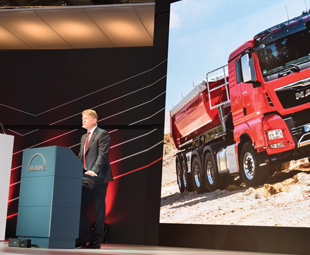 innovation, cost effectiveness, suitability for use both now and in the future, as well as safety and passenger- and driver-friendliness.
This year it was MAN's turn to lift this sought-after trophy. Take a bow, MAN!
Deliver a powerful yet economical engine? MAN kann!
Much has been said and written about MAN's truly marvellous new D38 six-cylinder
15,2-litre in-line engine. It occupied pride of place during the MAN press conference, with the covers being lifted off this masterful machine in dramatic fashion. For the IAA, it was fitted to the top-of-the-range TGX D38 truck, which celebrated its public debut in Hannover. I chatted to a number of MAN engineers and they promised that this new truck would lift reliability, efficiency and low running costs to an all-new level.
Hybrid trucks for long distance? MAN kann!
Hybrids and long distance have not traditionally gone hand in hand; hybrids have typically been better suited to urban applications. Not anymore!
At the IAA, the company launched the MAN TGX Hybrid, which is a really exciting concept (sadly it is just a concept truck at this stage). The TGX Hybrid has a 328 kW (440 hp) diesel engine, which provides the primary source of power, and a 130 kW

(174 hp) electric motor, which acts as an alternator when coasting and braking – in so doing, recovering, storing and reusing braking energy.
The MAN TipMatic gearbox transfers power to the rear axle. The recovered energy is stored in a battery with a capacity of around two kilowatt hours. The TGX Hybrid uses this energy to provide increased torque to the diesel engine on gradients. The diesel engine can, therefore, be driven in the most economical engine rev range and the additional torque avoids downshifts on hills, thereby saving fuel.
Let's hope this concept truck makes it to production one day!
Buses that sip sugar? MAN kann!
The most important exhibit from MAN Latin America was probably the Constellation 24.280, in 8×2 V-Tronic guise. The model has a six-tonne payload advantage over its 6×2 sibling. But, for me, the most interesting exhibit was the low- entry VW 18.280 OT, the first Volksbus with full air suspension – because it's powered by biodiesel derived from sugarcane.
MAN Latin America started experimenting with sugarcane-derived biodiesel in 2011, when this fuel was used to power Euro-3 vehicles. It's the first Brazilian company to test biofuels on Euro-5 vehicles. "With studies for use of sustainable materials in our cabs, and research into renewable fuels in our trucks and buses, we are bringing innovative, environmental solutions developed for emerging economies, such as Brazil, to the IAA once again," an immensely proud Roberto Cortes, president and CEO at MAN Latin America, told me.
Deliver a safer future? MAN kann
Finally (and probably most importantly) MAN displayed a number of safety innovations for the future. Obviously, because the show was in Germany, these innovations pertained to left-hand drive vehicles, but we hope to see them on our roads one day!
Particularly noteworthy were a lane-change assistant (we all know how challenging it is to change lanes in a truck) and a turning assistant, which warns drivers about any cyclists or pedestrians in their blind spot when turning right.
Equally impressive was the very latest emergency braking technology, which combines the information from the radar sensor and camera in the windscreen in order to be able to recognise potential emergency brake situations earlier. By merging these sensors, the system can recognise stationary and moving objects more quickly, saving the system valuable time and allowing it to brake earlier.
I was also impressed with a new camera monitoring system that replaces mirrors. It's hugely smart; drivers can see their surroundings at a glance instead of having to look in several mirrors.
Practically, this cannot be implemented right now – current legislation dictates that conventional mirrors are compulsory and cannot be replaced with camera systems. If legislation changes, however, MAN is ready to deliver. As I said, MAN kann!
Focus on Transport
November 1, 2014
Published by