Market-driven transport solutions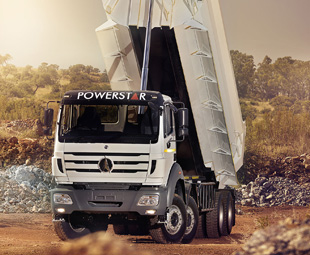 With its head office in Johannesburg and an assembly plant in Pietermaritzburg, the success of Ever Star Industries – the holding company of Powerstar SA – has grown in South Africa and sub-Saharan Africa over the past seven years.
Known in the industry as no-frills workhorses, the Powerstar product range consists of 4×2, 4×4, 6×4, 6×6 and 8×4 chassis cabs and truck tractors with a power range of 201 to 343 kW (270 to 460 hp).
The Powerland truck range complements the Powerstar brand and increases the range of heavy and extra-heavy duty commercial trucks available to the market.
NHL (rigid mining dump trucks) and Shantui Construction Equipment have appointed Ever Star Industries as the sole distributor for their respective product ranges. The company therefore now represents four brands under its umbrella.
"These products are all complementary and we now provide a one-stop shopping experience for our customer base. Ever Star Industries will be undertaking a major marketing drive, as the company is firmly committed to improving customer service, relationships and communication," says Bob Wang, CEO of Ever Star Industries.
Over the past twelve months, the company expanded its geographic footprint and increased its cross-border sales to other African countries. It has opened a central parts distribution hub at its Centurion operation, which allows it to supply directly to its customers and inland dealer network more quickly and efficiently.
Ever Star Industries has also undertaken a major drive to enhance and improve its management systems, including obtaining ISO accreditation, reducing costs and increasing efficiencies.
"Health and safety remains our number one priority followed by quality and pricing of the products," says Wang.
"Ever Star Industries remains fully committed to the local market, as we believe in our products, have the support of our shareholders and remain a force to be reckoned with.
"We are optimistic about 2017; we have increased our product range and improved our aftermarket experience and service to our customers, and we expect an increase in sales," concludes Wang.
Focus on Transport
June 22, 2017
Published by