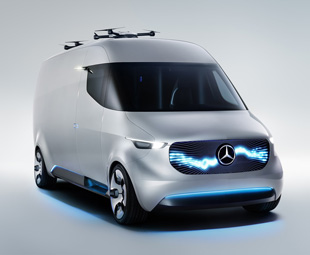 With its adVANce initiative, Mercedes-Benz Vans aims to systematically adapt to new, rapidly changing customer requirements – such as the burgeoning business in food and everyday necessities ordered online, where demand for same-day delivery, or delivery within an hour, is increasing rapidly.
At the same time, more and more people are living in cities – by 2030 urban areas will be home to more than two thirds of the world's population. It is clear that the rising transportation requirements will need to be met even faster and more efficiently in future and, above all, in an environmentally friendly way, the company claims.
This vision has manifested in the all-electric Mercedes-Benz "Vision Van".
The company states that this all-electric vehicle combines various innovative solutions for last-mile delivery in urban and suburban environments. It is the first van, worldwide, to fully digitally connect all people and processes involved; from the distribution centre to the consignee.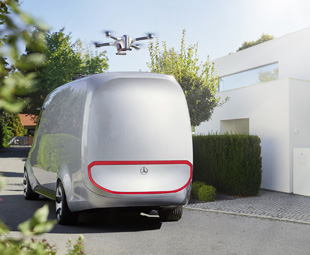 It is also the first van ever to feature a fully automated cargo space and integrated delivery drones. For example, if a parcel service provider stops his vehicle in a residential area, it will be possible to deliver multiple packages to nearby consignees autonomously by air – even if they are not at home – in addition to manual delivery.
Mercedes-Benz Vans envisages deployment of the Vision Van boosting efficiency by up to 50 percent on the last mile.
The emission-free vehicle is equipped with a 75 kW electric drive and has a range of up to 270 km.
"With the Vision Van from Mercedes-Benz Vans we provide an idea of future generations of vans: the intelligent automation technology connects the entire process; from loading and transportation by road through to delivery to the consignee. This makes it easier for the deliverer to do business and rapidly reduces the delivery time for end customers," adds Volker Mornhinweg, head of Mercedes-Benz Vans.
As part of the strategic future adVANce initiative, Mercedes-Benz Vans will focus on three fields of innovation: the first involves incorporating the van into the Internet of Things; integrating smart technologies into the van to increase its efficiency and make it a central component of the digital value chain.
The second focal point is on innovative hardware-based solutions for the transportation industry – such as the automated cargo space systems for delivery vehicles. Currently, delivery workers need to rearrange their packages (on average around 180 per load) ten times while making deliveries within a residential area and schedule approximately three to four minutes per stop.
The third field of interest is new mobility concepts for the on-demand transportation of goods and people. In future, these intelligent mobility concepts could supplement public transit by making fast, efficient and individual transport of passengers possible during peak and off-peak hours via ridesharing concepts.
Focus on Transport
September 15, 2016
Published by