Mercedes-Benz "reveals" new Sprinter (well, almost)
FOCUS jetted off to Stuttgart this week, for the Sprinter Innovation Campus. During this event, the company gave us a sneak preview of its much-anticipated new Sprinter.
The vehicle will make its debut in Europe in February next year; South Africans will have to wait until 2019 for the new Sprinter to grace our shores.
While we didn't get a huge amount of detailed information about the new Sprinter – and we have yet to see it in the metal – one thing is very obvious: it's going to be much more than just a van. Instead, as Volker Mornhinweg, head of Mercedes-Benz Vans, noted at the event, it's a mobility solution.
"The city is the natural habitat and workspace of our vehicles. Many of the modern services that make urban life so pleasant would not be possible without vans. In a digitalised world, they are the hardware that bring the products and services to the customer, and, if life and logistics in the city are changing, our vans have to change, too," he pointed out.
Exactly how is the Sprinter changing? Quite dramatically, as the images accompanying this story demonstrate. We saw the actual dashboards of the new Sprinter; irrespective of whether they are intended for entry-level or high-end derivatives, they are distinctly car-like. We sat in the seats, too; they're incredibly comfortable.
As stated, we didn't see the exterior of the vehicle. However, when we do see the new Sprinter in the metal next year, we're expecting to see some of the features of the 2017 Vision Van concept vehicle carried over.
Those gorgeous lights, for instance, are highly likely to be part of the production van. Naturally, it will feature more conventional A-pillars and far more defined body lines. Of course, looks aren't that important in the commercial-vehicle game – it's what the new Sprinter will deliver in terms of features and technology that will ultimately count.
And, according to Mornhinweg, the new Sprinter will deliver a great deal in this regard. "The completely reconceptualised Sprinter will be a unique, holistic transport solution: a completely networked van, where we have already written connectivity into the vehicle's DNA," he told the world's commercial-vehicle media.
Practically speaking, this means that internet-connection hardware will be an integral part of the vehicle's infrastructure for the first time. As such, the new Sprinter will be communicating with the cloud constantly.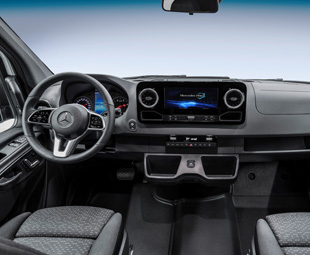 Preventative maintenance will be scheduled via the cloud. So, too, will deliveries. Drivers will be able to charge their mobile phones via induction charging in the vehicle. It will also be equipped with USB ports for drivers and passengers (in the case of vehicles used for passenger transport).
Mercedes PRO will be premiered on board the Sprinter. This is an advanced fleet-management service offering, which manages vehicle status, vehicle logistics, fleet communications, maintenance management, accident recovery and a digital vehicle log, for example. Clearly laid out and easy to use, this vehicle-management tool will provide the fleet manager with a complete overview of the fleet.
"Mercedes PRO is a digital ecosystem into which our networked vehicles, products and services are integrated," explained Mornhinweg. "For our commercial customers Mercedes PRO pools all the offerings from Mercedes-Benz Vans under one roof.
"In conjunction with the new Sprinter we are offering our customers a wide range of networked services – for example, flexible route planning when the order situation is dynamic, calling up the current vehicle status, or maintenance management in real time.
"For certain tasks these services can be bundled and called up in sector-specific packages. This is a huge efficiency bonus for our customers – the many different tasks which fleet management entails can be taken care of via one portal on one screen."
Incredibly, the new Sprinter will be offered in over 1 000 standard versions. Included in these will be front-wheel drive, rear-wheel drive and all-wheel drive models. It will be offered as a regular cab or crew cab, as a bus or panel van.
Mercedes will sell it with right- or left-hand-drive depending on the market. There will be four different body lengths and three roof heights. Petrol and diesel engines will be up for grabs (depending on the market).
Naturally, in keeping with Mercedes-Benz Vans' holistic strategy to electrify all its vehicles, an electric Sprinter will also be launched. Deliveries of the eVito, which customers can already order, commence next year. They will be followed by the eSprinter in 2019.
As has always been the case with the Sprinter, safety features will be exemplary. "Since 1995 our flagship has been spearheading technological development. Back then it founded a new segment and since then it has redefined its limits over and over again. And this is how we want it to be this time, too – that is the standard we have set ourselves," Mornhinweg said.
We have absolutely no doubt that this goal will be achieved.
Focus on Transport
December 7, 2017
Published by