Following our coverage of Russia's Comtrans 2015 exhibition last month, GIANENRICO GRIFFINI's exclusive ITOY interview with two of Daimler's top managers in Russia provides further insight into this dynamic market
In 2008, Daimler started a strategic partnership with Russian truck manufacturer Kamaz, and inaugurated local production of Mercedes-Benz and Fuso trucks in Naberzhnye Chelny in 2011. In June 2015, the business units of Mercedes-Benz and Fuso were integrated under one roof.
With these models Daimler offers solutions in all areas of the Russian transport industry. The best sellers vary depending on the field of application, but, for example, the Actros 1841 and Actros 1844 LS resonate extremely well with customers engaged in international transport. In addition to Mercedes-Benz and Fuso trucks, Mercedes-Benz and Setra buses are also included.
Heiko Schulze, CEO Mercedes-Benz Trucks Vostok (MBTV), explains that MBTV is a 50:50 joint venture between Daimler AG and Kamaz. It combines the strengths of Daimler's technological know-how and world-class quality standards, with Kamaz's profound knowledge of the Russian market and its local supplier base.
Some years ago, you started a localisation process of some truck components. Is this process ongoing and is it taking advantage of the five supplier clusters in Russia?
Today, MBTV is treated as a local producer, because we fulfil localisation obligations within the "industrial assembly" regime, together with other automobile producers like Kamaz and Renault (the so-called "Alliance").
In 2014, the Alliance achieved a localisation level of more than 68 percent – the highest among the other companies and alliances. The company cooperates with more than 30 local suppliers. We have plans to increase localisation further, for instance by localising the cabins in Naberzhnye Chelny.
In June, it was decided to merge MBTV and Fuso Kamaz Truck Russia. Why, and what results did you expect?
We decided to integrate Fuso under the roof of MBTV and work within the framework of one single joint venture. This decision will lead to synergies in administration, production and procurement. At the same time, the overall shareholder structure remains the same: Daimler and Kamaz each still hold 50 percent of the company.
Can you describe the Russian Federation truck market?
The Russian truck market has shrunk dramatically over the past two years, and our outlook for 2015 and 2016 foresees a continued downward trend. When it comes to segments, we see a clear focus on truck tractors, which account for roughly two-thirds of the demand.
High interest rates make it quite challenging to finance new trucks in Russia. Moreover, access to capital markets is restricted, which is why many customers postpone their purchasing decisions.
Western European models are at the top end of the price range, due to their advanced features, followed by Japanese and Korean manufacturers, and local and Chinese original equipment manufacturers. MBTV does not differentiate between locally produced and imported trucks, as they have the same quality and product characteristics.
The current emission level is Euro 4, so the current requirement for diesel is 50 ppm. This is rather good fuel quality, which allows a huge fleet of cars and trucks to successfully operate in Russia. Fuel quality and control for fuel circulation in Russia is constantly being improved.
Do you foresee any upturn, once the political tensions are over?
The economic situation in Russia is currently rather challenging. The main reasons for the difficulties are a weak investment climate, low oil prices, high interest rates and a considerable slump in the Russian ruble.
The economy could pick up in the medium term, but economists expect a recovery at a moderate pace. We welcome all diplomatic efforts to overcome political tensions that will help to unleash some growth.
Is the transport sector in the Russian Federation dominated by big fleets, small transport companies, driver owners, or sub-contractors?
Roughly, we can differentiate between pure transport companies and retailers with their own fleets. The majority of pure transport companies have fleets ranging between 20 and 70 trucks. Very few operate fleets of more than 500 vehicles. The number of owner-drivers is relatively small and does not play a major role in Russia.
Is total cost of ownership (TCO) an important issue?
TCO is a significant aspect for our customers, and has become even more important in economically difficult times when they are increasingly cost sensitive. This is one of the reasons Mercedes-Benz has been gaining market share, as we offer reliable and efficient vehicles at an attractive TCO.
Can you give me some information on the used truck market?
In times of crises, the business for used trucks has become more important. Interest from our customers is quite high. As a result, MBTV started a used truck and trade-in business at the beginning of this year – of course also to support our sales efforts for new trucks, as many customers are willing to buy new trucks if they can get an attractive price for their existing fleet.
Sören Häse, vice-president Mercedes-Benz Vans in Russia, describes the van business
Can you outline a short history of Mercedes-Benz Rus van business and its major developments?
In 1974, Mercedes-Benz was the first foreign automotive company to open a representative office in the Soviet Union and the first to do so in Russia in 1994. In 2002, Mercedes-Benz opened its first completely van-dedicated dealer, of which there are now 18 in Russia. We have seven certified bodybuilding partners.
In December 2010, Daimler AG and GAZ Group signed an agreement on contract manufacturing of the Mercedes-Benz Sprinter Classic in Nizhny Novgorod. After two-and-a-half years and over €100 million, we launched full-scale production in July 2013. We have produced over 10 000 Mercedes-Benz Sprinter Classics and it has become our best-selling model in Russia.
On top of that, we also started production of Mercedes-Benz diesel engines at the GAZ-plant in Yaroslavl, which are installed on the Sprinter Classic. Altogether, we now reach a localisation rate of 40 percent, which is more than some international passenger-car manufacturers operating in Russia.
We have 74 dealer centres (18 are van-only) which sell and service vans in 55 Russian cities.
Please describe today's Mercedes-Benz Rus product portfolio.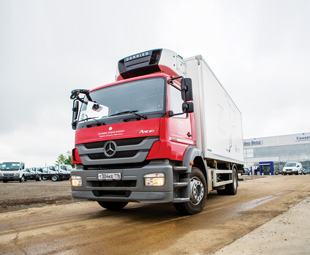 Mercedes-Benz Vans offers a full and young van model portfolio for each business need in Russia. The Mercedes-Benz Citan improved its sales performance in Russia by 146,2 percent during the first seven months of this year compared to 2014.
The Mercedes-Benz Vito was introduced at the end of last year, but proved itself a leader in its segment: with sales up 27,9 percent from January to July, compared to last year.
In 2014 alone, we sold a record number of over 6 600 Sprinter Classics – it is our most popular model. The Sprinter Classic is originally the T1N, but has completely new safety systems, transmission, engine, modernised front optics, steering wheel and seats.
Local production allows us to offer it at an attractive price, in the current economic climate, and to participate in state-supported programmes.
Please tell us about your partnership with PKF Luidor for Sprinter minibuses.
The Sprinter Classic is a "made in Russia" success story. In 2009, Mercedes-Benz Vans was looking for a Russian bodybuilder to cooperate with, because dealers and customers were increasingly looking for individual bodybuilder solutions and appropriate after-sales service.
PKF Luidor was a new player. We introduced Daimler standards and technologies. It was our first local experience with the turnkey concept based on a beneficial partnership.
Today, there are six certified companies with official Van Partner status: PKF Luidor, ST Nizhegorodets, Automechanical Plant LLC, Tsentrtranstekhmash, Evrakom, and VO Avtotekhnoimport. This guarantees high quality of production and servicing. Customers can choose where to buy and to service these vehicles – at official Mercedes-Benz dealer centres or the van partner.
Russian bodybuilders produce minibuses, emergency vehicles, Mixto, Kombi, mobile shops, different refrigerators, mobile services, motorbike transporters, and others, based on the Sprinter Classic.
Some key figures on Russian Federation light commercial vehicle (LCV) market and your forecast for this year?
The market environment is extremely difficult. The LCV market was down by 13 percent from 2013 to 2014
(171 660 versus 149 199). By July 2015, the LCV market decreased by another 30,4 percent. In July, the decline slowed and decreased by only 12 percent. We do not see any indication for a quick market recovery.
How do Russian customers use their vans?
In general, fleet customers are interested in using their vehicles for a longer period of time as the total costs of ownership of Mercedes-Benz vans remain low.
It is true that some Russian customers had complaints about small service intervals?
Unfortunately, the quality of fuel differs from region to region, thus the aggregates should be checked more often. There are 119 458 Mercedes-Benz LCVs in Russia.
---
As regular readers of FOCUS know, this magazine has been appointed an associate member of the International Truck of the Year (IToY)! FOCUS is the sole South African magazine to have joined this prestigious body. One of the advantages of this association is access to exclusive articles, specially written for FOCUS by ITOY jury members. This is one such article.
Focus on Transport
November 1, 2015
Published by