Merc's new bakkie: the first details
What you see here is the Concept X-CLASS; two design variants of the concept that previews the forthcoming Mercedes-Benz bakkie.
"The X-Class will be a true Mercedes – from the hallmark brand design and comfort to the driving dynamics and safety. This will make Mercedes-Benz the first premium manufacturer to account for the changing customer requirements in the global segment of mid-size pickups.
"It will also make the tough one-tonne pickup, with seating for up to five persons, the first to be attractive as an urban lifestyle and family vehicle," the company notes.
"With the world's first true premium pickup for the modern urban lifestyle, we will open up and change the segment of mid-size pickups," says Volker Mornhinweg, head of Mercedes-Benz Vans.
"Our future X-Class will be a pickup that knows no compromise. Ladder-type frame, high-torque six-cylinder engine, and permanent all-wheel drive are compulsory for us.
"As an added value we bring safety, comfort, agility and expressive design – in other words, everything that distinguishes vehicles bearing the Mercedes star. We will thus appeal to new customers who have not considered owning a pickup before."
While these two concept versions point towards the X-Class's powerful design, Mercedes-Benz has revealed a few details about the production version.
X-Class buyers will be able to choose from different equipment scopes to customise the vehicle's exterior and interior. "A host of interior components that customers know and appreciate from the C-Class and V-Class will be found in the X-Class," the company claims.
Mobile connection will also feature heavily. Drivers can connect with their pickup by smartphone, tablet or PC at any time, and from anywhere. For example, to send navigation destinations to the vehicle, or query where it is parked and how much fuel is in the tank.
In addition to these optional remote online services, standard services such as accident recovery, maintenance management and breakdown management will also be available.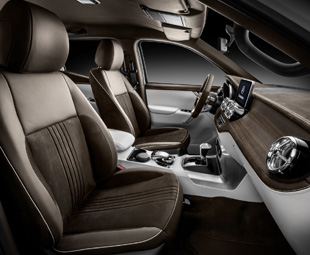 Modern driver-assistance systems based on cameras, radar and ultrasound sensors will support and relieve the driver in many situations and, in so doing, equally enhance safety and comfort. A host of assistance systems will come as standard.
Regarding power, the top-of-the-line model will feature a V6 diesel in combination with 4MATIC permanent all-wheel drive. The all-wheel-drive system will combine an electronic traction system, a transfer case with reduction gear and two differential locks.
The powerful drive system and the ladder-type frame will allow for a payload of more than 1,1 t and a towing capacity of up to 3,5 t, while, at the same time, the specially constructed suspension – with wide axles and a five-link rear axle with coil springs – will ensure a high ride comfort.
The X-Class will be launched in late 2017, beginning in Europe. Mercedes-Benz is targeting a number of key markets including Argentina, Brazil, South Africa, Australia and New Zealand.
Focus on Transport
October 27, 2016
Published by