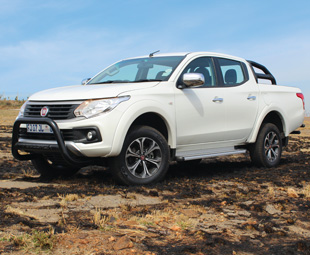 The Fiat Fullback is certainly one of the more old-school-feeling new bakkies available today. GAVIN MYERS asks if there's still space in the market for it
Despite the short route on the launch of the Fullback during July, it was immediately apparent that its drive felt more old-school than that of its rivals from Ford, Volkswagen and Toyota. With their Ranger, Amarok and Hilux, these manufacturers have been able to engineer a solid, yet comfortable and refined ride with the ability to still carry and tow a substantial load.
Bakkies from other manufacturers, such as Isuzu, Mitsubishi, GWM and Foton – while still removed from bakkies of yore – don't quite offer this same mix. So where does that leave the all-new Fiat Fullback?
We needed some extended time with it to really figure out the dynamic and, following a week spent with the 2.5 SX 4×2 double cab, we can report that it definitely doesn't fall in the former group when it comes to ride quality – but it's not as bad as some vehicles in the latter group. The ride is jiggly, but not overtly harsh; it's quite acceptable.
Similarly, the five-speed manual gearbox has a hard, old-school throw and feel. That Fiat has fitted a five-speed box is a mystery; it could definitely do with an extra ratio to quieten high-speed cruising, but the 2,5-litre turbodiesel sits right in the middle of the torque band in most situations. With 324 Nm and 100 kW on tap, it manages well.
The Fullback double cab is perfectly capable as a workhorse; it has a 1,52-m long and 1,47-m wide rubberised load bed and its payload is more than a tonne, while it can tow three tonnes.
With its rounded lines the Fullback is a softer-looking bakkie, but that doesn't dilute its rough 'n tough demeanour. In fact, with its chrome and silver detailing and fat, black front and rear bull bars and roll bar (courtesy of Fiat-Chrysler's Mopar accessory division), it certainly attracts its fair share of attention from other bakkie drivers. It also features what I reckon are the nicest alloy wheels (17-inch) to be fitted to a bakkie today…
The interior is upholstered in soft leather – the seats are very comfortable – and is livened up by a light-coloured grey dash with piano black and satin silver accents. It feels solid and high-quality. Space, while not class-leading, is good all round.
Feature wise, the Fullback SX boasts an electronically operated rear differential lock, cruise control, a driver and passenger airbag, anti-lock brakes with Electronic Brakeforce Distribution, a tow bar and a rubberised load bay.
Infotainment is by way of an unfortunately complex seven-inch touchscreen system, which does, however, feature navigation and Bluetooth connectivity.
Standard with a three-year/100 000 km vehicle warranty and a five-year/100 000 km service plan, the Fullback 2.5 SX retails for R402 900. At the price, we must ask again: does the Fullback feel too old-school for its own good?
Yes and no: it's a good effort, but it doesn't bring anything revolutionary to the bakkie market. The upside is that, in addition to looking good and feeling well built, it feels like a solid workhorse. It'll definitely appeal more to someone looking for such a vehicle.
Focus on Transport
October 7, 2016
Published by