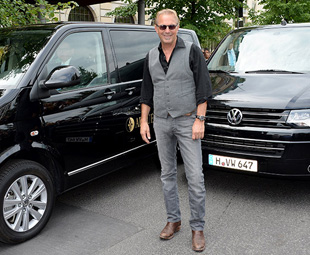 Supercars, ultra-luxury vehicles and a Volkswagen Multivan … these constitute transport for Hollywood stars. The "odd one out" was used to shuttle Oscar winner Kevin Costner – along with his band, Modern West – to the presentation of the Arqueonautas spring and summer collection during Fashion Week in Berlin.
"When I get into a Multivan, I almost feel at home," says the Hollywood star and partner of the Arqueonautas lifestyle brand … demonstrating that commercial vehicles really don't have to stand back when it comes to creature comforts.
Elke Eller, member of the board of management for human resources at Volkswagen Commercial Vehicles (VWCV), adds: "I'm delighted that Kevin Costner always relies on our Multivan whenever he visits Germany."
The ten Multivan Highline vans in the star's fleet all have 132 kW engines and leather seats. They are also equipped with navigation systems and tinted windows. A particularly practical feature, according to VWCV, is Digital Voice Enhancement – which is a system with loudspeakers in the roof lining. The system helps the drivers and passengers in the rear to communicate more easily.
So, the next time you see a Multivan with tinted windows, you might want to look twice …
Focus on Transport
July 10, 2014
Published by