It was the only bakkie range to not offer an engine bigger than 2,0 litres, and is now the only one that offers a 3,0-litre V6 … The Volkswagen Amarok has been to the gym, writes GAVIN MYERS
OK, before anything else, here are the raw figures: one variable-geometry turbocharger, three litres, six cylinders, eight forward gears, 24 valves, 165 kW power and 550 Nm torque. Oh, and ten seconds of overboost … during which time those figures jump to 180 kW and 580 Nm.
No doubt the new Amarok V6 now has some serious firepower. Hopefully it will dispel any (unfounded) market fears that this bakkie can't handle a tough job…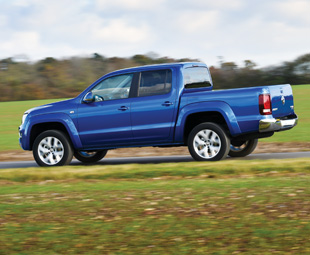 Would you believe, though, that despite all the misperceptions over the years, more than 29 000 Amaroks (single and double cab) have found homes in South Africa since 2010?
Buyers now have even more choice (despite the global discontinuation of the single cab), with five new models added to the range. Volkswagen South Africa (VWSA) expects to move more than 150 V6 units a month.
So what about this V6, then? It is an evolution of the 90° V6 VW Group engine used in Audi and Porsche products since 2014. For use in the Amarok, it's been adapted by way of a newly developed VGT turbocharger to give the engine smooth responsiveness under all load conditions and across the whole engine speed range.
It's also had frictional losses reduced by ten percent – thanks to a special cylinder-bore honing process and a newly developed package of piston rings with less downforce – which aids efficiency. It also features an optimised cooling system with two separate circuits and thinner walls for a shorter warm-up phase, which, in turn, saves fuel.
The result is a spread of power between 3 000 and 4 500 r/min and the arrival of peak torque from an early 1 400 r/min. VW claims the Amarok V6 will hit 100 km/h in just eight seconds and consume fuel at an average rate of 9,0 l/100 km – both impressive figures for a double-cab bakkie. There's no doubt it's got the muscle and it sounds full of brawny but buttery-smooth goodness, too.
There so much muscle, in fact, that it has a towing capacity of 3,3 t and a payload of up to 1 010 kg (when fitted with the heavy-duty rear leaf springs). Oh, and it'll smoothly pull off on a 35° incline at the same time!
All V6 models are fitted exclusively with the quick-shifting, eight-speed automatic gearbox and 4Motion permanent all-wheel drive. On the road the V6's surge of power and torque is immediately noticeable when compared to the smaller-engined 2,0-litre TDI and BiTDI variants (which we were able to reacquaint ourselves with on launch and which, in isolation, have never felt underendowed…). The driving experience is effortless and comfortable.
That stands when off-road, too, where a simple shift into the "special" gear-selection programme and activation of off-road mode allows the Amarok to tackle most rocky paths with aplomb. The rear differential can also be locked, while an electronic diff lock (EDL) is applied automatically to balance traction.
EDL is one of many electronic driver-assistance systems fitted to the Amarok. The latest models now also feature a post-collision braking system as part of the electronic stability control. This system automatically applies the vehicle's brakes after a collision to avoid follow-on collisions, or to reduce their severity.
What else is new? Well, in addition to the subtle sharpening up of the exterior (contained mainly in the front bumper, grille and headlights) it is the interior that benefits the most.
A completely redesigned dashboard, that does away with the old circle accents, lifts the Amarok's interior ambiance up a few notches to the point where it looks as though it's been lifted from one of the marque's more luxurious SUVs – only in looks, though; because it feels decidedly plastic and hollow.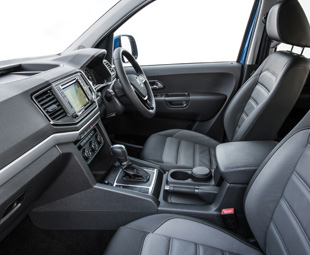 Nonetheless, some welcome spec upgrades are included in the revised model range (comprising Comfortline, Highline, Highline Plus and Extreme levels of spec). These include items such as a 6,3-inch, touch-screen infotainment system (including navigation on upper-spec models), bi-xenon headlights, reversing camera and seat heating.
What does one pay for all this extra muscle? Well, a top-spec Amarok V6 Extreme will set you back R748 600 … while the cheapest V6, in Highline spec, will cost R665 700. The revised model range starts at R487 700, though, for the 2.0 TDI 4×2 manual Comfortline.
The Amarok range is backed up by a three-year/100 000 km manufacturer warranty, five-year/90 000 km Automotion service plan and six-year anti-corrosion warranty.
Is it worth the outlay for the V6? Well, in day-to-day driving the 2.0 BiTDI is on par with its rivals and perfectly adequate, yet it cannot match the smoothness and punch of the V6 (and is only marginally more fuel efficient). In fact, there is no other bakkie in this class that has an engine to match it.
Focus on Transport
June 20, 2017
Published by