New Actros emerges (already)
In his monthly review of global news for local truckers, FRANK BEETON unpacks the new Mercedes-Benz Actros (yes, that's still the name), takes the Ford Cargo revival story one step further into Turkey, and updates the situation regarding Volkswagen's global growth strategy, with particular reference to the truck operations.

In the past two issues, Global Focus has covered the build-up to the new Mercedes-Benz flagship truck model. We kicked off in June with details of the Euro 6-compliant OM 471 derivative of the Daimler global Heavy Duty Engine Platform family, and followed this a month later with news of some comprehensively disguised test units that had been observed on the roads of Europe.
Our prediction was that an all-new premium truck would make its appearance early in 2012, ahead of the Hannover IAA truck show in September, and in advance of the January 2013 implementation date of the Euro 6 emission standard for new model introductions.
In view that this new model would require comprehensive repackaging to accommodate an in-line six-cylinder power plant, instead of the vee-form diesels that characterized the more than 700 000 Actros units built since the model's 1996 introduction, our prediction was that it would carry a new name.
In the event, we were proved woefully inaccurate on two accounts. Firstly, the name Actros will be carried over, and secondly, Daimler Trucks formally announced the new model a year ahead of our expectations, on 21 June 2011! However, we were right about a number of things, including the OM 471 engine and an all-new cab design, but there was a great deal more in the 60-page launch document to catch our interest regarding this €1 billion-plus development.
On perusing the images in the launch package, it was noticeable that the original Actros' smooth and somewhat "friendly" appearance has been replaced by something considerably bolder and more aggressive, an impression that is accentuated by the higher cab profile necessitated, in part, by the in-line engine.
The all-new Actros will be made available exclusively as a long-distance premium hauler. Construction and short-haul applications are to be covered by two other model nameplates, and the Axor may turn out to be one of these. The concentration on linehaul work has resulted in seven cab configurations being offered. Five of these feature a completely flat floor to facilitate crew movement within the cab, while those with an engine "tunnel" are only subjected to a nominal 170 mm of intrusion.
The Euro 5 versions of the OM 471 engine will be offered as options on units entering service before January 2013. A fuel economy improvement of around 6% is claimed for these against the run-out model, whereas the full Euro 6 specification is predicted to achieve an up to 4% improvement. This should result in robust initial demand for the pre-Euro 6 derivatives from cost-conscious operators. The specification differentiation of the Euro 5 version includes the omission of the particulate filter, reduced circulation in the exhaust gas recirculation system, and a smaller EGR cooler. Outputs of this version occupy the same envelope as for the Euro 6-compliant unit, and service intervals on the OM 471 series extend up to 150 000 km.
The OM 471 power unit is designated as the first member of a new engine family, and occupies the power spectrum between 310 kW and 375 kW (421 hp to 510 hp). This raises the question about the subsequent announcement of more powerful units, and a possible early crack at the world's most powerful truck title, as befitting the flagship of the world's foremost truckmaker. This will require an output in excess of Scania's current benchmark of 537 kW (730 hp), which should be within the developmental reach of a Europeanised version of the 15,6-litre Detroit Diesel DD16, which at 450 kW (600 hp), is the current top dog in the HDEP family.
More than 2 600 hours of wind tunnel development has gone into the new design, and this has contributed significantly to improved fuel economy outcomes. The fully-galvanised cab is 2,3 m in length, and options include four roof and two width profiles, with the range-topping GigaSpace version offering an internal volume of 11,6 m³ and 2,13 m of headroom, within an overall height of almost 4,0 m. The other cab configurations are labelled ClassicSpace, StreamSpace and BigSpace, while a massage function will be available on Mercedes' in-house-developed driver's seat from 2012.
The cab is fully aerodynamic, and the standard rooftop deflectors can be adjusted to suit bodies and trailers up to 4,6 m in overall height. The air management system also controls the airflow under the vehicle, while the wheelarches have been designed to suppress spray and reduce wind resistance.
Driver assistance features include the new unique Proximity Control Assist system, to take the irritation out of starting and stopping continuously in traffic jams, adaptive cruise control, Lane Keeping Assist, Stability Control Assist, and Active Brake Assist. Crew comfort is enhanced through air-conditioning, automatic climate control and auxiliary air-conditioning.
Because of its defined long distance mission, it comes as no surprise that the new Actros is only available with Mercedes' Powershift 12-speed direct-top automated transmission, in G211 or G281 versions. This has permitted the use of a steering-column mounted transmission control stalk, providing unimpeded cross-cab movement and removing the need for any holes in the cab floor for gear linkages or cables. The Powershift gearbox now incorporates a crawler function enabling slow-speed manoeuvring without accelerator inputs, and is available with various optimised software programs to suit differing application profiles.
Front suspension options are steel or air, while the Mercedes-Benz HL6 hypoid drive rear axle is air suspended. The optional three-stage engine brake delivers 400 kW (544 hp) of retardation, while an optional water secondary retarder can provide an additional 750 kW of braking force. The European market Actros is available in 4×2 and 6×2 versions, with the non-driven rear axle positioned either ahead of, or behind, the drive axle. Available fuel tank capacities range from 290 to 1 300 litres.
While this new Actros is state-of-the-art in every way imaginable, it does present as a less radical step forward than did the original bearer of the name back in 1996. The first Actros was greatly admired, but suffered some early marketing setbacks because of its advanced specification, and Daimler will have been careful not to repeat that situation. Despite the carryover name, the manufacturer insists that this is a clean-sheet design, with every feature and component optimised, although some will be seen as logical developments of aggregates used in earlier models.
The new Actros has been subjected to five years, and around 20 million kilometres of "real-world" testing, in areas as diverse as the Arctic Circle and South Africa. The design life of the engine before major overhaul has been set at 1,2 million kilometres.
While the new Actros is clearly aimed at the European market, export versions will be announced in due course, because this is to be the sole long-distance nameplate in the Mercedes-Benz family. From a South African perspective, a 6×4 configuration will be obligatory, but it is interesting to note Daimler's willingness to sell Euro 5 models in Europe while this is still possible. Whether it will be feasible to "reverse-engineer" the
OM 471, or any other HDEP derivative, to Euro 2, 3 or 4 to suit less developed markets is not known.
The European order book for the new Actros opened on 1 July, and mass production is scheduled to start at the end of September, but it seems likely that the "old" Actros may soldier on for a while longer alongside its new sibling to service global markets, although Daimler's resolve to eventually make the HDEP power lineup universal is abundantly clear. Further announcements regarding the new Actros' arrival in South Africa are eagerly awaited.
Ford's Turkish Cargos
In the FOCUS July issue, we reported on the launch of a new range of Ford Cargo cruiserweight trucks in South America. While researching that article, we turned up a considerable amount of information relating to another Cargo truck family, this time manufactured and marketed by Ford Otosan, in Turkey.
It seems that, when Ford Motor Company initiated the progressive process of disposing of its European truck business to Iveco from 1986, a number of global Ford companies decided they wanted to remain in their local commercial vehicle markets and to retain elements of the Cargo range for their own accounts. These included several South American operations, as detailed in the July issue, and Ford Otosan, a Turkish joint venture owned equally with local interests, which had been producing Cargo trucks domestically since 1982.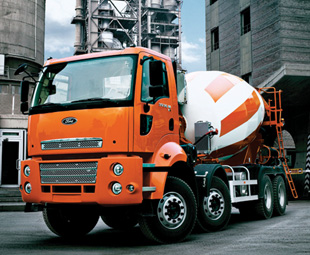 For some time, the original Cargo forward control tilt cab was retained, although mechanical component sourcing was altered to suit individual market preferences. However, market forces eventually dictated more modern styling and crew accommodation, leading now to a second generation of Ford Cargo trucks that look quite different from the original European design.
Ford Otosan launched its indigenised Cargo range in 2003, surprisingly with its own in-house designed and built engine. Surprisingly, because most other Ford operations have chosen to adopt proprietary engines from sources such as Cummins to avoid incurring high development costs. The initial power unit, dubbed Ecotorq, was a Euro 3-compliant 7,3-litre in-line six-cylinder diesel with common-rail injection, turbocharger/intercooler and electronic control, developing power outputs of 177 kW (240 hp) or 221 kW (300 hp).
Then, in 2008, Ford Otosan revealed a new indigenous 9,0-litre Ecotorq power unit, with the important distinction from the original engine of being a "parent bore", or without cylinder liners, design with compacted graphite iron cylinder block and heads. This six-cylinder engine is available with outputs of 240, 270 and 285 kW (320, 360 and 380 hp), and has since been joined by an updated CGI version of the 7,3-litre unit, which develops 195 kW (260 hp).
The latest Ford Otosan Cargo line-up consists of 20 model variants, in 4×2, 6×2, 6×4, 8×2 and 8×4 configurations, covering the Gross Vehicle Mass spectrum from 18 to 32 tons, and Gross Combination Mass ratings up to 40 tons. The new generation Duratorq engines drive through ZF nine-speed or 16-speed gearboxes to Meritor rear axles or bogie sets. Cargo cabs are available in short day or long sleeper versions, and models intended for trunk route operation have aerodynamic refinements in the form of cab-roof spoilers and wider skirts.
It seems quite remarkable that such a comprehensive range of models and variants has been developed to essentially serve one country's domestic market, but, understandably, Ford Otosan promotes exports of this range to neighbouring Middle Eastern countries, as well as Russia. Some of the design effort is also being shared with Ford's South American operations.
There seems to be more than enough evidence in all this to suggest that Ford may be considering a move back into the global truck business, in which it played a significant historical role. Ever since it developed the first commercial variants of the iconic Model T before the First World War, Ford derived a considerable portion of its income from commercial vehicle activities, and its disposal of the original Cargo design and the Louisville line during the 1980s and 1990s was out of character. Interestingly, Ford has retained participation in the mid-reaches of the American truck market using its Blue Diamond joint venture with Navistar International as a platform.
Volkswagen moves
Volkswagen AG's published objective of becoming the World's Number One vehicle manufacturer by 2018 is set to continue resonating in the global trucking industry. In May it was announced that VW had increased its shareholding in MAN to just more than 30%. In terms of German law, this made it obligatory for VW to make an offer for a complete takeover, which was duly initiated but at a price deliberately below MAN's ruling share value, resulting in a less than enthusiastic response from other investors. This allowed VW to embark on a more extended acquisitive process, buying up MAN shares gradually in the market, which reportedly resulted in a shareholding level of 55,9% early in July.
Observers believe that Volkswagen still has its sights fixed firmly on some form of closer association between MAN and Scania, both of whom it now effectively controls. This combination would become Europe's biggest truck seller, overtaking both Daimler and Volvo. The global situation is more difficult to assess, as several Chinese truck manufacturers are now contesting the leadership arena, and rankings could change in relatively short order. Both Daimler and MAN are developing significant Chinese partnerships, and these could well exert a strong influence on which group eventually emerges as the world's leading truck producer.
However, another issue has now emerged that may complicate the dynamics in the global market even further. Back in April, reports emerged that Volkswagen was showing interest in Japanese truck builder Isuzu Motors. Since General Motors exited equity participation in Isuzu in 2006, following
45 years of close co-operation, the Japanese company has stood out as an obvious potential target for takeover, or at least substantial partnership forming. Toyota moved quickly to buy a 5,9% share, but technical co-operation between the two companies has been slow to emerge. This cautious approach may stem from the fact that Isuzu and Toyota's truck-building subsidiary, Hino, compete fiercely for sales in a number of important export markets, notably Australia and South Africa.
The influence exerted on Isuzu by Toyota is too small to rule out a tie-up with Volkswagen, who would possibly derive much pleasure from out-maneuvering the current global market leader. There are a number of compelling reasons that would make this association desirable to VW.
The first is Isuzu's leadership position in the global light truck market, equivalent to South Africa's medium commercial vehicle category. The second is Isuzu's strong historical position in North America, where it has secured long-standing leadership in the market for low cab forward medium trucks. This position has been somewhat compromised by GM's recent withdrawal from the truck market, leaving Isuzu to form new production partnerships, while buying in GM petrol engines, to maintain its profile. Thirdly, VW's recent entry into the one-ton pickup market with Amarok would surely benefit from an association with Isuzu. VW's global leadership plans need market coverage expansion, and more sales in the US, and Isuzu could help with both elements.
Isuzu has confirmed it is exploring potential alliances with Volkswagen, involving pickup trucks, diesel engines and larger trucks. Toyota is not likely to contemplate doing further business with Isuzu if there is a strong Volkswagen influence in the company. So, it has two choices; withdraw, or up the ante.
In the past, Japanese interests have not been favourably disposed to foreign ownership of Japanese companies, so Toyota may well take the initiative and block VW's moves. Isuzu, on the other hand, may be dribbling information into the media to hurry Toyota along. Global Focus will be keeping a close watching brief on this story.
---
Global FOCUS is a monthly update of international news relating to the commercial vehicle industry. It is compiled exclusively for FOCUS by Frank
Focus on Transport
August 2, 2011
Published by