New GRW tanker sets tongues wagging
GRW Engineering has staked its well-earned reputation as SA's top tanker manufacturer on an innovative single, flexible and interchangeable tanker design. UDO RYPSTRA attended the Johannesburg launch and came away impressed.
The new tanker design approach makes provision for the latest trends in fuel delivery methods, fuel cargo monitoring and live data transmission systems.
Moving fuel from refineries to the end user in the right quantities, at the right quality, at the right time and safely, is an ongoing challenge. There are various modes of fuel delivery but they share the same criteria. While pipelines over long distances are the cheapest, safest and most secure option, their reach is limited. In South Africa, most fuel is distributed inland by rail and road. Statistics show that fuel transport by rail is definitely safer, and probably cheaper and more secure than by road.
In fact, with government wanting to see more fuel transport on rail rather than road, Transnet's task is to take more fuel freight away from road freight operators as part of the National Freight Logistics Agenda.
But trains are slower than road transport and can't deliver to service stations, which road tankers can reach. But it is with road transport where the fuel's vulnerability to contamination, pilferage, hijacking (of tankers) and accidents has increased dramatically.
This, and new fuel delivery requirements have seen an evolution in road tanker design over many decades – and now another exciting development has been created in the local fuel distribution sector.
It's a new generation road tanker designed and produced by SA's leading tanker builder, GRW Engineering, which has used its well-established skills to produce a 50 000-litre, seven-compartment, aluminium, semi-trailer tanker that can be configured to multi-task like a computer – the plug and play way.
With the latest equipment from Emco Wheaton, FMC and Alfons Haar, it can be configured to perform unmetered pre-measured "sealed" consignments of fuel (SPD) or as a Bridging tanker.
At relatively little extra cost, a meter can be added to both a bridging or SPD tanker using conventional or turbine metering equipment to do multi-drops of different kinds of fuel. A unique drain system has been developed for a single meter to deliver multi products without any contamination. Jet sampling points can be added to any of the options.
On top of this, using the latest radio frequency technology or satellite communications technology, it can provide the fleet operator with live fuel cargo monitoring, invoice generation, electronically signed delivery notes, and a number of other features.
What's more, thanks to the engineering skills of GRW itself, the new tanker offers more productivity, security and safety features than before – all this at what is claimed to be a cost-effective price.
Concept development
Changes in fuel monitoring and delivery technology keep tanker designers going back to the drawing board on an ongoing basis. GRW has now done it again with its Imvubu (Zulu word for hippopotamus) concept and it has done more than accommodate these changes in trailer design.
"Imagine a transport industry in which a few minor adjustments – plug and play style – can transform the road tanker you first bought for bridging into a metered delivery tanker. Or vice versa. Or from a tanker for sealed parcel delivery into a bridging tanker."
That's how GRW actually described its "never-before-seen concept" at launches in Johannesburg, Cape Town and Durban.
Operators had their first inkling of what GRW was up to when they attended a Total Transport and Safety Forum in Johannesburg recently where massive fuel pilferage (up to 14% of total sales volume), the effectiveness of new, wireless Sealed Parcel Delivery (SPD) systems and the need for new trailer designs were discussed.
Diesel has become a fluid currency, so the saying goes, and as oil prices and fuel losses continue to escalate, so does the need for innovation in fuel transport. This includes the active monitoring of both the vehicle and fuel cargoes.
The days of single compartment tankers with a manhole on top, a tap and hose at the bottom and a dipstick to measure fuel levels have virtually come to a close.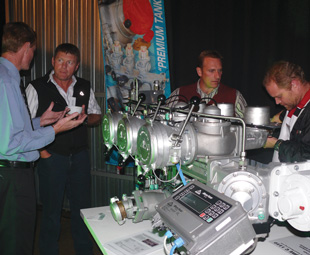 In days gone by tanks were sealed after a pre-measured volume had been pumped into them at the loading point and the seals were broken at the point of discharge. If these seals were tampered with en route it would alert the owner of a fuel depot or of a petrol station. The traditional dipstick would indicate whether the right volume of fuel, as reflected on the bill of lading, had been delivered.
SPD systems
But all this changed many years ago with the introduction of hard-wired on-board SPD systems that could monitor and record the opening of manhole covers and discharge connections, just like yesteryear's on-board computers (OBCs) could monitor the temperature inside a reefer box and record the opening/closing of the reefer doors. Trailer designers had to respond accordingly.
The latest SPD systems from America and Europe provide the highest level of sealing integrity. Following the arrival of multi-compartment road tankers, they not only monitor and record the opening and closing of individual compartment valves and hatches, but also communicate that information (real-time status reports) to a base station via an onboard AVL reader and modem via radio frequency and/or satellite.
What is more, in addition to the exact location of the tanker, it can be upgraded to prevent loading and unloading in unauthorised areas. Further enhancements like liquid presence sensors are being developed.
These SPD systems are now part of what is globally called the Safety and Control System (SCS) of the tanker and are defined by the European DS DS/EN 15208 standard, which now discards the dipstick method altogether.
The standard specifies performance requirements and critical safety aspects, as well as data transfer methods between loading gantries and transport tank, transport tank and delivery points, and other optional communications and tests to provide functional and compatible systems.
One of these systems, the Sealed Cargo System (SCS) manufactured by Emco Wheaton, is now being evaluated in South Africa.
"The local market is embracing this new technology and the many benefits it affords fuel tanker owners, and operators are being independently validated on a daily basis, in particular with a sharp decline in costly product pilferage," Philip Dawson, GM of Johannesburg-based Soliflo Tank Truck Equipment, the local distributor, told the forum delegates in Rosebank.
And indeed, some delegates present acknowledged that they had experienced no instances of tampering or fuel theft since installing the SCS on their tankers.
Hi-tech options
There are metered and unmetered tankers but no basic tanker that can be configured to fully cover both options. It was at the same forum meeting that GRW CEO Gerhard van der Merwe first spoke about the new tanker concept and then embroidered on it at the Johannesburg launch where guests could inspect the actual tankers, equipped with SPD and the latest hi-tech metering equipment.
According to Van der Merwe and Ivan Terblanche, engineering executive at GRW, the Imvubu is basically a combination of existing configurations. They explained that customers could initially order their preferred configuration, but the design was done in such a way that only a few adjustments could effectively result in a newly purposed vehicle.
Creation of this multipurpose vessel was mainly possible thanks to a manifold pipe system, which made it feasible to install and uninstall components in a relatively uncomplicated process. This, in turn, would result in a significant saving in cost and increase in tanker availability and substantially reduced cost of ownership which, taking into account the residual value, could be the biggest benefit of the new design.
"The flexibility allows for tankers to be adapted as the needs within businesses change, while re-sale possibilities, especially in an economic environment where second-hand is in demand, are increased significantly," Terblanche said.
He explained that by taking a second look at the shell configuration, engineers managed to reduce the number of operational components (and therefore the production costs), to standardise compartment sizes and to ease loading and off-loading.
Centre of gravity
Tanker trailers have a high centre of gravity and easily overturn in accidents, as happened in the DRC in July last year when more than 200 people sitting in clay and straw huts died when a speeding tanker overturned and exploded in the street outside. GRW has been able to produce a lower centre of gravity that translates to improved safety on the road.
In the process of all these design improvements, it has also been able to achieve excellent drainage and increase payload.
Turnaround times on maintenance services and repairs will also be reduced as critical components were placed with accessibility and serviceability always in mind. The result is an innovative new pneumatic pipe and electric cable routing and clamping system that allows direct access for improved ease during diagnostic testing and replacement, the company says.
Other features include consistency in the parts and operating systems across the configurations, an homogeneous control panel on all the individual units and a fresh look that portrays an image of neatness and professionalism wherever the tanker travels.
Last but not least, the tanker boasts the latest lightweight axles and suspension systems from BPW Axles and brake system configurations from Wabco, which completes a world-class leading design; one which must have had tongues wagging around the country. It certainly did in Johannesburg.
Backup support
Indeed, with state-of-the-art production equipment at two factories in Worcester and boasting some of the best designers and welders in the world, one cannot but expect GRW to deliver further on its proven, structurally sound concepts and technology.
And the back-up is there too. When the Boland company started out with a small service depot in Johannesburg 10 years ago, it mushroomed over the years into an impressive support system with big, state-of-the-art service centres in Johannesburg, Cape Town and in Worcester.
A dedicated division, GRW Services provides tanker repairs, refurbishments and contract servicing that adhere to the same quality standards for which GRW Engineering is trusted, while being focused on keeping turnaround times to a minimum. The division employs task-specific teams who know the GRW product and therefore can provide clients, including those in the second-hand market, with expert advice and the latest available products and technology in the road tanker industry.
The service centres are fully equipped with spray painting, pressure testing and washing facilities, while inspection and evaluation services, a quote estimation system and testing pits are also part of the services packages offered. The latter allows for the in-house calibration of all meters, overfill sensors, manifold testing and tank pressure testing systems.
Clever move
A clever move, surely, are two approved International Truck agencies the group has acquired in Cape Town and Worcester. These offer the additional services of maintenance and repairs on International Trucks and trailers of any brand, as well as parts outlets and after-hours site and roadside assistance – like a one-stop shop for tanker and other bulk operators.
Dedicated personnel in the quotation/booking, parts and after-hours divisions ensure timely assistance and minimum down time, while a range of courtesy vehicles will allow clients to continue essential operations while their tankers are in the workshop.
In other words, GRW Services Johannesburg is now fully equipped to provide an all-inclusive and time saving maintenance and repair service to tanker fleet operators.
Four branded road tankers – a fuel tanker, auger tanker, pneumatic dry bulker and cement tanker – have been added to GRW Services Johannesburg's range of assets and will now be available to clients who are having major repairs or refurbishments done and who cannot afford to have down time.
According to MD Jan Coetzee the use of a courtesy vehicle will be included in the quoted price to clients who are in need of a temporary replacement.
Another first for the industry is the introduction of an extended warranty and maintenance contract that are sold as an option with the new Imvubu. This is supported by GRW Services branches in Johannesburg and Cape Town or approved third party service providers in other areas on customer demand. An improved operator and parts manual to assist drivers, driver trainers and maintenance personnel comes part and parcel to the sale of each new unit.
Focus on Transport
June 1, 2011
Published by