I have just returned from a whirlwind trip to Namibia. I was so impressed with the country that I am thinking of packing my bags …
What a flipping lekker place. I have been to Namibia many times over the years, but my recent visit filled me with new-found wonder for our neighbour. There are many reasons why.
First and foremost is the sense of optimism and pride. While there, I visited two transport operators: A van der Walt Transport Namibia (read all about them on page 22 of this issue of FOCUS) and eXtreme Customs Clearing Services (XCCS).
It was such a pleasure to sit and chat to the owners … because they don't weep, wail and gnash their teeth all the time! You know the obsessive air of doom and gloom here in South Africa? I experienced none of that in Namibia. Instead, people are positive. They are overwhelmingly patriotic and proud of their country … gosh what a nice change.
Of course, to be fair, it is fairly easy to be optimistic in Namibia. Vehicle sales are up and business is good. Sure, it's growing off a low base, but still, it's good. So much so that A van der Walt Transport Namibia has just concluded the biggest trucking deal in that country (ever!). Down the road at XCCS, things are going just as swimmingly.
That company is owned by a truly delightful chap by the name of Julius Laurensius, and I really enjoyed meeting him, because he is just so humble. He started the company in 2009, operating within the field of break bulk. In 2012, he diversified into bulk fuel – and that's when he went into lift-off mode.
"I bought my first truck from Scania Finance; now I have 51 fuel tankers; all Scanias," he says proudly. The company is so successful today that he is giving Unitrans, a long-established player in that field, a serious run for its money.
It is obvious that he is the reason for the company's success. "We are successful for various reasons. We only run new trucks (our clients like that; it means good safety). We react quickly (if my clients want an answer, they get it in ten minutes); my competitors need to have meetings and strategise.
"Plus, we invest in the company. People often associate a one-man business with someone who spends a lot of money on himself. We don't do that. We are reinvesting in the business and investing in the employees," he tells FOCUS.
Incredibly though, Laurensius doesn't take credit for the company's success. "I had a partner, and that was Scania. I have never regretted my partnership with Scania. In fact, I am very grateful for it. The trucks are economical and reliable and the company's service is excellent."
Laurensius says he hopes to grow the fuel transportation side of his business. "There are about 300 bulk fuel transporters operating in Namibia, so there is still considerable potential. Plus, there is about ten-percent growth in the market per month!"
While the company is operating in Botswana as well, he has no aspirations to trade in South Africa. "I am too small to go into South Africa; we don't have the backing of a parent company, but that's fine; we want to remain a Namibian company.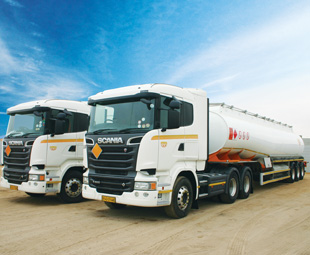 "There is more than enough room for growth here. In a decade we want to be running 200 trucks, if not more. By 2020, we want to be the only preferred transporter of bulk fuel in Namibia," he tells FOCUS.
While his enthusiasm is delightful so, too, is his sense of loyalty. Mention another truck supplier and he gasps. "Oh no. That is not me. I am a very loyal person, so I only work with one truck and trailer supplier, namely Scania and GRW respectively."
His humble nature is also a delight. It is almost as though the success of the business has taken him by surprise. "The growth has been nice. First the plan was ten trucks. It became 20. Then 30. Then 40. Then 50 …"
And, it certainly hasn't gone to his head. "You could say that I am a Scania employee. After all, Scania is a 100-percent shareholder in this business, because our trucks all come from Scania (barring one old truck that runs exclusively on a really bad road).
"Without Scania I don't think we would be where we are today. Scania was there from the beginning; they trusted me. That is why we are growing. We are really thankful. There are no words to express what Scania has done for me," he concludes.
As I said, what a nice guy. Operating in a very nice country.
Focus on Transport
October 1, 2015
Published by