Of Cossacks, comrades and cold …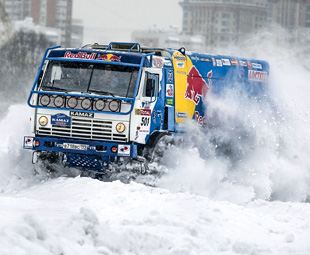 Since the Iron Curtain rusted away, the huge continent behind it has been exposed to the West and, what was previously hidden from us, is now available for scrutiny. KIM KEMP "steppes" into this once forbidden territory to see what the Russian automotive fraternity looks like today …
The names of Russian automotive manufacturers roll off your tongue like melted snow sliding off the Urals in the spring thaw: Kamaz, Ural Automotive, GAZ , Yarovit, Zavod imeni Likhachova (ZiL) and … well, maybe not exactly rolling off the tongue …
The last time Russia was renowned for its design, was when Faberge made his last masterpiece for the Tsar. After that it all went downhill, what with ongoing wars, political uncertainty and ultimately, the Cold War. During that time, the country seemed to step back into a Dark Age, with little innovation, light or technological advancement peeping through the impenetrable Iron Curtain.
The vast territory became a mystery; aesthetics were put on hold, while reliability, practicality and utilitarianism took centre stage. This applied to its automotive sector as well, despite constant input and technical collaboration from the West (from Ford, for example, back in 1929), to assistance from Germany and the United States in later years.
By the early 1980s, the Soviet automobile industry consisted of several main plants, which produced vehicles for various market segments, from family cars to super-heavy trucks and sport utility vehicles (SUVs). But, pre-1991, no importation of cars was permitted, despite production only satisfying 45 percent of the domestic demand.
After the dissolution of the Soviet Union in 1991, it became hard for local automakers to prosper, owing to low quality of their own production and competitive foreign imports. Some automakers, like AvtoVAZ, turned to collaborations with other companies (such as GM-AvtoVAZ) in order to keep the factories producing, while others became dormant and still others continued to build the old Soviet-era models.
Other than exposure to a variety of military vehicles – and a veritable jumble of motorbikes from local restoration fans – the only Russian auto brand we've seen locally has been the virtually indestructible Lada Niva, produced by manufacturer AvtoVAZ. It was built to compete with more modern SUVs in the 1980s and named the Cossack in the United Kingdom. Some of these are still seen on our roads today, along with numerous restored motor bikes with distinctly Russian names: Voshkods, Mahemas and Urals.
But Russian trucks? Nyet.
However, in Mother Russia, it's another story altogether, as the numerous local truck and automobile manufacturers now jostle for supremacy.
As the recognised leader among Russian automakers, from its 13 plants located in eight regions of Russia, the Gorky Automobile Plant (or GAZ Group) produces light and medium-duty commercial vehicles, buses, heavy-duty trucks, passenger cars, power trains and automotive components. It leads the Russian commercial vehicle market, enjoying 50 percent of the light commercial vehicle (LCV) segment and 65 percent of the bus segment. The group also builds environmentally friendly modes of transport, including vehicles using alternative fuels.
Many Russian designs have their origins in the military. Some manufacturers continue to supply this market today and, consequently, Russian vehicles are built to withstand all sorts of geographic and climatic extremes, and … well, Russian drivers and vodka.
Established in 1941, originally named after Stalin, the Urals Automotive Plant – Uralskiy Avtomobilnyi Zavod, UralAZ – is a major manufacturer of off-road trucks under the Ural brand; part of the GAZ Group. With its origins in the military, over time it has become a major contender in the commercial vehicle market as well, through links to Iveco dating back to the 1970s.
In recent times, cooperation with Western manufacturers has continued and Yarovit Motors Automobile Plant claims that it produces vehicles "built with high-quality, foreign or domestically manufactured aggregates". According to the company, the advanced imported technology places it "in the same rank with the best European cargo transporter brands".
Yarovit produces numerous truck models, as well as multi-axle cargo vehicles. They feature high traction, are designed to operate in demanding road and weather conditions and are custom-built for arduous Russian environments.
While the stereotypical vision of dilapidated, outdated trucks barely capable of negotiating a highway – let alone some icy road through Bashkortostan, driven by some wild-eyed, vodka-swilling driver – cannot be erased, since the collapse of the USSR, parts of Russia have embraced capitalism (with an iron fist) and are thriving on modern technology, even with pockets of sophistication.
Zavod imeni Likhachova, (ZiL), manufactures trucks and heavy equipment and, while enjoying the distinction of producing armoured cars for most Soviet leaders, it also produces buses, armoured fighting vehicles and aerosani (a type of propeller-driven snowmobile that runs on skis).
The company produces hand-built limousines and high-end luxury sedans, primarily for the Russian government – and its passenger cars compete price-wise with equivalent models from Rolls-Royce, for example. They are, however, generally unknown outside the Commonwealth of Independent States (CIS), with production rarely exceeding a dozen cars per year.
As the largest truck producer in Russia and the CIS, Kamskiy avtomobilny zavod, or Kama Automobile Plant, located in Tatarstan, opened its doors in 1976. Today, its heavy-duty models are exported to many areas of the world and the trucks have made a name for themselves in the Dakar Rally, which they have won a record twelve times. The factory produces 93 600 trucks a year, with specially reinforced models used by the Russian army.
While Russia has reaffirmed its power in the mining, aerospace and oil and gas industries, it still remains heavily dependent on exports of natural resources. However, the automotive segment appears finally to be coming into its own, with some manufacturers even boasting exports worldwide.
I can only say Na Zdorovie to that. |
Focus on Transport
June 4, 2014
Published by