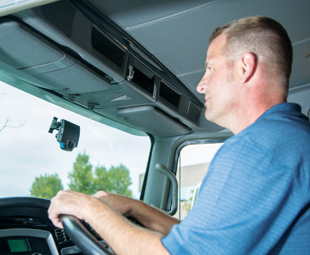 ANLERIE DE WET chats to Treveshan Chetty, owner of Autotec Vehicle Technology Solutions, to find out how vehicle owners can give their old vehicles a new feel by installing new automotive technologies
"There is a need in the industry to adapt to individual vehicle owner's needs. Autotec has, therefore, developed a range of innovative solutions that seamlessly provide lifestyle-related products and services ranging from safety and vehicle-care products to advanced electronic solutions," says Chetty.
Autotec provides products such as fleet-management systems, drive cameras, fuel-monitoring systems and ICAM tracking systems. "A good fleet-management system is an essential tool for any logistics company. To have full control of the trucks' whereabouts, fuel and drivers will definitely make a business more effective and profitable," says Chetty.
"When a vehicle is being monitored, it leaves much less room for problems such as negligent driving and non-work-related use of the vehicle by drivers."
Chetty notes: "Drive cameras monitor the vehicle in real time and provide camera footage of the road in front of the vehicle. This enables owners or operators to check whether their vehicles are stuck in traffic, or, more importantly, should the vehicle be involved in an accident, the recorded footage can be used for insurance purposes.
"A fuel-monitoring system can monitor the fuel consumption and cost per kilometre, which helps with costing and can eliminate fuel theft."
The ICAM Tracking System, for example is an all-in-one solution that includes all the aforementioned features.
Autotec fits products to more than 1 000 vehicles per year at its centre in Edenvale. "We also manage and service multiple sales desks in dealer showrooms across the country, and offer a range of customised vehicle accessories through our application centre, thereby providing a seamless one-stop service to our dealers and their customers," says Chetty.
"Often, when purchasing a new vehicle, you will find that the advertised price sounds great, but after adding the optional extras it increases quite substantially," concludes Chetty.
With this in mind, it may very well be a cheaper option to install the new technologies into your old vehicle, rather than buying a new one – provided that a warranty is issued for the new technology. The only sad part is that this doesn't ensure a longer life for your vehicle … yet. Here's hoping!
Focus on Transport
July 20, 2017
Published by