The Isuzu KB 300 may have been around for a while, but as JACO DE KLERK found out when he took it to the Central Drakensberg and back, this old dog can still deliver …
I must admit that I was feeling like a child on Christmas morning when the KB 300 D-TEQ 4×4 double cab, kindly loaned to us by General Motors South Africa for a NOSHCON excursion, pulled into the parking area at our offices.
It was red. Such a lovely colour and a lot better than white, but a bit ironic as we were heading to Africa's largest occupational health, safety and risk management conference. The Maranello Red, to be exact, accentuated the KB's bakkie looks, which got my Afrikaans senses tingling as I thought about cruising on the N3 towards those mountains of dragons.
(Just to put things into context for those thinking me daft for getting excited about a bakkie, I drive a 2007 Golf Chico, so any vehicle holiday is greatly welcomed and the KB was a leap in the right direction … .)
The Isuzu name is intrinsically linked to diesel engine technology, as the company has devoted over 70 years, and a major portion of its research and development resources, to refining diesel motor technology. This led to the intercooled three-litre four-cylinder turbocharged diesel engine that delivers 120 kW at 3 600 r/min and 360 Nm between 1 800 and 2 800 r/min in the KB 300. The power is really impressive once you're on the move, which added to my childlike excitement (but I'll elaborate on that a bit later).
The trip to and from the picturesque venue highlighted a few things that dampened my initial enthusiasm, but also revealed things that added to it greatly. Two of the minor hiccups included the cruise control unit that you activate by pressing two buttons. One enables the unit and the other programmes the desired speed, which isn't something major, but it takes some getting used to as the "main switch" resets when you turn the ignition off.
The other technical hitch was the centre console, which was a bit cluttered and difficult to operate. It does, however, offer the four-wheel drive option selection via electronic buttons, which redeems it thousandfold. (But bear with me, we're nearly there.)
The pros
Isuzu's KB 300 has supplemental restraint system (SRS) airbags for the driver and passenger seats, anti-lock braking (ABS) and electronic brakeforce distribution (EBD), adjustable shoulder and pretensioner seatbelts in the front, and side-door impact beams, which was reassuring during the trip should an accident occur. (It's odd how your safety awareness is heightened while en route to a safety conference and how grateful you are for such features when you return.)
It also has an aspherical mirror (which provides a wider field of view) on the driver's side, central locking, an audible alarm system, an immobiliser system, a spare wheel lock that is matched to the vehicle's lock set, and an automatic door lock that kicks in as soon as you go over the 30 km/h mark.
Another benefit was that it actually did fit in my garage, unlike one of its newer rivals that I drove a while back, which demonstrates that size does matter, with smaller sometimes being better. However, it can still seat four average adults (I'm 1,85 metres tall and I could sit fairly comfortably in the back seat while the driver's side was adjusted to my preferred driving position).
The driver's seat can also be moved up and down, and the coat hooks can actually take a normal hanger (not just those wire ones that used to be used to improve a television set's reception). There are ample places to stow things like sunglasses, your phone and GPS – and the cup holders are big enough to be of actual use. It may seem frivolous to mention these things, but it usually is the little things in a vehicle that drive one crazy.
However, it is the big things that make you fall in love …
I took the KB on a road that looked like it belonged in a Wilbur Smith novel; a road that has been plagued by war, torrential downpours and an African maintenance plan. This dirt path, en route to the Mountain Sanctuary National Park just outside Rustenburg, had trenches that look like crevasses and boulders that could be used for road blocks.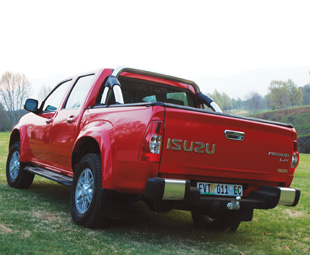 The KB, with its gross vehicle mass of 2 900 kg, lolled over the rocks as if they were pebbles and made child's play of the crevasses as it darted through them. It scaled obstacles in two-wheel drive, which I never imagined it would scale at all, and with the effortless switch to four-wheel drive it went on and over everything it encountered.
It might not be the newest kid on the block, or the first choice for those who are about to enter the double cab market, but it proved itself to be a real bakkie, one that any off-road enthusiast would worship! And with its five-year anti-corrosion warranty, five-year/120 000 km warranty, five-year/90 000 km service plan (with service intervals every 15 000 km) and five-year/120 000 km road side assistance, the KB can be worshipped for quite some time.
The truth is that there are numerous other more modern and bigger brands, but you don't buy a vehicle on specs and looks alone … you buy something that "speaks" to you, and this bakkie doesn't merely speak – it roars.
I'm really looking forward to test-driving the imminent new sixth-generation Isuzu KB, which will be introduced early next year. It's been said that it will suit South African conditions and market preference, and is currently undergoing testing in the country. The new KB will have a larger cabin, redeveloped engine and greater safety features.
Focus on Transport
November 1, 2012
Published by