The all-new Nissan Navara finally landed in South Africa earlier this year. Was it worth the wait? GAVIN MYERS finds out in the 4×4 LE Double Cab
One of the most highly anticipated bakkies to be launched this year has been the Nissan Navara – especially because South Africans had to wait more than two years after its international reveal to get their bakkie-hungry paws on it.
By now you would know that, while the new model is still underpinned by a traditional ladder-frame chassis, it benefits from a first-in-class (one-tonne pickup) five-link rear suspension system with coil springs.
The advantages are twofold: the rear axle is noticeably softer, aiding ride comfort, and the rear wheels are kept in contact with the ground. The noticeable absence of rear-wheel squeal under cornering imparts a sense of confidence in the grip levels.
The rear is softer, but it's not as supple as expected, while the front end feels more "choppy" than one is used to. Overall, it can't beat the balance between ride comfort, refinement and carrying capacity displayed by the Volkswagen Amarok and Mitsubishi Triton.
The Navara employs Nissan's 2,3-litre, twin-turbo, direct-injection diesel engine, which produces 140 kW at
3 750 r/min and 450 Nm torque from 1 000 to 2 000 r/min. Although the engine can be noisy under full acceleration, the early torque plateau is its most endearing aspect. Coupled to the short-ratio, six-speed manual transmission it's easy to keep the engine in the power band for quick progress.
(Electrically selectable four-wheel drive is the only drivetrain currently on offer, but you can opt for an automatic gearbox.)
Nissan claims the 80-litre tank of 50 ppm will drain at a rate of 6,5 l/100 km, though I managed a more realistic 9 l/100 km in mixed driving conditions.
Weighing 176 kg less than its predecessor, the Navara can carry up to 1 002 kg and tow a braked trailer at 3 500 kg. The double-cab's load bay is now 67 mm longer (1 503 mm) and 18 mm deeper (474 mm).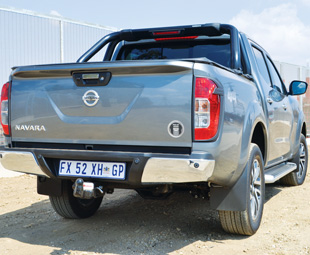 Standard spec in this top LE version is generous, with the likes of navigation; cruise control; auto headlights, wipers and dual-zone climate control; keyless entry and start; and seven airbags. An option on LE models is heated leather seats.
The cab architecture follows a similar design to the Nissan SUVs. A comfortable amount of space is fronted by a bold fascia with clean lines and good ergonomics. As is the norm in most modern bakkies, utilitarian plastics abound, although the Nissan's are among the nicest in terms of look and feel.
One area in which the Navara cannot be faulted is in its looks – bold, brash and up to date, it's surely one of the most handsome bakkies available today.
Is it, however, the one you want to buy? Currently the range is limited, but the pricing of this model falls near the midpoint among its rivals; at R567 900 the 4×4 Double Cab LE comes with a Nissan Assured warranty that includes a six-year/150 000 km mechanical warranty and a three-year/90 000 km service plan.
Nissan loyalists will delight in the Navara's package of bold looks, strong engine and improved ride and handling. It's good, but the wait as been long and many competitor vehicles now provide a more complete overall package.
Focus on Transport
October 20, 2017
Published by