The relationship between a transport operator and its client is one that can never be taken for granted. They both need to speak the same language … and occasionally indulge in some loud, proud vehicle branding
Dry-bulk haulier, Elf Trans, has for the last ten years had exactly this relationship with its client Lafarge South Africa. Now, a new long-term contract between them – for the countrywide distribution of bulk ash and cement – has signalled the time for celebration.
And that's exactly what the two parties did – with a reveal parade of some newly branded vehicles at the Lafarge head office in Johannesburg.
However, some eye-catching vehicle branding alone does not create a good working relationship, as André Diedericks, Elf Trans MD, and Dirk Odendaal, industrial sales head, Lafarge South Africa, explain.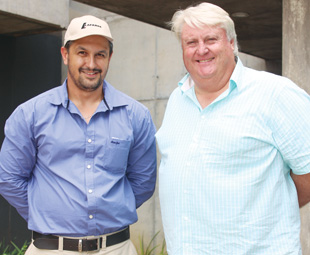 "We look for integrity. We want a transport partner that can represent the Lafarge brand in the market, and that we can rely on to go into the customer's space and represent Lafarge South Africa and Ash Resources as a business, and leave the customer with an exceeded expectation," says Odendaal.
Diedericks can attest to this. His fleet of 60 Lafarge-dedicated vehicles has covered more than 66-million kilometres over the last ten years.
"Elf Trans takes pride in its hands-on approach to client partnerships. Our aim is to be the most competitive and productive haulier. We continuously work on educating and improving ourselves to be the best in our class.
"To be a dynamic organisation, Elf Trans applies both reason and instinct to decision-making. Elf Trans wants to create synergies with its clients, particularly providing services and resources in the market that allow it to excel. The company will invest in individual elements of the supply chain to create business solutions for Lafarge South Africa where required," Diedericks says.
Elf Trans has numerous core competencies which include: a well-managed fleet with continuous driver training that ensures fuel consumption of 2,21 km/l, and safety, both on the road and in everything undertaken by its people.
"Every person that comes to work in our company must go home, and everything with which they come into contact must also be safe. It's about the whole circle around the Elf Trans trucks and its drivers," says Diedericks.
"We are also embarking on learnership programmes to get young talent, especially women, into trucking. We regard this relationship with Lafarge as ongoing. In order to fulfil it in the long term we need to train people up and get them the experience they need behind the wheel," he adds.
Odendaal agrees fully. "Lafarge is committed to transformation. The fact that Elf Trans is going to run this programme and focus on women drivers is in line with what we expect from our suppliers. Truck driving is not known for female drivers, so it's a good step in that direction."
In a relationship that is never taken for granted, Elf Trans and Lafarge South Africa are clearly speaking the same language. Here's looking forward to the next vehicle parade which will reinforce just that.
Focus on Transport
March 27, 2017
Published by