Parts, praise and promise
The second Automechanika South Africa trade fair for the automotive aftermarket industry showed a high quality, enthusiastic turnout from the industry, and brought with it some promising news. GAVIN MYERS enjoyed the show.
There were over 500 exhibitors (360 from outside South Africa) and multiple conferences held during 9 to 12 March 2011 at the Nasrec Expo Centre south of Johannesburg – the venue for the second Automechanika trade fair held on South African soil.
Messe Frankfurt – the owners of the global Automechanika brand – board management member Detlef Braun said, "We were all impressed two years ago when the first Automechanika SA trade fair turned out to be the most successful premiere of all Automechanika events in the world." He also expressed how all from Messe Frankfurt were greatly impressed with this year's show – from venue and organisers, to exhibitors and conferences. So what then did this year's show hold?
Here are a few highlights
Of the 500-plus exhibitors, there were a few that stood head and shoulders above the rest for excellence – whether in terms of their displays and product offerings, or news surrounding their brand.
Bosch
Joint winner (shared with Midas Group) of this year's Platinum award, Robert Bosch (Pty) Ltd had extensive displays of its own and its subsidiaries. Perhaps more importantly though, was an announcement made by Bosch about an upcoming project for training and job creation.
According to Bosch Automotive Director Ewald Faulstich, South Africa is suffering a shortage of skilled motor mechanics and something needs to be done to attract youngsters to the industry. The Bosch Service Skills Development project will provide an annual opportunity to 20 previously disadvantaged, unemployed individuals to take up a motor technician apprenticeship. The Bosch Service outlets will form the training grounds for the duration of the apprenticeship, and the learners will be provided with the opportunity to take part in the various courses necessary to train and qualify as a Bosch Systems or Bosch Diesel Technician, at the expense of Robert Bosch South Africa.
The apprenticeship will take learners through a four-year programme, where they will invest 38 weeks per annum on theoretical training at a training facility, with the balance being practical training skills at a Bosch Service outlet. At the end of 2014, the first 20 qualified technicians will be offered employment at one of the Bosch Service outlets.
BASF
BASF Coating Services was one of the 10 Gold award winners. We spoke to national sales manager, Grant Dempsey, about Salcomix, which despite only being on the market since 2004, has become a major player in the local market. BASF was pleased to report that despite the effects of the global downturn, 2010 was a record year for the company in general, and specifically for Salcomix.
Salcomix is the industrial brand of BASF Coatings Services, engineered specifically for the Commercial Vehicle, Commercial Transport and Light Industrial markets. It is supplied to a diverse cross section of clients, from OEMs to repairers. Typical to high German standards, the coating undergoes rigorous testing, including salt spray, constant climate and acetic acid tests, in order to provide the optimum quality for its customers. The consistently high quality of the paint translates to lower product usage and a superior finish. The results are labour and time savings, higher productivity and better overall cost-effectiveness.
Salcomix consists of a full range of metallic, pearl and solid colours, as well as other specialised topcoats and a range of additives for effects ranging from matting or satin, textured finishes or just faster drying times.
Mercedes-Benz
Another of the Gold award winners was Mercedes-Benz, who used the show to launch its Genuine Remanufactured Parts concept. "Remanufactured parts provide both customers and the aftermarket industry with genuine parts supported by manufacturer's quality standards and trustworthy warranties, all at affordable pricing," says Naeem Hassim, MBSA vice-president for after sales.
This concept offers an alternative to new parts for both passenger and commercial vehicles, that is not only more affordable, but also cuts down on harmful environmental waste. The old parts are bought up and sent off to Merc
edes in Germany, where they are remanufactured for the global programme. "From a commercial vehicles perspective, we realise that uptime is the most important factor in our recovering economy. So it is equally important to us that our customers stay with our products, our products remain leading brands in all major fleets and that the aftermarket support ensures that our customers are happy to do so," Hassim continues.
Mercedes-Benz affords its remanufactured parts the same 12 month warranty as its new parts, at a cost of up to 30% less. "We acknowledge that the global recession has put financial strain and pressures on many transport operators and individual customers, and with our quality-assured remanufactured parts we are able to offer an affordable alternative to our customers which also provides them peace-of-mind," concludes Hassim.
Green technology
Being a concern the world over, another big focus at this year's Automechanika was that of "going green" and environmentally-friendly initiatives. Many exhibitors were present at the green technology exhibition – the Green Carpet areas featured one of the widest ranges of eco transport technology assembled at one place in South Africa.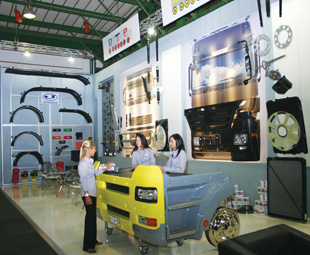 The variety extended from production petrol/electric hybrid cars from Honda, Toyota and Lexus, to a hydrogen tricycle from the Tshwane University of Technology, a hydrogen/petrol hybrid from the University of Johannesburg, a solar car from the University of the Witwatersrand, a solar car from EcoZone and a driving simulator for a three-wheel electric car.
Though the show catered widely for the commercial vehicle market, the only concession to this segment at the green technology stand was a battery-powered Ford Bantam bakkie. Hopefully forthcoming shows will feature more in the way of 'green' commercial vehicles as well.
Multiple industry conferences were held over the first three days as well, imparting valuable insight to all delegates.
AIDC
The Automotive Industry Development Centre (AIDC), a subsidiary of the Blue IQ group, together with the Gauteng Provincial Government and the Supplier Park Development Company (SPDC), was another major exhibitor. The AIDC also hosted its inaugural Automotive Investor Conference, showcasing the value proposition of South Africa as an investment destination, with a specific focus on Gauteng and its related agencies involved in automotive investment.
It provided delegates with first-hand information from industry stakeholders, economists and members of the Gauteng provincial government on the opportunities for investing in the SA automotive industry in Gauteng. Opportunities, requirements and required processes for potential international automotive investors were outlined. Amanda Nair, CEO of Blue IQ, stressed that the local government was very much aware of the challenges facing the industry and that they were doing everything in their power to pave the way for investments and to create the right climate for investors in the province.
Mkhululi Mlota, chief director Automotive at the Department of Trade and Industry, highlighted the fact that the country has "an abundance of natural resources, excellent transport and logistical infrastructure, a world-class financial system, political and economical stability, and skills availability" for favourable investment.
MISA
"The role of the automotive industry in the South African economy, and particularly in creating employment, has made a compelling case for the government to invest significantly to support further growth in this sector", said deputy president Kgalema Motlanthe, who was guest speaker at an executive breakfast organised by the Motor Industry Staff Association (MISA). MISA is an automotive trade union representing 34 200 current and 2 400 retired members.
Deputy President Motlanthe said that government is aware of the need to gear its efforts to address other outstanding areas in the automotive sector, despite notable successes being achieved by the passenger car, medium and heavy commercial vehicle sectors, there is still a need to build adequate capacity within the sector.
"Government will continue to work with the motor industry in developing skills in a rapidly changing environment to ensure that South Africa remains a preferred location for the production of world class vehicles and components," he said. The automotive sector is the largest manufacturing sector in the South African economy, contributing considerably to GDP (5.9% in 2009, around 7% today) and job creation.
"The current Motor Industry Development Programme (MIDP) and Automotive Production and Development Programme (APDP) that will be implemented in 2013, remain important industrial policy tools to support, promote and advance the future sustainability of the South African automotive sector," added Motlanthe.
RMI
Jeff Osborne, CEO of the Retail Motor Industry organisation (RMI), was keen, too, to point out that the multi-faceted South African motor industry is a formidable employer, with about 33 000 people working at seven vehicle manufacturing plants and 250 000 more than are employed by importers of vehicles, component manufacturers and aftermarket suppliers and service providers.
"Collectively-speaking the retail sector is massive in terms of the number of companies involved, as it is made up of 14 000 employers, most of them of small to medium size, which makes them very important in the larger economic picture in South Africa," he said. Globally, SMME's create the largest amount of employment, which holds especially true for South Africa as well.
Also at the RMI conference, Reverend T J Vundla, chief director: Road Safety, was present to speak on behalf of Transport Minister Sibusiso Ndebele. Rev Vundla was happy to state that the National Automobile Association of South Africa (NAAMSA) has announced that new car, medium and heavy commercial vehicle sales registered exceptional gains compared to February last year. However, the focus by Rev Vundla centred on road safety, stating that the growing population on our roads is "posing a particular danger to motorists who drive recklessly on our roads," and he went on to say that "the consciousness of a civilised driver is not yet in South Africa." He also highlighted ten of the most pressing challenges facing the safety of South Africans on our roads, and the various road safety initiatives government is currently implementing to counter them, such as the Moscow Declaration, which calls for a Decade of Action for Road Safety; the Make Roads Safe Campaign and the new National Rolling Enforcement Plan.
Focus on Transport
April 1, 2011
Published by