The Professional Movers Association's 52nd AGM congress was deemed by attendees as one of the best ever. FOCUS made the trip to Sun City to follow proceedings
The Professional Movers Association of South Africa (PMA) and the South African International Movers Association (SAIMA) hosted their respective 52nd and 35th AGMs during the beginning of August.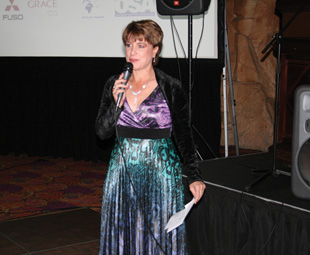 This year's congress was held at Sun City, where 140 attendees were hosted. It was hailed as a resounding success by all. Most were of the opinion it was by far the best they have attended over the years, even better than the event held in Zambia a few years back.
The congress had an overt educational element, with attendees privy to a number of interesting talks by OutThere Adventurer of the Year, Peter van Kets; Steven Sutherland of MiX Telematics and Willem Cilliers of IntelliChain; senior online research specialist Elna Smit; Peter Luker from Reason Global; Lionel Smith from Trudon, and motivational speaker Justin Cohen. Topics ranged from media and marketing to having the correct mindset and approach for business success.
This was also the congress where the PMA said good-bye to national president Heather Badenhorst, and hello to Mike Kitshoff (Pickfords Worldwide), who has taken over the reins.
"I think our association has grown in what it offers to its members," says Badenhorst, a director of Stuttaford Van Lines. "We have received a lot of good publicity and we've been able to give our members a few tools to assist them on a day-by-day basis. I know that we will see a number of changes, especially on the labour side, during the coming year."
Incoming president Kitshoff continues: "I am looking forward to the challenge and will be concentrating on growing the number of members in the PMA. This in return will put us in a much stronger position when interacting with the unions on wage negotiations.
"The year ahead is going to be tough, and if we look at what's happened in the USA with their credit rating going down, there will be an effect on our international relocations," he said.
"Other factors will include the high fuel prices and the unions demanding double-digit wage increases. We are very dependant on packing materials and this is an ongoing cost that goes up with the fuel and wage increases. This will have a direct impact on the profitability of our members," said Kitshoff.
"Looking at all this we will have to work smarter and make sure that all our checks and balances are in place to get the best return on our money spent," cautions Kitshoff, who is keen to work with his members in building the association's name.
Both Badenhorst and Kitshoff extended thanks to the sponsors, guest speakers and event organisers for making congress 2011 one to remember. It was clear to see the absolute camaraderie among the attendees, despite many of them being direct competitors.
Focus on Transport
September 1, 2011
Published by