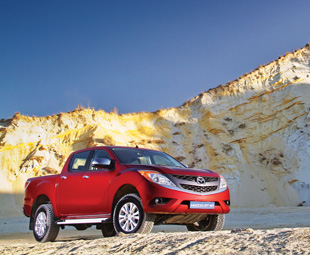 In his monthly review of global news for local truckers, FRANK BEETON digs through some fascinating corporate realignments in the bakkie industry, describes the new EPA 2017-compliant engine family from Cummins, and reviews upcoming American emissions rules – which are likely to change the shape of trucking
Global Focus doesn't often enter into the realm of pickup trucks. Generally, we stick to the heavier stuff, because pickups, or bakkies as they are usually called in South Africa, are comprehensively covered by the motoring media, seeing that many of them are used primarily for private transportation.
However, we have recently become aware of some announcements related to one-tonne pickups, In addition to being interesting in their own right, these have given us some insights into global motor industry politics, which, inevitably, have some impact on other vehicle categories further down the line.
GM and Isuzu exit pickup cooperation
Our interest was first piqued by an announcement that General Motors (GM) and Isuzu Motors Limited had agreed to cease collaboration on the development of "midsize pickup trucks made in Asia".
Regular readers will be aware that we have been keeping a close watch on GM's "on again, off again" relationship with Isuzu, which dates back all the way to 1971. Since that initial engagement, GM built up a significant shareholding in the Japanese company, but had sold all of it off by 2006.
More recently, we have noted a re-establishment of the North American truck cooperation between the two companies, which had previously been terminated in 2009, so we concluded that the two parties were warming to each other once again.
Therefore, imagine our surprise when it was revealed by Reuters on July 22, that GM would halt the acquisition of Chevrolet/Holden Colorado pickups and Trailblazer SUVs from Isuzu's operation in Thailand, because it intends to move more upmarket with its Asian pickup product offering.
The present-generation GM pickups built for markets outside North America share their roots with Isuzu's D-Max/KB product, but this announcement seems to indicate that GM does not consider this platform to be appropriate for providing the required level of future sophistication to its Asian target market.
Mazda ties up with Isuzu!
In the same press item that reported the Isuzu/GM pickup disengagement, we read that the Japanese manufacturer had contracted to supply next-generation pickups to Mazda Motor Corporation for markets outside North America.
It is generally known that Mazda's current one-tonne BT-50 pickup is spun off from Ford's highly successful Ranger product, so a switch to Isuzu as a future supplier is news, indeed.
It should be remembered that Ford's relationship with Mazda has followed a similar pattern to that existing between GM and Isuzu, and, by 2014, Ford's shareholding had reduced from a high point of
33,4 percent in 1996, to a mere 2,1 percent. So, it seems that Ford's disengagement with Mazda has now reached the point where the Ranger/BT-50 collaboration will not be continued beyond the present generation.
Recently, we have become aware of some other cross-supply arrangements between manufacturers involving pickups. It is now general knowledge that Fiat's Fullback one-tonne bakkie is derived from Mitsubishi's L200/Triton product, and that Nissan is gearing up to supply spin-offs of its new NP300/Navara range to both Renault (known as the Alaskan) and Mercedes-Benz.
However, we now also know that Nissan has taken control of Mitsubishi Motors Corporation through a $US 2,2 billion (about R31 billion), 34-percent equity stake purchase, so more future rationalisation in the one-tonne payload pickup arena cannot be ruled out.
This leaves Toyota and Ford potentially on their own, and GM without an obvious supplier in Thailand, which is a major market and manufacturing base for pickups. We wonder how the American company intends to fill the availability gap that will emerge for its Chevrolet and Holden brands in important markets including Australia. There is, of course, the possibility that it can draw product from Toyota or Ford … that would be a really sensational story!
Electrics moving upmarket
Electric traction in commercial vehicles is the "current" flavour of the month (please excuse the pun!). We have recently covered a number of stories on new electric-vehicle technology, and the subject has now moved firmly out of the passenger-transport environment into goods haulage, and even into long-distance line haul, as evidenced by the report on the Nikola One truck-tractor concept that appeared in the July issue.
While that radical concept has yet to appear in tangible form, other prototypes are appearing regularly and, as you may have read from Charleen Clarke's report last month, Mercedes-Benz has now joined the party with its Urban eTruck.
Parent company Daimler Trucks has been building up considerable operating experience with its Fuso Canter E-Cell fully electric light truck, which has been undergoing real-life trials in Portugal since 2014.
Covering a total distance of more than 50 000 km in one year, the test vehicles are claimed to have reduced CO2 emissions by 37 percent compared to diesel-powered equivalents, with average operating costs that are 64 percent lower. Canter E-Cell vehicles are now also undergoing operational trials in Stuttgart, Germany, with the city authorities and parcel carrier Hermes.
The increased interest in all-electric vehicles for goods-haulage applications stems from recent developments that have reduced the cost and charging time of batteries, while increasing their performance.
There is also the incentive of side-stepping increasingly stringent environmental restrictions, including outright bans on internal-combustion engines in designated areas, which are being imposed by major cities.
The use of individual wheel-mounted, electric-drive motors also presents a considerably less complicated solution to achieving reduced emissions than increasingly technical interventions that need to be applied to diesel engines and mechanical drivelines. Mercedes-Benz says that the Urban eTruck could be ready for the market at the beginning of the next decade.
NEW CUMMINS DIESELS
Meanwhile, the proponents of diesel engines have not been sitting on their hands. Inevitably, when new emission-control regulations take effect, engine manufacturers need to ensure that their products can comply and, if not, rapidly respond with upgraded or brand-new power units.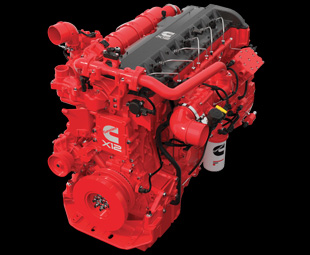 In the United States (US), the Environmental Protection Agency (EPA) will implement new standards, with an emphasis on lower carbon emissions and fuel efficiency, in 2017 (see final story), and diesel-engine manufacturer Cummins has announced a new range of EPA 2017-compliant power units to replace the current ISX series.
Designated X Series, these three new engine variants will be made available in 12 and 15-litre displacements, and claimed features include lower fuel consumption, extended service levels, lower engine noise, and a new single-module exhaust after-treatment emissions system that takes up less space.
The 15-litre derivatives will enter production before the end of 2016, and the 12-litre model will follow in 2018 after extensive field testing.
Engine specifications
The top output models are designated X15 Performance Series, and will be available with power outputs ranging from 360 to 450 kW (485 to 605 hp) and torque of up to 2 780 Nm. Engine braking effort ranging from 335 kW (450 hp) at 1 500 r/min up to 450 kW (600 hp) at 2 100 r/min will be available to assist with vehicle retardation.
Target applications include long-haul tanker operations, extra-heavy-duty haulage and vocational trucks. The X15 Efficiency Series, with outputs ranging from 300 to 375 kW (400 to 500 hp) and torque ratings of up to 2 500 Nm, is aimed at line-haul and regional applications, with optimised fuel efficiency and payload productivity when integrated with the Cummins/Eaton SmartAdvantage Powertrain hardware and software package – which adjusts to gradient, vehicle mass and driver throttle inputs.
The smaller displacement X12 is rated with outputs up to 355 kW (475 hp) and 2 300 Nm, and has a flat torque curve between 1 000 and 1 400 r/min to improve flexibility and reduce the frequency of gearshifts. This engine features a sculptured block design, composite sump and valve cover to reduce tare mass and improve payload capability.
The X12's compact dimensions are intended to facilitate fitment in short-nose conventional cabs, and its low mass will be beneficial to sleeper-cab models with front-axle mass limitations. Its target applications include intrastate and vocational operations.
Other X Series features
The new X engine range incorporates Cummins' ADEPT management system, intelligent coasting function and predictive cruise control. The X15 models feature optimised compression ratios, air handling systems and cam profiles, while the X12 is claimed to have the highest power-to-weight ratio of any heavy-duty engine sold in North America.
The variable-geometry turbocharger has an uprated actuator and impeller to boost engine response and improve engine braking performance, and a simple thermal recirculation device has been fitted to combat fuel waxing or gelling.
Oil drain intervals for typical line-haul applications are set at 80 000 km, and this can be extended to
120 000 km for vehicles running at lower fuel consumption rates and using Cummins' oil-analysis programme.
AMERICAN EMISSION RULES – THE NEXT PHASE
In recent times, global vehicle design and technology directions have been very heavily influenced by the compulsory compliance with regulatory emissions standards set by First World countries. The most advanced requirements have invariably been established by the EU, Japanese government and the US Environmental Protection Agency.
Initially, these standards set incrementally stringent restrictions for nitrous oxide (NOx) and particulate matter (PM) emissions, but the emphasis has since swung strongly to carbon dioxide (CO2), as the most harmful greenhouse gas.
In the US, the implementation of the most recent EPA 2010 standards, for the 2010 model year, created significant difficulties for Navistar International's own range of MaxxForce diesel engines (which was comprehensively covered here in Global Focus) as well as leading to Caterpillar's exodus from what the Americans engagingly call the "loose engine" business, for on-road heavy trucks.
Subsequently, new Phase 1 regulations were established for implementation in the 2017 model year, which came into force on October 1. In the case of "heavy-duty combination tractors" (truck tractors to South African readers), these restrict CO2/ton-mile emissions to a range between 66 g for low-roof sleeper cab Class 8 units, to 120 g for high-roof, day-cab Class 7 units (Class 7 GVM's range from 11 820 kg to 15 000 kg, Class 8 is everything above 15 000 kg equivalent).
Presumably, the heavier vehicles are set lower thresholds because they carry more tonnage over more mileage than their smaller brethren. The maximum fuel-consumption standards set by the National Highway Safety Administration, for the same vehicle categories, range from 6,5 gallons/1 000 ton-miles to 11,8 gallons/1 000 ton-miles.
Phase two emerges
During August, 2016, the EPA announced Phase 2 of this programme for medium- and heavy-duty vehicles for model year 2018 and beyond. In addition to the "combination tractors" covered specifically in this article, standards have also been set for trailers, vocational vehicles, heavy-duty pickups and vans, as well as engines.
In the case of box van, flatbed, tanker and skeletal container trailers used in conjunction with combination tractors, Phase 2 will see the introduction of EPA standards in the 2018 model year, requiring up to nine percent lower CO2 emissions and fuel consumption through aerodynamic devices, lower rolling resistance tyres, automatic tyre-inflation systems, and mass reduction.
The standards for all the motive unit classes and engines will take initial effect in the 2021 model year, and will become progressively more stringent until full implementation in 2027. In the case of combination tractors, the fully phased-in standards are targeting a reduction of up to 25 percent in CO2 emissions and fuel consumption, compared to the Phase 1 model.
It is envisaged that this objective will be achieved inter alia through improvements in engine, transmission, driveline, aerodynamics, rolling resistance, and idle-time reduction technologies.
The targeted upper-limit reductions in the CO2 emissions and fuel-consumption performance of the other categories have been set at 24 percent for vocational vehicles, 16 percent for heavy-duty pickups and vans, and four to five percent for engines powering vocational and combination tractor vehicles.
Looking ahead
The detail of the programme includes averaging, banking and trading provisions that will allow engine and vehicle manufacturers to trade credits, bank credits for future years, and to average credits across compliant and non-compliant products.
These provisions are intended to increase the rate at which new technologies can be implemented, reduce the cost of compliance, and address potential lead-time challenges in meeting the standards.
In our view, it is inevitable that these required improvements in emission levels and fuel consumption will result in some "alternative thinking" among vehicle manufacturers. We believe that the potential of the traditional diesel engine/mechanical driveline combination to achieve a further quantum leap in these parameters, without substantial cost being added, is probably limited.
The increased use of new directions, including all-electronic drivelines with some form of on-board battery recharging capability, and platooning of autonomous trucks, may well be encouraged in such a scenario.
Whatever shape or form the future of trucking takes, it is bound to be a very interesting period, indeed!
---
Global FOCUS is a monthly update of international news relating to the commercial vehicle industry. It is compiled exclusively for FOCUS by Frank Beeton of Econometrix.
Focus on Transport
October 11, 2016
Published by