Pride, passion and perseverance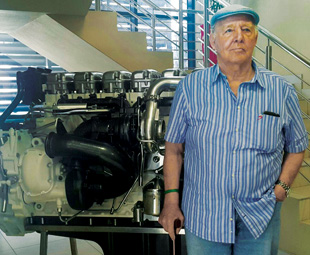 GAVIN MYERS recently had the privilege of interviewing a true stalwart of the South African Transport industry. His is a story of learning, creation and dedication to the healthy future of the industry.
Where do you begin when the topic of discussion is a dynamic career, filled with genuine passion and enthusiasm for the transport industry? One that has, so far, spanned 63 years and left a lasting legacy, yet is still going strong?
For Hans Theunissen, the genesis was 1956 – three years after he began his working life as an apprentice at the South African Railways.
"I was contracted to Cummins and Donaldson, who were leading entities in terms of engine-failure investigation. My whole focus on the industry changed to one of preventative maintenance – understanding what makes engines fail prematurely.
"I completed my apprenticeship with a totally new view of what causes engine failure, and what you do to prevent it," he recalls.
This period spawned Theunissen's passion for preventative maintenance. During this time, until the early 1990s, he gained further experience at various original equipment manufacturers (OEM) dealers and transport entities.
Over the years, he successfully conceptualised and conducted various industry tests; one of his proudest being the Fleet of Perfection article that featured in the SA Transport magazine in 1984.
"That will never be equalled again – it was built on motivation, giving people pride and excellence. We covered 2 000 vehicles across the whole of South Africa; you could eat off every one of them!"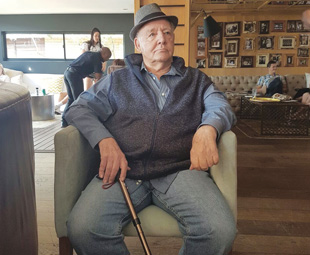 Theunissen even created and patented the Poni trailer … "I was standing in Pretoria with Stephanus Loubser – who was the president of Nissan – and we were looking at a bakkie without a bin on it. I said that it would make an interesting concept for a truck tractor, so he gave me one to develop. It's been the most successful conversation to date, because they are still building them using four-tonners as truck tractors," Theunissen recalls.
In 1994, after an already impressive 40-year career, and at a time that he should've been considering a well-earned retirement, Hans happened to have a conversation with Brand Pretorius, who was then still at Toyota.
"He said that, with my experience, I should start a consultancy to benefit the industry. Shortly after I gave it some thought and, driving past Amanzimtoti, I realised that everything is sick and we need to heal it … so I called it Healthy Transport Practices (HTP)."
Today, HTP, and the associated Wheels In Motion (WIM) brand, pride themselves in being able to give mechanics and workshop staff the understanding and experience to prevent mechanical failures – not just to fix them.
"Engines are made to last, but people make them fail. During my years based in Durban I coined the phrase 'servicing to destruction'. People were working on vehicles, but components were still failing," Theunissen explains.
"Today, there is an over-reliance on computers – machines can't touch, feel, hear or see. This basic manual diagnostic ability must be there … Remember, the most important bolt or nut in a vehicle is the loose one that's not detected. We teach people to be observant and aware of the total picture. It is a skill that is absolutely disappearing," he says with despair.
"In the past, mechanics were highly qualified and skilled artisans. They had pride and they were driven and disciplined. Today that focus is not there. We try to engage the head and the heart – instilling a sense of responsibility and passion."
While the HTP and WIM brands are now long-established partners to many South African OEMs and operators, it is this drive that, at the age of 80, keeps the technical director both interested and hands on.
"The one goal I have is for preventative maintenance to never die again. It died around 1985, when major companies – like Cummins, Caterpillar and Donaldson – lost their schools, that taught people about preventative maintenance systems, to the bean counters … My dream is that it must never die again – we must take it forward," he exclaims.
While Theunissen sees workshop issues as a major industry problem, there are also others. One of these is the quality of drivers. "Drivers are accountable for 80 percent of the welfare of the vehicle, yet they have no mechanical knowledge," he explains. "They also get a code 14 licence in a four-tonne vehicle with an empty trailer and then get into a 600 hp vehicle with a 40-t load on the back … two totally different animals!
"The trucks today are sophisticated and the risk factors are vastly different. Drivers are just put into a vehicle and expected to drive; they are not educated to ensure they can drive the specific type of vehicle effectively," he adds.
Happily, Theunissen emphasises that the ability to learn is ever present. "Something I've learnt throughout the years is that the answer to any question should never be more than four people away. The secret, though, is to make sure you ask the right four people. In transport, you can know everything by knowing the right people who are specialists in their field. At 80 I'm still learning every day."
Theunissen's sons, Billy and Louis, probably sum up his incredible career best: "His lifelong ambition is to leave as many people as possible with the knowledge he has gained in the technical field, and to give them the passion needed to keep the wheels turning. His goal in life is to develop people to be successful."
Surely, there can be no greater legacy than that.
Focus on Transport
June 7, 2016
Published by