Renault takes the desert by storm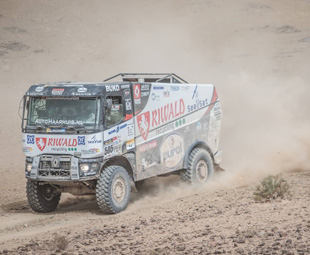 Renault Trucks dominated the Morocco Desert Challenge last week and proved the brand's reliability and durability after taking the two top spots on the podium.
In total 17 trucks set off from Agadir on April 18. The two Renault Trucks teams took the third and fifth spots for Stage 1 of the race, with the MAN and two DAF trucks ahead of them.
Both the Renault trucks then took the top two positions during Stage 2 and remained there throughout the race until they passed the finish line in Saidia on April 23.
Martin van den Brink and his team members (Wouter de Graaff and Daniël Kozlovsky) finished the overall race in first position, with Gert Huzink and his team (Rob Buursen and Benny Nauta) taking second place. The MAN team was placed third.
Two trucks fell out of the competition as a result of the tough route, which featured fast tracks, technical parts, vast African plains and dunes.
At the finish line, Van den Brink told journalists that his team had achieved what they set out to do.
"We came here to test and improve the truck. To do that you need a heavy rally such as the Morocco Desert Challenge. We also went full gas all week to test the reliability of the truck," says Van den Brink.
"Besides the racing and the testing, we had a great deal of fun. My navigator, who has a great deal of experience, just said that this is the most beautiful rally he has ever raced. He's so right."
Focus on Transport
April 25, 2017
Published by