Renault's Kings of Construction
Renault Trucks South Africa is poised for great things, kicking off with all-new vehicles for the mining and construction sectors. Welcome to the new K and C ranges.
"Ruggedness, driver comfort, payload, pulling capacity and easy body mounting all make these the perfect tools for demanding businesses," says Christian Coolsaet, managing director of Renault Trucks SA, when describing the company's new K and C ranges. The all-new vehicles in these two distinct ranges have been designed with a focus on the truck's role as an asset and a tool to carry out projects as efficiently as possible.
The C range is designed for superior driver comfort, exceptional reliability and optimal fuel efficiency, making it ideal for both long-haul and certain construction applications, such as delivering building material and carrying ready-mix concrete.
The K range, on the other hand, offers even greater ground clearance and a 26° approach angle. This makes the K range ideal for applications such as heavy earthmoving operations, demolition, transport of construction equipment and road building.
"We believe that these new Renault trucks fill a unique gap in the market with their robustness and high levels of productivity, together with the support services provided to our customers," says Coolsaet.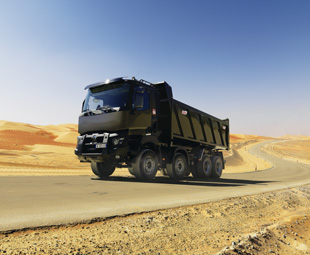 To deliver on this promise, over 500 test vehicles covered more than ten million kilometres in extreme conditions. Renault claims the reliability and endurance tests carried out on these new vehicles were the most demanding ever used in the company's history.
"With the improved driveline and reliability of these two new ranges, we are providing our customers with products that are able to work under the harshest weather conditions and on the demanding terrain of the African continent," continues Coolsaet.
That driveline consists of a Euro-3 range of engines of 11- and 13-litre capacity, with power ratings ranging from 246 kW (330 hp) and 1 650 Nm to 335 kW (450 hp) and 2 200 Nm. These drive through the Optidriver automatic gearbox. This automatically selects the ratio best adapted to the speed and road profile and ensures fuel savings by streamlining the fuel consumption. It also provides lower maintenance costs together with optimised driver comfort and safety.
The C range is fitted with the OptiTrack solution from Renault Trucks. An alternative to conventional rear-wheel and all-wheel drive formats, the principle of OptiTrack is an additional self-disengaging hydrostatic traction solution on the drive axle, which is powered by two hydraulic motors integrated into the wheel hubs.
Both the K and C ranges are available in 6×4 and 8×4 configurations. To guarantee a high level of reliability, the C range is fitted with parabolic rear suspension with a 13 to 26 t capacity. New chassis air suspension systems, available with a capacity of 13 to 21 t on the C range, are also available and reduce the amount of vibration felt in the cab, thereby improving driver comfort. The K range is fitted with parabolic and semi-elliptical rear suspensions, capable of supporting a load of from 13 to 32 t.
Providing for excellent payload was a must when designing the new vehicles. The C 8×4 XLoad version, for example, is capable of carrying a 22,8 t payload for a curb weight of 7 175 kg with twin wheels.
The C range can be fitted with aluminium tanks and rims, as well as disc brakes, to optimise its curb weight. The K range features a chassis designed to handle heavy loads; its maximum gross combination weight (GCW) an impressive 120 t.
The K and C chassis have been designed for easy body mounting. Four cab options are available on the C, with two for the K range.
"With the launch of the new ranges, we are very optimistic about our prospective performance in the market, and in the process we are reaffirming our commitment to the region," says Coolsaet. "In South Africa alone, we are aiming to steadily increase our market share within the next 36 months from two to five percent."
The new K and C vehicles could be the perfect tools to efficiently construct that future.
Focus on Transport
November 1, 2014
Published by