Cape Town's public transport services will greatly benefit from the new Solo SR. JACO DE KLERK travelled to the Dornier Wine Estate in Stellenbosch to find out why.
Councillor Brett Herron, mayoral committee member for transport on the Cape Town City Council, said the launch of the new Optare Solo SR on November 7 was very appropriately timed, with it "happening at this time in the City of Cape Town's transformation of its public transport system and ultimately the structuring of our magnificent city," he added.
Bodybuilder Busmark 2000, in partnership with UK-based bus manufacturer Optare, was awarded a tender for the supply and maintenance of 190 nine-metre Solo SR buses for the feeder routes of the MyCiti project – Cape Town's bus rapid transit (BRT) system – in December last year. This BRT project, referred to as Integrated Rapid Transit because it aims to combine various modes of public transport, needed vehicles as unique as it is.
Hermann Staude, chief operating officer for Busmark, said that bus builders and original equipment manufacturers (OEMs) had been stunned when the City of Cape Town first announced the requirements for the vehicles it was looking for. "They were asking for something that simply didn't exist."
These requirements arose from the Mother City's specific needs. "If you put a bigger bus in this type of traffic, and on narrow roads, the front overhang protrudes into the oncoming traffic when the vehicle goes around corners," explained Staude. "So they needed a vehicle with no front overhang to eliminate this serious safety problem."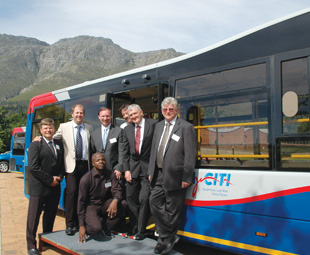 Secondly, the city needed a vehicle that had a door that is fully in view of and controllable by the drivers. "You need a host if this isn't possible, which will make things simply too expensive for operators to run," Staude pointed out.
"Those were two key elements; and we, with our OE partners, searched all over the world for technologies that could deliver on these requests." He explained that Busmark finally got to Optare, which has done exactly that – provided a unique solution.
The Solo SR has a front overhang of 815 mm and a rear overhang of 2 312 mm. It's 2 507 mm wide and 2 775 mm high, with a normal entrance step height of 265 mm or 200 mm when lowered. "It is a solution that will save lives and allow the operation of bus services on city roads that weren't made for heavy traffic and big vehicles," emphasised Staude.
The buses are initially being imported and the knock-down kits assembled in Epping, Cape Town. During July, the companies completed and approved the project plans to localise at least 80 percent of the Solo's body parts content. "Within a short period of time, we'll localise all the components in the body that can be localised," said Staude.
And the local market isn't the only to benefit from this – as Optare CEO Jim Sumner explained. "I have been hugely impressed with the workforce in Cape Town. The way they have assimilated the build knowledge with their visits to our factories in the UK has been something of a lesson to me, and for our own employees." He added that the buses built in Cape Town are nothing short of superb. "We'll be bringing our own employees over here to see this, which will be a great by-product for us."
The first 30 Solo SR buses entered operation this month, with 80 being completed so far. "I am confident that the Optare Solo will assist us to grow public affection and affinity for public transport and the MyCiti brand," said Councillor Herron.
Busmark also announced plans to expand its presence in the Western Cape by building an integrated manufacturing business park in Cape Town, demonstrating its commitment to both the new venture and this province's customers.
Focus on Transport
December 1, 2012
Published by