Russia's transportation renaissance
Russia's insular transportation industry is belatedly opening up to the outside world, as the nation's thirst for imported goods slots it into global supply chains. CLAIRE RENCKEN reports.
According to an article written by Bruce Barnard for International Logistics in June 2013, State-owned Russian Railways was planning to bid for ports and rail assets being sold by cash-strapped Greece. Nefte Trans Service (NTS), a private rail freight operator, was also expected to launch a US$ 500-million initial public offering on the London Stock Exchange, where several Russian rail and port operators are listed.
Barnard goes on to say that a US$ 860-million acquisition by APM Terminals of a 37,5-percent stake in Global Ports, in September 2012, was the largest direct foreign investment in Russia's transportation sector to date and could pave the way for further big-ticket deals from abroad.
That the deal was announced in a filing to the London Stock Exchange, where 25 percent of the stock of Global Ports is traded, testifies to the growing international outlook of Russia's transportation industry.
Russian ports and rail freight companies are now mostly under private ownership, following sweeping deregulation and privatisations over the past decade. They are now accelerating consolidation to boost market share and reap economies of scale.
Summa – a US$ 10-billion-a-year energy, telecommunications and engineering conglomerate – acquired control of Fesco, operator of Russia's largest ocean carrier, in December 2012. In addition, Global Ports was negotiating a US$ 1-billion-plus takeover of National Container, Russia's biggest container terminal operator.
Russian oligarchs have benefited from deregulation to build large rail freight portfolios, underscoring the financial potential of the transportation sector. Universal Cargo Logistics, owned by billionaire Vladimir Lisin, controls a fleet of 200 000 railcars following its acquisition of Freight One from Russian Railways.
Other operators have expanded by acquiring the captive rail units of industrial companies, although it is a diminishing source of growth. This has enabled some rail operators, including NTS, to post spectacular growth rates. NTS was founded by four entrepreneurs in 2006 with a fleet of 400 railcars. It now operates 57 000 units transporting more than eight percent of Russia's rail cargo traffic.
The Russian Railways cargo market share dipped below 50 percent for the first time in 2010, It has been selling off some of its freight subsidiaries, but is also leveraging its massive financial strength to move into new markets, both at home and abroad. It signalled its international ambitions with the US$ 1,25 billion takeover of Gefco (the transportation and logistics arm of French automaker PSA Peugeot-Citroën) in November 2012.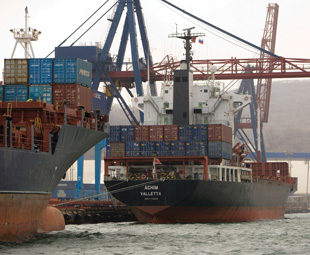 Rail owes its massive 85-percent share of Russia's freight market to the huge track infrastructure built during the Soviet era. In addition, the poor state of the nation's roads and neglected inland waterways make rail the only form of transportation for large areas of this vast nation.
This imbalanced modal split has hindered the growth of Western-style, third-party logistics, with many companies forced to arrange their own transportation and distribution. One of those shippers is Magnit, a fast-growing budget supermarket chain, that operates a fleet of
4 500 trucks to supply its 7 100 stores.
A recent survey, by global real-estate company Colliers International, put Moscow and St. Petersburg at the bottom of 40 European cities for logistics competence, highlighting the yawning gap between Russia and the rest of the industrialised world.
The air-freight industry's move abroad to keep pace with Russia's expanding trade links has had mixed results, with the largest operators struggling to survive in the depressed global market.
This resulted in Aeroflot mothballing its three MD-11 freighters. Polet Airlines reportedly told customers it would ground its three IL-96 aircraft because of sluggish demand and low rates. Volga-Dnepr's core Antonov-124 charter operation had seen a sharp decline in heavy-lift and project business, and Air Bridge Cargo, its ambitious scheduled airline unit, is facing tough times as it struggles to fill its expensive new 747-8 freighters.
Russia's ocean container market has posted average annual growth of more than 15 percent in the past five years, but domestic ship owners have failed to take advantage of this, even on the booming feeder trades from northern European ports such as Hamburg.
Despite expanding trade, Fesco recently announced it had sold half of its fleet. Its shipping unit is moving from owning and managing ships to supporting liner and logistics operations.
The transportation sector is bracing for tougher times as the Russian economy, which was growing by about seven percent annually a few years ago, is stalling. Growth in the first five months of 2013 slowed to 1,8 percent compared to 4,5 percent in the first half of 2012. This was partly because of shrinking demand for energy and raw materials, which are key rail cargoes.
Barnard concludes that there's no denying the pent-up potential of Russia's underdeveloped transportation sector, particularly if the Kremlin accelerates privatisation and deregulation and makes good on its investment pledges.
Focus on Transport
June 1, 2015
Published by