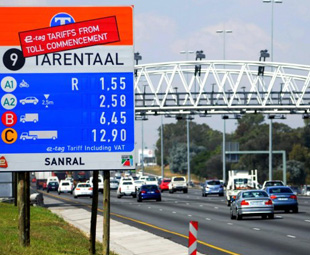 Gauteng's e-toll saga is still raging on, but there might be a light at the end of the tunnel. The Province's Member of the Executive Council (MEC) for Roads and Transport, Ismail Vadi, reportedly said that this system should be reconsidered … with more efficient "user pays" mechanisms being suggested.
In the statement, as reported by the Sunday Independent, Vadi's suggestions include a regional or national fuel levy, a provincial tax or shadow tolling – which the Opposition to Urban Tolling Alliance (Outa) welcomes.
"Outa largely agrees with these views, as each of these alternatives attracts virtually zero administration costs and has high, if not 100 percent, compliance levels," states the opposition alliance. "The e-toll scheme, on the other hand, comes at a huge administration cost (over R1,3 billion per annum) and will never achieve high compliance, as the South African National Roads Agency Limited (Sanral) is now learning – some six months after launching the scheme."
Wayne Duvenage, Outa's chairperson, adds that the obvious question is whether Sanral concurs with the messages from the MEC. "If so, does this mean there is a 'half-pregnant' approach to the ill-conceived e-toll plan," he points out. "If, indeed, the scheme is questionable and regarded as ineffective, then it goes without saying that the entire scheme should be set aside until a more efficient and equitable solution is found – and not just for future road upgrade plans."
Duvenage continues: "Every day that the fiasco continues is a burden to society." Outa also updated its e-tag count last week, and maintains that less than 40 percent of vehicles are tagged.
The organisation states: "This suggests that Sanral's recent 'discount carrot' has not produced the uptake it had hoped for, sending an even louder message that the public at large is not going to be duped or enticed into the irrational scheme."
Extrapolating the outstanding e-toll debt, which amounted to R550 million by February 28, Outa estimates that this figure has now climbed to approximately R1 billion.
Focus on Transport
June 19, 2014
Published by