The road freight industry in South Africa is a key employer of women, many of whom are engaged in disciplines that demand all the grit and gusto the toughest of men can exert. FOCUS asks three women about life in the 'trucking trenches'
Lyn Hunt, operations director, Timber Logistics
How long have you worked in the road freight industry?
I started working for Timber Logistics Services in 2003 as an admin clerk. At the end of 2004 I was promoted to operations admin clerk and then in June 2005 I was promoted to operations manager and subsequently became the operations director, which is the position I hold today.
Did you receive special training in transport management or a related discipline prior to employment as a fleet operations manager?
I obtained a marketing diploma (IMM) and had to learn how to manage a fleet of timber trucks the hard way – through trial and error.
Forestry and timber transport are both very tough industries – describe an average day in the life of Lyn.
I'm on call 24/7 but a general day for me commences at around 06:00 with an SMS or phone call from my control room advising me of the previous night's issues, as well as informing me of stock on the various zones we are hauling from. At the depot I have meetings with my zone loading and field managers to discuss the previous day's issues and the plans for the day. I then meet with the training manager to discuss the day's training requirements. Timber Logistics Services has an in-house training facility that I control together with our training manager, with whom I work very closely to ensure that all drivers are systematically trained. Once I have completed these meetings, I communicate with our customers to discuss their transport requirements, followed by a meeting with my senior controller who implements these plans.
I then attend to the day-to-day running of the fleet and zone-loading operations.
Twice a week I go to the plantations from where the trucks will be transporting timber to ensure that the routes are safe and accessible for the fleet. These field days also allow me to interact with the drivers and operators while they are working, which enables me to address any issues on hand. Frequently, I learn invaluable lessons from their on-the-job experience.
What methodologies and technologies do you use to help make your job easier?
I rely heavily on FM Communicator (from MiX Telematics), a fleet management system supplied to us by Compass FM. This system allows me to track the vehicles, in real-time and historically. It also gives me reports on the drivers' performance and fuel consumption figures. I manage a control room of eight controllers, whose function is to manage the dispatching, tracking and co-ordination of the fleet. I also have an admin operations team that ensures that every detail relating to the trucks is recorded and analysed on a daily basis. I am fortunate enough to have a very supportive in-house technical department that attends to and deals with all truck defects and tyre-related issues. It's important that both old and new routes are assessed to determine route standards (fuel consumption and distance benchmarks), as well as to highlight potential hazards that could impact on the performance and safety of the drivers and the fleet.
What are the ongoing challenges you face in your position?
The timber transport industry is constantly changing – each day is filled with new challenges that often force me to step out of my comfort zone. The weather is one of my biggest challenges – running a fleet of trucks in wet muddy conditions is a different ball game all together.
How many trucks and drivers do you manage?
I manage 140 drivers and a fleet of 44 timber trucks, 15 of which are PBS abnormal-length rigs, 26 metres long and having a maximum GVM of 67,5 tons. I also manage 12 loaders and 36 operators.
What advice can you give young people wanting to get into transport, and timber haulage in particular?
The timber industry is an extremely challenging and demanding industry. You have to be passionate about transport and be willing to sacrifice a lot in order to achieve results, particularly as a woman!
How do you balance the needs of work and family?
I am very fortunate to have a fiancé who understands the demands of my job, possibly because he too works in the timber industry. Although my job is a big part of my life, my family and friends are my top priority. They help keep me grounded and always provide me with a soft place to land after a hard day's work. I have also found that hitting the gym after a hectic day is a fantastic way to relieve stress and keep me fit and healthy to deal with the demands of my job.
In your opinion, what are the key issues driving the timber logistics industry forward right now?
There is no doubt the economic woes faced by business in general in recent years have impacted the timber industry. Consequently, there is constant pressure to improve efficiencies and control costs with innovation being the name of the game.
The shrinking pool of trained and experienced personnel is a concern and more focus should be given to driver training, safety and compliance.
Carol Xaba, operations supervisor, Barloworld Logistics
What attracted you to the transport industry?
I studied human resources management and was employed by a labour broker, recruiting drivers for various companies. That position was not challenging enough for me, so I moved into transport operations as an admin clerk under the strong leadership of José da Silva who was my depot manager at Barloworld Logistics. Inspired by his extensive knowledge of the industry, I was eager to learn more and enrolled for a transportation diploma. Three years later, I moved up to my current position as operations administrator.
What do your daily duties involve?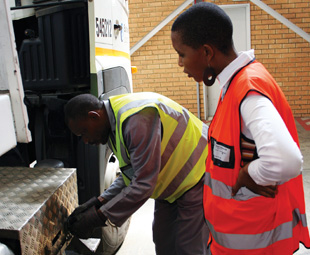 My tasks entail the planning and co-ordination of the supply chain fleet for Toyota SA. We work on the just-in-time (JIT) principle and are expected to deliver regardless of the challenges on the roads, be they closures or breakdowns. I also oversee fleet maintenance management, driver disciplinary issues where necessary, maintaining budgets and ensuring the risk protocols (managing of driving hours and other factors) are adhered to.
Describe your tougher challenges?
We run a 24-hour operation and regardless of what was planned for the day, things may change at any moment and I must expect to receive emergency phone calls around the clock. I have 20 drivers and the major challenge for me at first was to overcome a cultural issue. In African culture, a man is seen as the leader and the woman as a follower.
I had to break these barriers and lead, which was a huge challenge as all my decisions were constantly questioned by my male colleagues. Thankfully, I respect and value everyone's opinion and always take criticism in a positive light. I now enjoy their total support.
What special qualities do you think women bring to trucking that men don't/can't/won't?
Women are naturally strong and sensitive. We know instinctively when to make the switch between the two when dealing with issues. Drivers find it easier to confide in me than my male counterparts and we treat each other as family, rather than just as co-workers.
What advice can you offer young entrants into the trucking and logistics industry?
You need to be strong and bold and stand up for what you believe. It is a challenging industry whereby your ability to resolve problems is really stretched. The word "cannot" simply does not exist. You grow with every experience and every day is different. The only way to survive is to be passionate about your work.
Janine Eatwell, product specialist, Compass FM
What is your role at Compass FM?
My key role as a fleet management system (FMS) product specialist is supplying our clients, including Unitrans, Cargo Carriers and Buhle-Betfu, with the best technology solution for their specific transport needs. Through extensive consultation, I determine the fleet's requirements and what is expected from the FM system by management in terms of efficiency improvements and return-on-investment. I also act as the interface between my clients and the helpdesk and technical crew at Compass FM.
Describe a typical Janine day.
I am fortunate enough to say that there is no typical Janine day! My clients' needs are very different and that demands a varied and 'out-the-box' kind of approach. However, there are fundamental processes that I execute daily, like checking all FM equipment is fully functional and that clients are getting the desired results from the system. I help clients monitor driver behaviour using the technology to reduce fuel consumption and risk, as well as checking how the weather is affecting loading and offloading patterns.
What advice can you give to women seeking work in the industry?
Trucking is not just for men. I have my Code-14 licence and although I am by no means a professional driver, it is something
I could and would enjoy doing if circumstances allowed it. If women have IT skills, they can be put to excellent use in the specialised area of fleet management. And, oddly enough, there is something about our nurturing nature that just seems to gel with this demanding beast that is truck transport…
Focus on Transport
August 1, 2011
Published by